Recommendations are based on personal travel experiences and research. If you book through links on our site, we may earn a commission at no extra cost to you.
—
The global hotel industry accounts for around 1% of global greenhouse gas emissions. To meet international climate change agreements, hotels must reduce their carbon emissions by at least 66% by 2030 and 90% by 2050.
Unfortunately, even this figure is too high as this scenario supports staying within 2 degrees of warming but not the required 1.5 degrees set in the Paris Agreement.
As the world rapidly warms, a more urgent transition is necessary.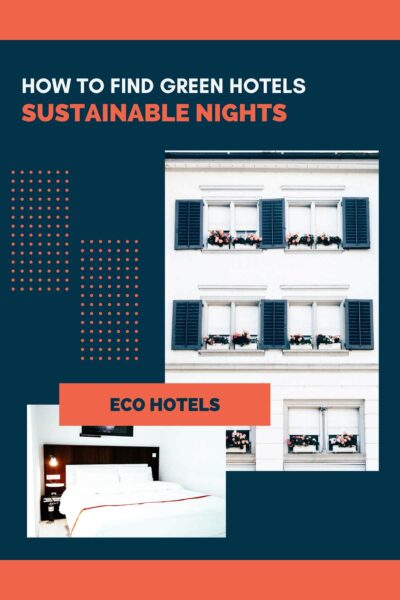 As individuals, we can support this shift towards sustainability by choosing sustainable stays, that is, hotels that are taking action to address climate change and social justice.
These hotels have taken and are continuing to reduce emissions and plastic pollution, promote biodiversity and improve social measures that benefit employees and the broader community.
Sustainability in Hotels
The pathway to achieving sustainability in hotels is clear and has been agreed to by the industry. It covers a number of proven measures and supports innovative ideas for hotel sustainability.
Jump to read the features you should look for in hotel sustainability.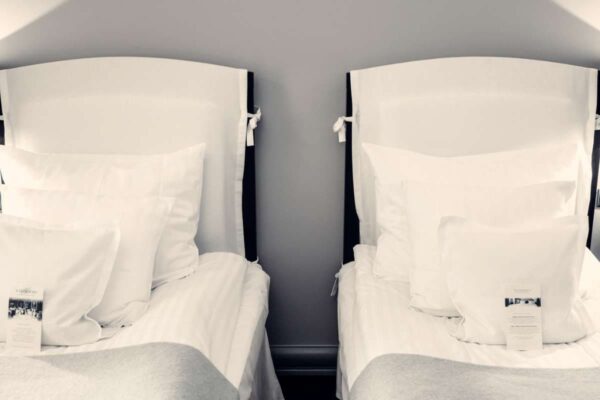 Green Hotel Guides
Initially, I thought I could make finding sustainable hotels easier by researching myself and publishing city guides with the best options.
But there seems to be limited interest in this kind of travel guide. I wish that wasn't the case because if we want to travel responsibly, then where we stay is important, both from an environmental and social impact.
I enjoy doing the research for these guides and it works well with my travel blogger experiences. But for now, I will focus on creating boutique hotel guides with sustainable features.
In the meantime, the following guides will remain available and will hopefully help if you're planning a trip. They outline the best eco-hotels in some of the world's great cities.
Greenwashing in Hotels
Unfortunately, but not surprisingly, greenwashing is increasingly common in the hotel industry.
Greenwashing is claims made by hotels, industry, media or booking agencies designed to mislead consumers searching for a hotel with a lower environmental impact.
Greenwashing in hotels typically involves promoting things like removing mini shampoo bottles from bathrooms, reusing towels rather than washing them each day and suggesting hotel guests can reduce emissions by remembering to turn off lights and air conditioning when they leave their rooms.
Yes, these things should be done, but these actions' environmental impact is insignificant compared to what needs to be achieved.
Hotels need to urgently reduce their emissions through electrification, energy efficiency and conservation, and switching to renewable energy sources.
Companies need to fund retrofitting of their buildings and take all of the required actions to be low-carbon businesses.
They need to pay their employees a living wage and provide an inclusive, supportive environment that respects human rights.
Hotels need to use their properties to enhance biodiversity conservation and community resilience.
Features of Sustainable or Green Hotels
When booking a sustainable hotel, look for accommodation that has implemented the following measures, features and initiatives.
These cover different aspects of sustainability that include climate change, biodiversity, water, pollution, social impact and sustainable food management.
Depending on where you search for hotels, you can find some of this information in the 'Sustainability Initiatives' section or on the hotel's own website.
Some hotels may be certified sustainable through third-party rating organisations and this is often mentioned on booking sites.
Climate Change Actions
Hotels must take the following actions and initiatives to address climate change.
Renewable energy. Switching to renewable energy, either through on-site solar panels or renewable providers.
Electrification. Transitioning to electric cooktops, fridges, heating and cooling is essential as well as switching to electric vehicles.
Energy efficiency. As appliances need replacing, the most energy-efficient items should be selected, particularly with regard to heating and cooling.
Energy conservation. Energy use can be reduced through more efficient buildings. For example, by installing double or triple-glazed windows, energy-efficient lighting, creating green walls and facades and using smart technology.
Eliminate single-use plastic. Almost all plastic is derived from fossil fuels and should therefore be replaced with sustainable alternatives.
Retrofitting first. It is a better use of resources to retrofit existing buildings rather than knocking over and building new, sustainable buildings.
Sustainable design. When new buildings are constructed, sustainable designs and materials are essential. For example, using timber for construction and low-methane concrete.
Supply chain emissions. Hotels should work with their contacts and suppliers to reduce emissions.
Active and public transport. Hotels should provide bikes and promote walking and public transport to reduce emissions and pollution.
Biodiversity Conservation
Recent studies suggest we are now experiencing the planet's sixth mass extinction event. As hotels are often significant landholders, they have the opportunity to address biodiversity loss by creating green spaces that attract diverse wildlife.
There also needs to be an end to habitat destruction and land clearing for the construction of new hotels and resorts. I recommend staying at well-established hotels or where existing buildings have been renovated or retrofitted instead of building new ones.
Hotels should include varied green spaces that include green roofs, walls, courtyards, balconies and road verges.
Plants should be native to the local area where possible and suitable for the changing climate.
Drought-tolerant plants that require little watering should be used.
Trees are important for shade and filtering air pollution.
Wild areas are a great way of attracting pollinators and wildlife.
Wildlife ponds are beneficial for pollinators and other wildlife.
The use of pesticides and herbicides should be avoided.
Sustainable Water Use
Water usage in hotels has declined only 3.73% since 2017 and water usage in large resorts has actually increased per room.
This is one of the many reasons that I don't recommend staying in full-service resorts, especially not those with multiple swimming pools. They are not sustainable.
I suggest avoiding hotels that have swimming pools and other features that waste water.
Stormwater capture and reuse are important as water stores decline. This can be used for irrigation.
The installation of rain gardens and swales can help reduce water runoff pollution and mitigate flooding.
Washing of towels and bedding for guests should be opt-in at request.
Water-saving showers and toilets should be installed as upgrades are made.
Permeable surfaces can help reduce flooding.
Eco-friendly cleaning products can reduce water pollution.
Social Impact
Social sustainability in the hotel industry refers to the ethical treatment of employees, contractors and the local community. At a minimum, a sustainable hotel should include the following:
Employees should receive a livable wage at a minimum.
Casual employment should be limited to those who want it.
Workers should have freedom of movement.
Local conservation and community initiatives should be supported.
Sustainable Food Management
Food used in the hotel should be locally sourced to promote local food security and farmer livelihoods.
The use of organic food is better in many ways, but only where this reduces emissions.
Food waste should be halved to meet global goals.
Organic food scraps and waste should be composted on-site or locally.
Excess food should be donated.
Sustainable Stays
In conclusion, hotels must urgently reduce their emissions through electrification, energy efficiency and conservation, and switching to renewable energy sources.
They must pay their employees a living wage and provide an inclusive, supportive environment that respects human rights.
Features of sustainable or green hotels include using renewable energy, electrification of heating and cooling systems, taking energy efficiency measures, eliminating single-use plastic, retrofitting first, sustainable design, and promoting active and public transport.
Biodiversity conservation is also an essential aspect of sustainable hotels, including creating green spaces that attract diverse wildlife and avoiding habitat destruction and land clearing for the construction of new hotels and resorts.
As individuals, we can support this shift towards sustainability by choosing to stay at hotels that are taking action to address climate change. We can also advocate for change and let hotel owners and managers know we want urgent action.