Recommendations are based on personal travel experiences and research. If you book through links on our site, we may earn a commission at no extra cost to you.
—
Amsterdam is leading the way in sustainable tourism in Europe. Hotels have been working with iAmsterdam (the local tourist office) and local communities for years to improve sustainability and develop green initiatives.
Many hotels have already implemented simple ideas like reducing water and energy consumption by washing towels less frequently and using low-energy light globes. But being a green hotel in Amsterdam goes considerably further than that.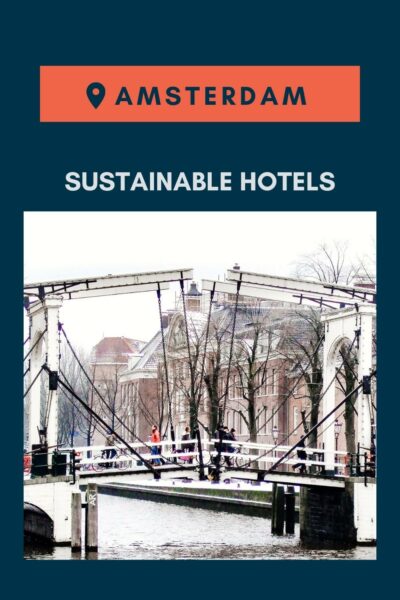 Hotels in Amsterdam are looking to become Green Globe certified or Green Key awarded. To achieve this goal, they must meet the three pillars of sustainability; social, economic and environmental sustainability.
The goal is to support the local people and community, provide financial longevity and, of course, lessen the impact on the environment.
Sustainable Hotels in Amsterdam
There is a growing list of sustainable hotels in Amsterdam; the hotels mentioned below have some of the most interesting eco-initiatives, outstanding designs and service.
Top Pick
Hotel Jakarta Amsterdam
Address: Javakade 766, Zeeburg
Named after the location in Amsterdam, where ships left for Jakarta, Hotel Jakarta is one of Amsterdam's most prestigious sustainable boutique hotels. Sustainable and ecologically built using natural and sustainable materials with energy and water-reducing technology, the hotel reuses and recycles where possible and even the staff uniforms and constructed with sustainable fabric. The industrial design of the hotel is stunning and the location is ideal for visitors to Amsterdam.
Features:
Stylish, boutique rooms with incredible water and city views.
Great use of timber and bamboo.
Luxurious floor cooling and heating.
Onsite bakery and espresso bar.
Enjoy cocktails and drinks at the skybar.
Fully non-smoking hotel.
Sustainability:
100% renewable electricity.
Food waste is minimised.
Sustainably built and energy neutral.
Incredible indoor garden reduces air pollution and enhances wellbeing.
Bike rental is available to encourage sustainable transportation.
A portion of their carbon footprint is offset.
Pros: Staying at a sustainable, eco-friendly hotel like the Jakarta in Amsterdam supports environmental sustainability and lowers your travel footprint.
Cons: It's a 25-minute walk to Amsterdam Centraal and sights in that area.
Check Availability
Next Best
The Dylan Amsterdam
Address: Keizersgracht 384, Amsterdam City Centre
The Dylan is located in the heart of Amsterdam, the perfect luxurious eco choice for a short stay in Amsterdam. The Dylan Hotel is the best-rated of all the eco-friendly hotels in Amsterdam.
QO Amsterdam
Address: Amstelvlietstraat 4, Oost
The eco-friendly and sustainable QO Amsterdam is a boutique space with a beautiful rooftop greenhouse and a focus on reducing energy and waste in the unique rooms.
Sir Albert Hotel
Address: Albert Cuypstraat 2-6, Oud Zuid
The Sir Albert Hotel is a beautifully designed boutique hotel in Amsterdam with Green Globe certification. The hotel has many sustainable features and also has the option for guests to donate to the Plastic Whale Foundation, an organisation that works to keep the Netherlands' waterways plastic-free.
Conscious Hotel Museum Square
Address: De Lairessestraat 7, Oud Zuid
The Conscious Hotel group has four sustainable hotels in Amsterdam. Each hotel in the group has unique design elements using sustainable materials, for example, timber only comes from managed forests. The hotel is 100% electric from solar energy, water-saving systems exist in all rooms and the restaurant uses locally sourced organic and fair trade ingredients.
The Student Hotel Amsterdam City
Address: Wibautstraat 129, Oost
The Student Hotel is more than just a hotel. Rooms are available for short and long stays but not just for students. They target slow travellers, location independent workers, nomads or anyone interested in a community-focused space.
Qbic Hotel WTC Amsterdam
Address: Mathijs Vermeulenpad 1, Zuideramstel
More affordable than your typical boutique hotel in Amsterdam, the Qbic Hotel is an excellent choice if you're looking for a modern eco-hotel in central Amsterdam. Electricity for the hotel comes via solar panels, lighting is mostly from energy-efficient LED light globes, guests are provided with environmentally friends toiletries, fair-trade coffee and tea is available and there is a paperless check-in and check-out policy.
Discover the hidden gems and must-see attractions of the Netherlands with my comprehensive guide to the best places to visit, featuring insider tips and expert recommendations for a truly unforgettable Dutch experience.
Explore the vibrant city of Amsterdam with ease, thanks to iAmsterdam's user-friendly website that provides you with all the information and resources necessary to plan your perfect trip, including detailed information on top attractions, events, and practical tips for getting around.
Responsible Travel Tips
Many of us are increasingly concerned about climate change and sustainability. Here are a few ideas for travelling more sustainable:
Use public transportation, such as trams and buses, or rent a bike to reduce carbon emissions and decrease dependence on fossil fuels. Cycling is a brilliant and safe way to get around Amsterdam.
Choose accommodation that utilises renewable energy sources, such as solar or wind power. I've listed several above and this guide to hotel sustainability has more information.
Support local businesses by shopping at farmers' markets and choosing to eat at restaurants that source their ingredients locally and practice sustainable food systems. Very easy to do in central Amsterdam!
Limit consumerism by avoiding single-use plastics and purchasing souvenirs that are made sustainably and ethically. Head out of the centre to find small boutiques and independent stores.
Avoid flying and instead opt for trains or buses to reach Amsterdam, which have a lower carbon footprint.
Participate in community-based initiatives that promote sustainable tourism, such as canal cleanups or tree planting. There are plenty of opportunities for volunteering in Amsterdam.
Please share your sustainability tips in the comments.
If you have questions or want to leave a hotel review, please do so in the comments.
—
Recommendations are independently chosen by our travel editors. This post contains affiliate links to hotels in Amsterdam, Netherlands. This means we get a small commission from any bookings at no extra cost to you.