Recommendations are based on personal travel experiences and research. If you book through links on our site, we may earn a commission at no extra cost to you.
—
You would think sustainable ecotourism practices would be the norm in Western Australia's pristine Margaret River region. The southwest is a hub of biodiversity and unique landscapes, all of which are at risk of climate change and persistent pollution.
But sustainable hotels seem to be in short supply in Perth, Margaret River and further south towards Denmark, Albany and even in beautiful Esperance.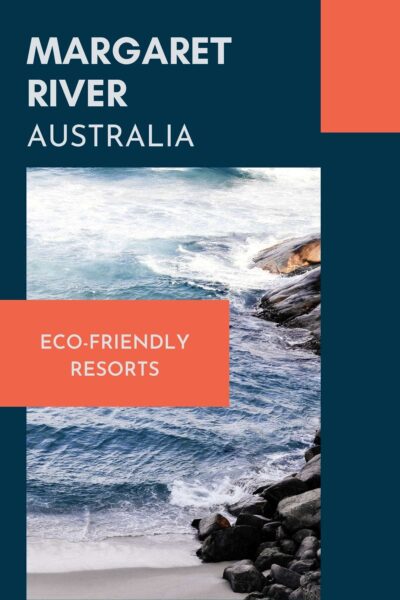 Local councils down south are doing great things, leading the way in sustainability with various initiatives. But local tourism businesses, especially accommodation providers, are a little slow to follow.
But thankfully, there are some exceptions. A handful of eco-hotels and resorts lead the way in responsible travel by converting to solar energy, reducing water consumption and waste, providing natural reserves for flora and fauna, and supporting local businesses.
In this guide, I recommend the best sustainable and eco-friendly accommodation in the Margaret River region.
Margaret River Accommodation
These hotels have met a number of ecotourism guidelines by following sustainability best practices, working towards reducing carbon emissions, and helping to conserve native bushland and biodiversity.
Top Pick
Forest Rise Chalets and Lodge
Address: 231 Yelverton Road, Yelverton, Australia
Forest Rise is located in the heart of the Margaret River wine region, halfway between Margaret River and Busselton. They are ecotourism accredited, focusing on responsible travel, providing native habitats for environmental conservation, and providing low-impact accommodation. The chalets are built using rammed earth construction, a naturally insulating material, reducing heating and cooling resources. Forest Rise also supports the local community and charities, including the Waalitj Foundation.
Features:
Stunning location with kangaroos at your doorstep.
Modern, clean rooms with large beds and sitting areas.
Ideal for an exceptional romantic weekend away.
Beautiful spa for outdoor star gazing.
Local products in the rooms.
Stay at the Lodge or in a private chalet.
Sustainability:
Eco-certified sustainable hotel.
Most food is locally-sourced, reducing food miles and supporting local businesses.
The hotel avoids single-use plastic.
Bike rental is available to help you get around sustainably.
The hotel can arrange tours led by local guides.
Pros: One of the most exceptional eco-hotels in the Margaret River region. Great service, food, amenities and an incredibly serene location.
Cons: The hotel doesn't use renewable energy as its electricity source, a must for a sustainable hotel.
Check Availability
Next Best
Yelverton Brook Conservation Sanctuary
Address: 118 Roy Road, Metricup, Western Australia
Yelverton Brook is one of West Australia's longest-running eco-resorts. The stone chalets are located between Busselton and Margaret River in Metricup, within the retreat's 100-acre predator-free conservation sanctuary. The accommodation property is home to endangered wildlife, including the Woylie and the Western Ringtailed Possum. As for the accommodation, you'll find water-saving fixtures and energy-efficient lighting, and they use recycled paper products.
Where to Stay in Margaret River
The Margaret River region in Western Australia has a wide range of accommodation options to suit every traveller's needs.
Here are some of the best areas to stay in Margaret River:
Margaret River Town: If you're looking for a central location with easy access to shops, restaurants, and cafes, Margaret River Town is the perfect place to stay. You can choose from a range of accommodation options, including hotels, motels, backpackers, and bed and breakfasts. You'll also be close to some of the region's top attractions, including the Margaret River Chocolate Company and the Margaret River Farmers' Market.
Yallingup: If you're a surfer or beach lover, you'll love staying in Yallingup. This coastal town is famous for its surf beaches and stunning coastline. You can choose from a range of accommodation options, including holiday homes, apartments, and hotels. You'll also be close to some of the region's top attractions, including the Yallingup Maze and the Cape to Cape Track.
Dunsborough: If you're travelling with family, Dunsborough is a great choice. This town is located at the northern end of the Margaret River region and has plenty of accommodation options, including holiday parks, hotels, and holiday homes. You'll also be close to some of the region's top family-friendly attractions, including the Dunsborough Lakes Resort Fun Park and the Country Life Farm.
Augusta: If you're looking for a more secluded and peaceful stay, Augusta is the perfect place to be. This town is located at the region's southern end and has plenty of accommodation options, including holiday homes, bed and breakfasts, and apartments. You'll also be close to some of the region's top attractions, including the Cape Leeuwin Lighthouse and the Augusta Boat Harbour.
Cowaramup: If you're a wine lover, Cowaramup is the perfect place to stay. This small town is located in the heart of the Margaret River wine region and has plenty of accommodation options, including bed and breakfasts and holiday homes. You'll also be close to some of the region's top wineries, including Vasse Felix and Leeuwin Estate.
No matter where you choose to stay in the Margaret River region, you'll have plenty of options to suit your needs and budget.
Margaret River Town
Rosewood Guesthouse
Address: 54 Wallcliffe Road, Margaret River Town, Australia
Centrally located in Margaret River Town, this is a great holiday option if you want all the great food and cultural attractions at your doorstep. The guest house is set in beautiful gardens, and you can choose from regular rooms or the suite, which is like a one-bedroom apartment. Sustainability initiatives include minimising food waste and avoiding single-use plastics.
Highly Rated by the Beach
Saudade Margaret River
Address: 81 Baudin Drive, Gnarabup, Margaret River Town
One of the highest-rated accommodations in all of the Margaret River region. This guest house is located in town, not far from Gnarabup Beach. The huge apartment has everything you need for a short or extended stay, and you'll get both a garden and an ocean view. E-bikes are available to rent to encourage one of the most sustainable ways to get around.
Prevelly Beach House
Beachside at Margaret River
Address: 6285 Prevelly, Australia
This fantastic, fully-equipped beach house is located in Prevelly, an ideal location for surfing and ocean walks. The beach, cafe and general store are all within a short walk. Gnarabup Beach, Margaret River Beach and Joey's Nose Beach are all nearby, as are many of Margaret River's famed attractions. Although the location is brilliant, this accommodation lacks the eco-friendly features found elsewhere.
Family-Friendly Resort
Siesta Park Holiday Resort
Address: 368 Caves Road, Siesta Park, Busselton
Eco-certified for nature tourism, Siesta Park oceanfront accommodation villas are located between Busselton and Dunsborough. They are working to reduce their environmental impact with the introduction of electric power generation, habitat building and conservation, and by implementing carbon-reducing initiatives. The simple resort accommodation is ideal for families and those on a budget. This eco-friendly hotel is actually located near Busselton and not Margaret River. However, I think it's a great option for a sustainable weekend away from Perth.
Things to Do in Margaret River
The Margaret River region is the highlight of a trip to Australia's southwest. It's known for its pristine national parks, surf beaches, wineries and gourmet food.
Here's my quick guide to the highlights of Margaret River, but for a more in-depth look at what's on offer, visit the Margaret River Visitor Centre.
Go surfing – If you already know how to surf, Margaret River is made for you. It's the number one destination for surfers in WA and you won't be disappointed. You have plenty of opportunities to learn if you're a beginner surfer. You can start at one of the calmer, protected beaches before working your way up to the wild, high-swell beaches for experts. Watch out for sharks, though!
Go swimming – Margaret River isn't only for surfing, there are plenty of calm waters if you know where to go. Try Castle Bay, Eagle Bay or Torpedo Rocks Beach to name a few.
Gourmet cuisine – The southwest is a hub for gourmet food. You can find incredible bakeries, olive oil producers, delicious cheese, farm-to-table chocolate, locally roasted coffee and fresh farmers' markets.
Wine tasting – For many, wine is the biggest drawcard of Margaret River. Every winery has tastings; many offer gourmet meals and picnics to accompany the wine. Take a tour or make your own wine tour with a designated driver.
Read my guide to sustainability in hotels to find the most important sustainability features to look out for when choosing a hotel.
If you can't find what you're looking for in Margaret River, some unique luxury accommodation in Albany isn't too far away.
Responsible Travel Tips
Many of us are increasingly concerned about climate change and sustainability. Here are a few ways in which we can travel more responsibly when heading down south.
Use renewable energy sources: Look for accommodations in Margaret River that use solar or wind power to reduce their carbon footprint.
Reduce food waste: Choose restaurants and cafes that have a commitment to reducing food waste, or bring your own reusable containers to take leftovers home. Try to avoid the temptation to overconsume while on holiday.
Sustainable diets: Opt for plant-based meals or locally-sourced seafood and meats to reduce the carbon footprint of your food. This is easy to do in Margaret River given that it's a foodie's paradise and the regional focus is on local food and wine.
Sustainable transport: Use public transportation, bike-sharing, or rent electric cars to explore Margaret River. Avoid flying and opt for trains and buses. This can be a challenge and safety is an issue when cycling in some areas. Do the best you can.
Support the local community: Shop at local markets, stay at locally-owned accommodations and take guided tours led by Indigenous or local guides.
Please share your sustainability tips in the comments.
Final Thoughts
Here are a few final thoughts to help you make the most of your stay in the Margaret River region:
Book in advance: Margaret River is a popular destination, especially during peak season, so booking your accommodation in advance is best to avoid disappointment.
Consider your transportation options: While exploring the region by public transport or taxi is possible, having your own car will give you more flexibility to explore at your own pace. Of course, always have a designated driver when visiting the wineries and wine tasting.
Make time for the local attractions: There's so much to see and do in the Margaret River region, from visiting wineries and breweries to exploring the stunning coastline and natural attractions. Be sure to make time to experience the local attractions and cultural activities. There are some great music events too.
Pack for the weather: The weather in Margaret River can be changeable, so it's a good idea to pack for a range of conditions. Bring warm clothing for the cooler evenings and rain gear for the occasional shower.
Embrace the local culture: Margaret River has a rich cultural heritage, and there are plenty of opportunities to learn about the local Indigenous history, art, and music. Take the time to explore the local culture and meet the friendly locals.
Overall, the Margaret River region is a fantastic destination for anyone looking to experience Western Australia's natural beauty, food, wine, and culture. With so much to see and do, it's sure to be a memorable and enjoyable experience.
If you have questions or want to leave a hotel review, please do so in the comments.
—
Recommendations are independently chosen based on personal travel experiences and extensive research. This post contains affiliate links to accommodation in Margaret River, Australia. This means I get a small commission from any bookings at no extra cost to you.