Recommendations are based on personal travel experiences and research. If you book through links on our site, we may earn a commission at no extra cost to you.
—
Walking through Munich's Marienplatz, the heart of the city's old town, the dominant landmark is the richly decorated New Town Hall.
Of course, being Germany, there is nothing new about the New Town Hall, with the neo-gothic council building being in use for almost 150 years.
Historic squares and buildings like these are a feature of Munich, with notable pockets of modern design.
Throughout the old town, in both new and old buildings, you'll find some of the best sustainable hotels in Munich.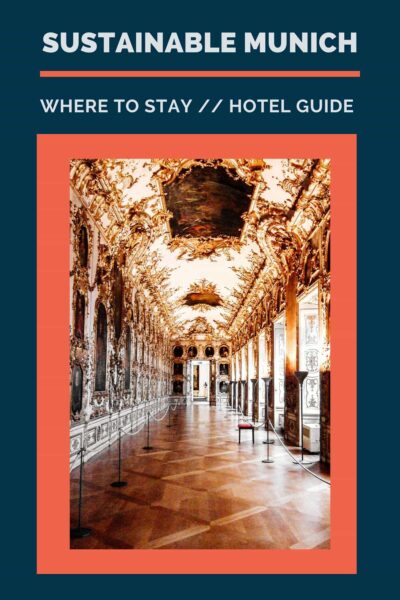 Sustainable Boutique Hotels in Munich
All the hotels we recommend use 100% renewable electricity and limit single-use plastic.
Top Pick
Harry's Home München Hotel & Apartments
Bunzlauer Platz 5, Moosach
Munich, Germany
Harry's is our top pick for the best sustainable hotel in Munich as they meet all our sustainability requirements, it's well-located close to public transport and as a bonus, it's reasonably priced.

Most importantly the hotel uses 100% renewable electricity, the windows are double-glazed and LED lights are used throughout.

The hotel is working towards zero waste by avoiding all single-use plastics, limiting food waste and recycling where possible.

Energy-efficient water measures are in place, most on-site food is sourced locally and Harry's actively promotes sustainability by providing information to guests and by investing in community projects.

Both electric vehicle charging and bike parking is available.

The hotel is clean, modern and highly reviewed. Note that the hotel is not within walking distance to the old town, you would need to take public transport which is very close by.
Check Availability
Next Best
The only issue with our top hotel pick is that it's not within walking distance to Munich's old town or the main train station (where many people arrive in Munich). You might prefer one of these hotels.
Das Schreder Hotel
If you don't mind staying in a guest house further out of the city, you could try Das Schreder Hotel. It is located a 30-minute walk from public transport and at least 9 km from central Munich, so it would take a little more effort to get around and you may need to drive. However, the hotel provides bicycle rental and has a green rooftop garden if you want to relax. Nevertheless, the hotel is one of Munich's most eco-friendly and green, so it's worth considering.
Hilton Munich Park
An alternative is the Hilton Munich Park, which meets many of our sustainability requirements but is closer to the city centre, located next to the very beautiful, wild Englischer Garten (English Garden). This is about 2.5 km to Marienplatz and the famous Viktualienmarkt. The 35-minute walk takes you through the gardens and past the beautiful Residenz Museum and other landmarks. The closest metro is around 1.2 km away, which is a 15-minute walk.
Hilton Munich City
Even closer is the Hilton Munich City, another great sustainable option. Located across the river, approximately 15 minutes walking distance from the old town and many of Munich's main sights, beer gardens, museums and the Munich State Opera. There are plenty of public transport options in this area of Munich. Obviously, this is a chain hotel so you might prefer to stay in one of the locally-owned hotels listed here.
Where to Stay in Munich
If you're visiting Munich on vacation, staying close to Marienplatz will allow you to be within walking distance of Munich's sites, museums and restaurants.
Even though the sustainable hotels recommended here aren't as central as I would normally recommend, it's worth noting Munich has an excellent clean, reliable and affordable public transport system.
Don't be too concerned about staying further out, provided you are within close distance to the metro, train station or bus.
Your hotel can give you advice about safe cycling lanes as this is a great active transport option when the weather permits.
Selecting a Sustainable Hotel
The most important factor for being sustainable is to cut our use of fossil fuels.
So when considering a sustainable hotel, the priority is selecting a hotel that uses renewable energy as its primary source of electricity.
Energy conservation is also key as this limits the impact on the broader electricity grid and renewable and battery resources.
This is most commonly achieved through double-glazing and by using LED light globes throughout the hotel.
It's important that sustainable buildings are also fully electrified, meaning they use electric cooking and heating sources instead of more commonly used gas. However, for the moment, it's quite rare to find this.
Other factors to consider are access to electric vehicle charging stations and public and active transport.
This means the hotel should be in proximity to public transport and/or have access to bikes and bike infrastructure for guests and employees.
Not forgetting social sustainability includes paying a fair wage, offering permanent contracts to employees who want them, supporting local community initiatives, and volunteering.
Lastly, hotels should offset the remainder of their greenhouse gas emissions. This is to cover difficult-to-eliminate emissions such as refrigerants and indirect emissions from the production of tech devices, delivery vehicle emissions and building materials.
This is the bare minimum you would want in a sustainable hotel, but it's not always possible to find all these things in all hotels.
Book hotels that use 100% renewable electricity as a minimum requirement.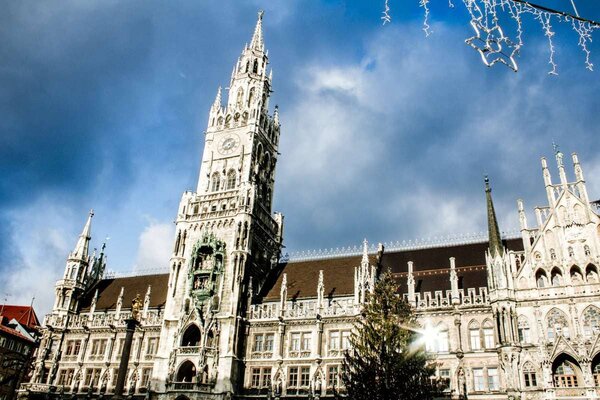 This guide to hotel sustainability explains in detail the pathway for hotels to become green and eco-friendly.
If you are planning to visit Munich, Simply Munich is an extremely helpful resource, as it provides a wide range of information on the city's many attractions, events, and activities, as well as practical information on transportation, accommodation, and more.
Responsible Travel Tips
Many of us are increasingly concerned about climate change and sustainability. This list is a great starting point for travelling more responsibly.
Use public transportation or bike-sharing services in Munich, such as the MVG Rad bike-sharing program, instead of driving a car.
Support local businesses and farmers by visiting farmer's markets and purchasing locally-sourced products. Viktualienmarkt is Munich's most famous market and a great place to shop for local food.
Avoid flying and instead opt for train travel to nearby destinations, such as the German and European high-speed rail networks. These are fast, clean, reliable and relaxing.
Reduce food waste by planning meals and purchasing only what is needed, and consider adopting a plant-based, more sustainable diet.
Avoid buying unnecessary items and consuming less generally can also be considered a responsible travel practice.
Look for accommodation options powered by renewable energy sources or with sustainable practices. I've listed some of the best sustainable hotels here.
Try to participate in community clean-up or other volunteer activities to support the local community. This is also a great opportunity to meet some locals and learn about life in Munich.
Please share your sustainability tips in the comments.
If you have questions or want to leave a hotel review, you can do so in the comments.
—
Recommendations are independently chosen based on personal travel experiences and extensive research. This post contains affiliate links to hotels in Munich, Germany. This means I get a small commission from any bookings at no extra cost to you.