Recommendations are based on personal travel experiences and research. If you book through links on our site, we may earn a commission at no extra cost to you.
—
Mulhouse is one of France's many creative cities and is most definitely the most creative, innovative and progressive city in the Alsace region.
You'll find great street art, murals, art installations and unique museums in this former industrial city.
In this guide, we recommend where to stay in Mulhouse, paying particular attention to the best boutique hotels in Mulhouse.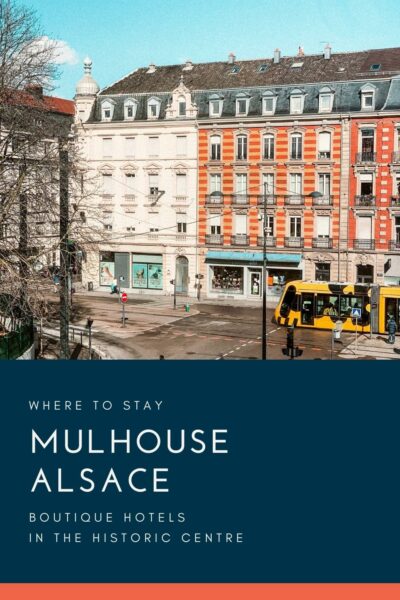 Boutique Hotels in Mulhouse
If you would like to stay in the most central district of Mulhouse, the Centre Historique Ouest (historic centre) is the place to stay. This area has many sights and attractions, including the famous Temple Saint-Étienne, Musée des Beaux-Arts and the fascinating Musée de l'Impression sur Etoffes.
There are many excellent restaurants in this area, too, like the modern Winstub Factory, which offers a modern take on regional cuisine.
At the centre of this neighbourhood is the Place de la Réunion, a wonderful square famous for its building murals.
Top Pick
La Maison Hôtel Mulhouse Centre
Address: 15 rue Lambert, Mulhouse, France
La Maison Hotel is located opposite the beautiful Piscine Pierre et Marie Curie and Mulhouse Town Hall. This is a perfect location for a visit to Mulhouse, central to all the main sights and a few minutes walk to the main square, Place de la Réunion. The rooms are uniquely decorated with unusual features and bright furnishings.
Features:
Welcome tray and in-room tea and coffee facilities.
Access to the sun terrace.
Gym and wellness facilities.
Family rooms and suites are available.
Pros: Great value for money, welcoming staff and a highly-rated breakfast make this hotel an excellent choice.
Cons: Driving and parking can be difficult in this area of the city.
Check Availability
Hotel Spa Restaurant Domaine du Moulin
Address: 44, Rue de la 1Ère Armée, Ensisheim, France
Although this excellent hotel is located in Ensisheim, it's only 15 km from the centre of Mulhouse and is a great option if you're driving to Mulhouse or taking a road trip in the region. The accommodation is new but built in a traditional Alsatian style. This is a nice place to stay for a relaxing few days as an indoor pool, outdoor pool, sauna, gym and spa is all included.
Peonia at Home
Address: 48 Boulevard Leon Gambetta, Mulhouse
For something a little different, we recommend staying at Peonia at Home. While this isn't a boutique hotel, it is an excellent bed and breakfast known for its exceptional homemade breakfast prepared using regional ingredients. The rooms are light, bright and modern and the staff, cleanliness and facilities are highly-rated. They also have bike rental if you would like to explore Mulhouse by bike.
Hotel Bristol
Address: 18 Avenue De Colmar, Alsace, France
The Bristol leans towards being a more traditional, classic hotel rather than a boutique hotel, but it's very nice and well-reviewed. Located a few minutes from the centre square, the location is excellent and the historic building is charming.
This guide to Mulhouse hotels is part of our series on where to stay in Alsace, France.
If you have any questions or would like to leave a hotel review, please do so in the comments.
Visit Alsace has a brief guide on things to do in Alsace that provides more detail and information on visiting the city and the surrounding region.
—
Recommendations are independently chosen by our travel editors. This post contains affiliate links to hotels in Mulhouse, France. This means we get a small commission from any bookings at no extra cost to you.