Recommendations are based on personal travel experiences and research. If you book through links on our site, we may earn a commission at no extra cost to you.
—
Approaching the Duomo, Milan's exquisite cathedral, your eyes are drawn from the protruding rooftop pinnacles and spires down towards the intricate stonework, comprising carved pillars and curious statues.
An artistic masterpiece, the Duomo pulls people towards the dynamic centre of Milan.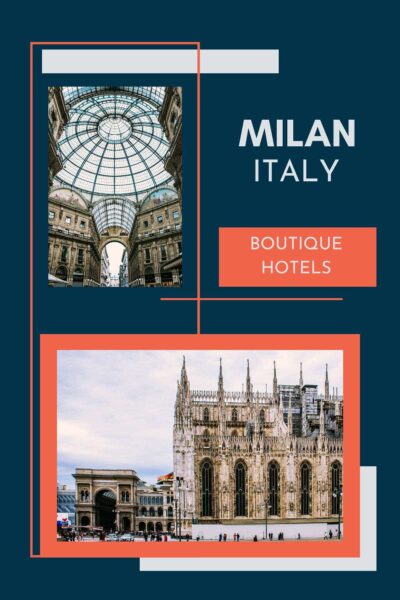 The cathedral opens onto the expansive Piazza del Duomo, the main square popular with locals and visitors, a place to linger, eat, drink and, importantly to savour a gelato.
It's perfect for people watching and it's home to regular events and occasional demonstrations.
The adjacent Galleria Vittorio Emanuele II is the original shopping arcade, now the primary address of upscale retail and dining experiences.
From here, you can take one of the narrow cobblestone side streets or a grand boulevard towards museums, galleries, theatres, parks, palaces and castles.
Sustainable Boutique Hotels in Milan
One of Italy's great cities, Milan has everything, including a strong movement towards sustainability.
Milan is leading the way in Italy by taking action against climate change and improving the health and wellbeing of its citizens.
Unfortunately, the tourism sector is slow to follow, especially in the hotel sector, where few hotels use renewable energy sources or have a commitment to zero waste or a circular economy.
Sustainable hotels in Milan should use 100% renewable energy as their electricity source as a bare minimum of sustainability measures.
I recommend the following hotels that are either dedicated to energy conservation, support local enterprises, avoid single-use plastic or implement water-saving measures.
Aside from my top pick, few of Milan's hotels meet all these criteria.
Top Pick
Room Mate Giulia
Address: Silvio Pellico 4, Milan City Centre, Italy
Located minutes from Piazza del Duomo, the Room Mate Giulia hotel is a modern, minimalist design hotel situated within a beautiful historic building. Easily the best sustainable hotel in Milan, sustainability initiatives include the use of 100% renewable electricity throughout the hotel. They invest in community projects and they work with local guides to help you experience the best of Milan.
Features:
Cool and unique design with a vintage vibe, designed by Patricia Urquiola.
Traditional materials from the Lombardy region.
Highly-rated breakfast available until midday.
Unique bathroom features include towel heater, touch lighting and magnifying mirror.
Aperol Spritz and other cocktails available at reception from Thursday to Saturday.
Good-sized gym, open 24 hours per day.
Sustainability:
Room Mate Guilia uses 100% renewable electricity.
Travel Proud certified meaning its open and inclusive.
Single-use plastic is avoided including no plastic straws or water bottles.
Walking distance to many attractions, including Piazza del Duomo which is just steps away.
Pros: An incredibly stylish hotel in a brilliant location. Exceptional service, comfortable rooms, high-end bathrooms and a beautiful gym and spa area are just some of the highlights.
Cons: Limited room service but in central Milan, this is a minor issue.
Check Availability
Unfortunately, Room Mate Giulia won't suit everyone's budget. The following hotels have some sustainability measures and are well-located and well-rated.
Next Best
iQ Hotel Milano
Considerably more affordable and well located near Milano Centrale (the main train station), the iQ gets excellent reviews, particularly around cleanliness and helpfulness of the staff.
Although they don't use renewable energy now, they implement energy conservation measures and offset a portion of their carbon emissions. They avoid all single-use plastics and limit their food waste.
Food served at the hotel is mostly locally sourced and organic, and as a guest, you have access to green spaces within the hotel.
The iQ Hotel is transparent about its sustainability and openly shares knowledge with guests regarding the local environment, ecosystems and culture.
21 House of Stories – Città Studi
If you're looking for a younger vibe and don't mind being a little bit further out from the centre, 21 House of Stories is a new, modern hotel with clean lines and simple furniture.
The hotel is close to Corso Buenos Aires, a long casual shopping street, and Porta Venezia, one of the city gates. You have a few different metro stations within walking distance, meaning you can quickly and efficiently get to anywhere in the city.
The hotel implements some energy conservation and water efficiency measures as well as a recycling program.
There is a nice green space to provide closeness to nature and if you don't want to use public transport, bike rental and parking are available.
This hotel provides excellent value for money in what is a very expensive city.
There are many features required for hotel sustainability to achieve climate goals. Read the full list of what to be aware of when booking.
Read my guide to the best places to visit in Italy. It provides a comprehensive and thoroughly researched list of the top destinations in Italy, including hidden gems and popular hotspots, making it the perfect resource for planning an unforgettable and authentic Italian vacation.
Yes, Milano has a user-friendly and informative website that provides valuable resources for those looking to explore the city, including an interactive map, event listings and suggested itineraries, making it an essential tool for anyone planning a trip to Milan.
Responsible Travel Tips
Many of us are increasingly concerned about climate change and sustainability.
We hope that as time goes on, Milan will further push its businesses to act sustainably, particularly to assist the transition to using renewable energy.
This may come in the form of government grants or tax incentives to switch energy sources, but we, as consumers, can do our part by prioritising our stays in sustainable hotels while in Milan and elsewhere.
Milan is a wonderful city with incredible museums and artwork like the Last Supper; the city is filled with historic architecture, including palaces and the famous Castello Sforzesco, a 15th-century fortress.
As far as food goes, you can't go wrong.
Milan is famous for specialties like risotto alla Milanese, ossobuco, minestrone and costoletta alla Milanese, amongst many other meals and desserts. There are plenty of plant-based specialties too.
As the city of Milan implements its urban greening program, the city will become cooler and more liveable for all.
The following travel tips are a great starting point for those looking to travel more responsibly.
Use public transportation, such as buses, trams, and metro lines, to reduce carbon emissions and support sustainable transportation options in Milan. Milan has one of the best public transport systems in Italy. Take advantage of it!
Take active transport. Milan has extensive cycling infrastructure, making cycling safe and accessible. Ask your hotel about renting a bike to get around.
Choose accommodations that use renewable energy sources, such as solar or wind power. I've listed a few for you above.
Support local businesses and restaurants that source their ingredients from nearby farms and producers and minimise food waste by ordering only what you can eat. There's a growing farm-to-table movement in Milan.
Avoid buying unnecessary souvenirs and invest in experiences supporting local artisans, musicians and other cultural activities. I went to a music festival at Fiera Milano a few years back. It was a brilliant experience and the last time I got to see Chris Cornell play live.
Participate in eco-friendly activities such as bike tours or eco-hikes that allow you to explore the city while reducing your environmental impact.
Avoid over-tourism by visiting lesser-known neighbourhoods and supporting local communities. Here are some examples.
Choose sustainable diets and avoid eating meat, dairy products and processed foods, which are known to have a larger environmental footprint.
Please share your sustainability tips in the comments.
If you have questions or want to leave a hotel review, please do so in the comments.
—
Recommendations are independently chosen based on personal travel experiences and extensive research. This post contains affiliate links to hotels in Milan, Italy. This means I get a small commission from any bookings at no extra cost to you.