Recommendations are based on personal travel experiences and research. If you book through links on our site, we may earn a commission at no extra cost to you.
—
Colmar is the second most visited destination in Alsace after the capital Strasbourg. It's known for its stunningly beautiful flower-lined canals, historic half-timbered houses and pretty city squares. Many visitors find the traditional cuisine to be a highlight too.
In this guide, we recommend four of the best boutique hotels in Colmar where you can stay in style and comfort.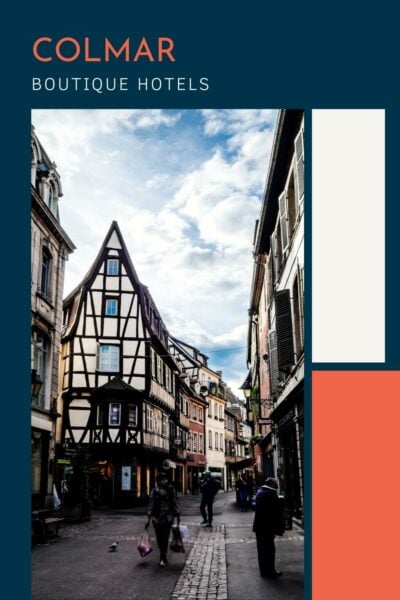 Boutique Hotels in Colmar
When booking a hotel in Colmar, we recommend choosing a boutique hotel in Vieux Colmar (Old Colmar).
More specifically, a great place to stay within Vieux Colmar is La Petite Venise (Little Venice), the most famous historic district of Colmar, where you'll find the pretty canals.
Top Pick
James Boutique Hôtel
Address: 15 rue Saint-Eloi, Colmar, France
The James is one of the few boutique hotels in Colmar and it's the most highly rated. The hotel is located within 5 to 10 minutes of Place de la Cathedrale and Place des Dominicains. Petite Venise is only slightly further away and still within walking distance. The James Boutique Hotel is a relatively new hotel in Colmar and the rooms are modern with sophisticated elegance and warmth.
Features:
Breakfast prepared entirely with local produce.
Coffee house and bar on site.
Soundproof rooms.
Coffee machine and kettle in the room.
Pros: Small, stylish hotel in an excellent central location with welcoming staff and an exceptional breakfast.
Cons: The smallest rooms are around 20 m² so you may need to book a superior room if you require more space.
Check Availability
Relais & Châteaux La Maison Des Têtes
Address: 19 Rue des Têtes, Colmar
This luxury hotel in Colmar is situated in one of the best locations in the city, near Place des Dominicains. The hotel is within one of the most famous buildings in Colmar, La Maison des Têtes, a historic Renaissance monument dating from 1609. The rooms and service are exceptional, everything you would expect from a 5-star hotel.
Le Colombier
Address: 7 rue Turenne, Colmar, Alsace, France
Le Colombier is another well-located boutique hotel, in this case near the wonderful La Petite Venise district of Colmar. The rooms are spread throughout a number of historic 16th-century buildings, providing Alsatian character and a warm atmosphere. Note that the cheapest rooms are quite small, so you might want to upgrade to a larger room.
Hôtel Quatorze
Address: 14 rue des Augustins, Colmar, France
I had a friend recommend this hotel to me and while some of the rooms do look lovely, others aren't as appealing. However, it does have some nice design features and the location is excellent. I suggest booking one of the previously mentioned hotels if you can, but if they aren't available, this is the next best hotel.
This guide to boutique hotels in Colmar is part of our series on where to stay in Alsace, one of the most beautiful regions of France.
If you have any questions or would like to leave a hotel review, please do so in the comments.
Visit Alsace has an itinerary on how to spend a weekend in Colmar. You might find this useful as a starting point when planning your trip.
—
Recommendations are independently chosen by our travel editors. This post contains affiliate links to hotels in Colmar, France. This means we get a small commission from any bookings at no extra cost to you.