Recommendations are based on personal travel experiences and research. If you book through links on our site, we may earn a commission at no extra cost to you.
—
Antwerp is one of Belgium's most historic cities but it's also known as the coolest and most progressive city in the country. It's young, vibrant and home to incredible culture, shopping, architecture and a diverse range of cuisine.
In this guide, we recommend where to stay with a focus on the best boutique hotels in Antwerp.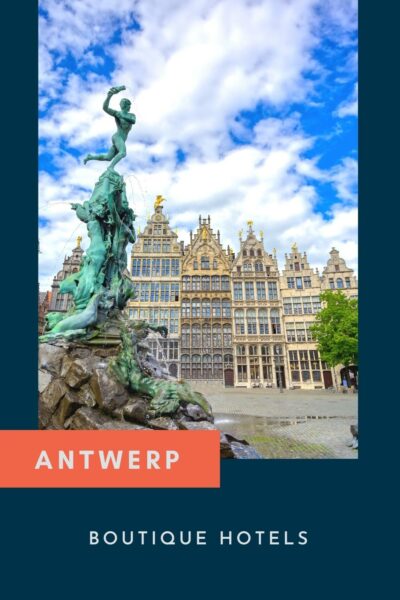 Boutique Hotel in Antwerp
Antwerp is centred around the Grote Markt, the most beautiful square in the old town that is known for its incredible Flemish Renaissance architecture.
This is a popular area of the city to stay in, but you might also consider staying in one of the cool hipster neighbourhoods like Het Eilandje and Het Zuid.
Alternatively, the Green Quarter in the residential Zurenborg district is a lovely option. You'll find grandiose art nouveau buildings, repurposed industrial sites, celebrated street art and creative centres in this green, car-free zone.
Top Pick
Gulde Schoen Hotel
Address: 37 Melkmarkt, Antwerp, Belgium
A boutique hotel with a sophisticated design in warm colours and with large light-filled bathrooms, Gulde Schoen is the most highly-rated hotel in Antwerp for good reason. The service is excellent, furnishings top quality and the location in the city centre is brilliant.
Features:
Excellent central location.
Large rooms and suites.
Cosy bathrobes and slippers.
Exceptional cleanliness.
Pros: The location is ideal for short break visitors and the standard of hotel service and facilities is outstanding.
Cons: Breakfast is not included in the price of the rooms.
Check Availability
Lit d'Art Exclusive Boutique Hotel
Address: Schildersstraat 6, Antwerp, Belgium
A stunning design hotel, Lit d'Art incorporates stunning minimalist decor, creative art, and an Insta-worthy breakfast. The hotel is located in the popular Het Zuid district and has implemented a number of sustainability initiatives that include avoiding single-use plastics, supporting the local community and energy efficiency measures.
Hotel Julien
Address: Korte Nieuwstraat 24, Antwerpen, Belgium
Hotel Julien has been one of Antwerp's top boutique hotels for quite some time. You'll find light-filled rooms with open beams and high-quality fittings and furnishings. Located in a former palace, the historic building has been wonderfully transformed into a calm and restful hotel in the city centre.
August
Address: Jules Bordetstraat 5, Antwerp
Lovely minimalist design in beige and black adds to the August hotel's warm and cosy atmosphere. Located in the lovely Green Quarter, the hotel is a peaceful oasis away from the bustling city centre.
Hotel De Witte Lelie
Address: Keizerstraat 16-18, Antwerpen
If you love a hotel with unique and eclectic design features, Hotel De Witte Lelie is quite special, like no other hotel in Antwerp. The lush furnishings, colourful wallpaper and quirky bathrooms add to the appeal. The hotel is also known for its wonderful staff who go above and beyond. Located near Groenplaats, it is ideally situated for most trips to Antwerpen.
Hotel FRANQ
Address: Kipdorp 10-12, Antwerp District, Belgium
This luxury boutique hotel is one of Antwerp's finest. Their focus is on exceptional service and attention to detail. Located 5 minutes from the Grote Markt, it's central to many of the city's sights, museums and restaurants, including the hotel's own restaurant. Bicycle rental is available, and the hotel has an electric vehicle charging station.
This article is part of our series on the best places to visit in Belgium.
If you have questions or want to leave a hotel review, please do so in the comments.
For more information, Visit Antwerp is a great resource regarding sightseeing and itineraries.
—
Recommendations are independently chosen by our travel editors. This post contains affiliate links to hotels in Antwerp, Belgium. This means we get a small commission from any bookings at no extra cost to you.