Recommendations are based on personal travel experiences and research. If you book through links on our site, we may earn a commission at no extra cost to you.
—
Orange County is a sunny and vibrant destination in Southern California's heart. It has endless charms and diverse attractions, including beautiful beaches, picturesque parks, bustling cities, and world-class shopping and dining. But I think you'll find most people visit specifically for the beaches and nature.
When it comes to where to stay, I highly recommend choosing a cool and unique boutique hotel for a personalized and memorable travel experience.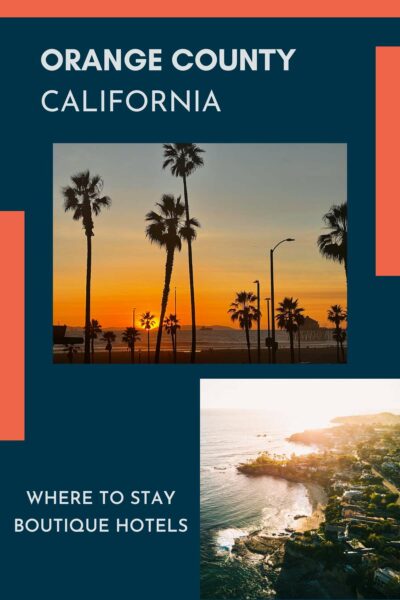 Boutique Hotels in Orange County
Orange County is home to a number of cool cities and towns that offer a variety of attractions and experiences.
Some popular areas to visit include Huntington Beach, known for its surf culture and sandy beaches, and many people's favorite, Laguna Beach, known for its art galleries and scenic beauty.
If you're visiting Orange County, I recommend staying in one of these coastal cities for easy access to these attractions and a true taste of the region's laid-back beach culture.
Top Pick
Kimpton Shorebreak
Address: 500 Pacific Coast Highway, Huntington Beach, CA
I already mentioned this hotel in my Huntington Beach guide, but I'll share it here again because I really do believe it's the best hotel in all of the OC.
The Kimpton Shorebreak is a stylish boutique hotel located in the heart of Huntington Beach, just steps away from the beach, pier, and lively Main Street. The hotel has a relaxed, coastal atmosphere with fresh interior design and an open-air patio with cozy firepits. This location provides easy access to all the charms of this vibrant beach community and classic SoCal atmosphere.
Features:
Ocean views rooms within steps of the sandy beach.
Full range of beach amenities, including beach cruisers.
Good-sized gym open 24 hours a day, in-room yoga mats, plus Sunday yoga classes.
Pet-friendly – no extra charges, any size dog, any breed. Pet walking and sitting are also available.
Pros: The hotel is located right across from the beach, so you have easy access to swimming, sunsets and everything at your door.
Cons: There is a daily guest amenities fee of $35.00 plus taxes. So be sure to factor that into the cost of your stay. Unfortunately, this is pretty standard in hotels and beach resorts in Orange County.
Check Availability
If you're interested in staying at a boutique hotel in Orange County, I highly recommend this one as my top choice. However, if you're looking for something different or in a different location, I also have a second pick that you might enjoy.
Next Best
Inn at Laguna Beach
Address: 211 North Coast Highway, Laguna Beach, CA
I love Laguna Beach and think it's the nicest area to stay in Orange County, although Huntington Beach is a close second. The Inn at Laguna Beach is a luxurious boutique hotel located on the rocky cliffside of Laguna Beach, providing breathtaking views of the Pacific Ocean and Heisler Park. Beachfront rooms offer spectacular vistas of the ocean, and the hotel is just steps from Main Beach and the Boardwalk.
Cool and Unique Hotel
Staying in a cool and unique hotel can add an extra level of excitement and character to a vacation. It can also provide a more personalized and authentic travel experience, as unique hotels often have distinct styles and cultures.
Hotel Joaquin
Address: 985 North Coast Highway, Laguna Beach, CA
Hotel Joaquin is a modern and stylish boutique hotel located just 3 minutes from Shaws Cove. It's a convenient location, and the cool design makes it a lovely place to stay in Laguna Beach.
One of the hotel's standout features is its complimentary breakfast, which sets it apart from other hotels in the area.
While it's not a beachfront property and Main Beach is located across Heisler Park, the hotel offers a refreshingly down-to-earth and unpretentious atmosphere, making it a nice alternative to some of the more opulent and overpriced hotels in other parts of Laguna Beach.
Luxury Hotel in Orange County
I realise this isn't a boutique hotel, but I wanted to mention this luxury hotel for its exceptional location that overlooks the coastal bluff near Laguna Beach. It's quite incredible, and this kind of landscape makes Laguna Beach a desirable destination.
Montage Laguna Beach
Address: 30801 South Coast Highway, Laguna Beach, CA
The Montage Laguna Beach is a luxurious coastal resort located above the Pacific in the heart of Southern California's artist colony. The resort has breathtaking views of the California coast. It's definitely what I would consider a special occasion hotel.
Other beach towns and cities in Orange County include pretty Newport Beach and Dana Point, which is particularly well-known for dolphin and whale watching.
Alternatively, you could also consider staying in a more urban area like Costa Mesa or Santa Ana, which offer a wide range of dining, shopping, and entertainment options.
Check out my guide to the best places to visit in California for an insider's perspective on the top destinations and hidden gems in the Golden State.
The Visit California tourist office has a helpful website for visitors to the state of California, providing information on attractions, events, and activities in various cities and regions.
From the website, you can find ideas for things to do, places to stay, and ways to plan your trip, making it a valuable resource for anyone looking to explore California.
There is a dedicated section for planning a trip to Orange County and making the most of your visit.
Responsible Travel Tips
Many of us are increasingly concerned about climate change and sustainability.
Here are some ideas for responsible travel in Orange County:
Seek out accommodations that are energy efficient and/or use renewable energy sources, such as solar panels.
Consider using alternative modes of transportation, such as biking, walking, or taking public transportation, to reduce your carbon footprint.
Limit your consumption of single-use plastics and disposable items, and bring your own reusable water bottle and shopping bags.
Support local businesses and communities by eating at locally-owned restaurants and purchasing locally-grown and produced products.
Consider a plant-based or sustainable diet to reduce your environmental impact.
Avoid flying whenever possible, as it is a major contributor to carbon emissions. Instead, consider taking a train or driving a fuel-efficient vehicle. If you have an EV, you can comfortably drive from elsewhere in California to the OC, including from LA and San Diego.
Avoid wasting food by planning your meals and only purchasing what you can realistically consume.
Support conservation efforts and protect the local environment by participating in beach cleanups and other volunteer opportunities.
Please share your sustainability tips in the comments.
FAQ
What cities are in Orange County?
The main beach towns and cities in Orange County include Laguna Beach, Huntington Beach, Newport Beach and Dana Point. The more urban cities include Costa Mesa, Santa Ana, Irvine and Anaheim.
How far is Orange County from LA?
Orange County is around 30 miles southeast of LA, which is approximately a 30-minute drive.
How far is Orange County from San Diego?
Orange County is around 70 miles from San Diego, which is approximately a 1-hour drive.
If you have questions or want to leave a hotel review, please do so in the comments.
—
Recommendations are independently chosen based on personal travel experiences and extensive research. This post contains affiliate links to hotels in Orange County, California. This means I get a small commission from any bookings at no extra cost to you.