Recommendations are based on personal travel experiences and research. If you book through links on our site, we may earn a commission at no extra cost to you.
—
Laguna Beach is a hidden gem located in Orange County, between Newport Beach and Dana Point. It's known for being an artist colony, but these days, most people visit for the incredible nature, beaches and cool vibe. There are more than 30 coves and beaches to explore, with plenty of sea caves, tide pools and oceanside bluffs to discover.
Laguna Beach is the perfect spot for a beach getaway. I highly recommend checking out some of the smaller, independently-owned boutique hotels in Laguna Beach – they add such a special touch to your vacation.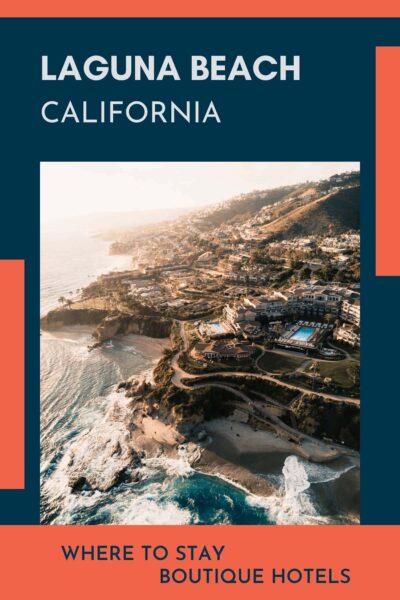 Boutique Hotels in Laguna Beach
Laguna Beach has several interesting areas to explore, including the vibrant downtown area with its art galleries, restaurants, and boutiques. Another popular area is the picturesque village of Laguna Canyon, which is home to several wineries and art studios.
If you're visiting, I recommend staying close to Main Beach for its lively atmosphere, access to the Boardwalk and the classic OC experience.
Top Pick
Inn at Laguna Beach
Address: 211 North Coast Highway, Laguna Beach, CA
The Inn at Laguna Beach is a luxury boutique hotel on the rocky cliffside of Laguna Beach, offering unbeatable ocean views. Beachfront rooms offer stunning views of the Pacific Ocean and Heisler Park. The Inn is located directly across from Main Beach and the Boardwalk and is only a few minutes from the downtown shops, bars, restaurants and galleries.
Features:
Beachfront location and heated hotel pool.
Rooftop bar, ideal for sunset cocktails.
Complimentary daily wine reception and nightly milk and cookies.
Choose from ocean view, poolside and top floor suites.
Sustainability:
Food waste reduction measures.
Avoid single-use plastics.
Most food is locally-sourced.
Can arrange tours led by local guides.
Pros: Beachfront location with a pool and rooftop bar, all within proximity to the bustling downtown area.
Cons: Parking can be a little tricky in a tight space.
Check Availability
I know some bloggers recommended staying at the Pacific Edge Hotel. It has a great beachfront location, but the rooms are completely unrenovated, dating back to the 70s. The reviews are terrible and it's very expensive for what you get. Please stay elsewhere.
If you're still considering where to stay in Laguna Beach and don't want to stay at the Inn, consider my next best option.
Next Best
Hotel Joaquin
Address: 985 North Coast Highway, Laguna Beach, CA
Hotel Joaquin boasts a modern design and is located just 3 minutes from Shaws Cove. Its convenient location and stylish design make it a popular, highly-rated choice. The complimentary breakfast sets it apart from other hotels in Laguna Beach. Compared to some opulent and overpriced hotels in other parts of Laguna Beach, this boutique hotel offers a refreshingly down-to-earth and unpretentious atmosphere. Unfortunately, this is not a beachfront hotel and Laguna Beach's Main Beach is located on the other side of Heisler Park. However, Hotel Joaquin is far nicer than most of the hotels located directly on Laguna Beach.
If you're planning a trip to California, be sure to check out my guide to the best places to visit – it's packed with insider tips and recommendations for amazing experiences throughout the state.
If these hotels don't interest you, I have an article listing some of the OC's best luxury and boutique hotels.
Visit Laguna Beach is a helpful website for visitors to the city. It provides information on local attractions, events, transportation options, and tips for exploring the city in a sustainable and responsible way. I recommend checking out their site if you need help with trip planning or to get inspiration from the wonderful photography.
Responsible Travel Tips
Many of us are increasingly concerned about climate change and sustainability. Here are some ideas for how we can travel more responsibly in Laguna Beach:
Support renewable energy use whenever possible, such as by staying in a hotel that uses solar panels or wind energy.
Reduce energy consumption by turning off lights and electronics when leaving your hotel room.
Limit food waste by only ordering what you can eat and keeping leftovers to eat later.
Limit consumerism by supporting local businesses and choosing to purchase locally-made products.
Eat a sustainable diet by choosing locally grown and organic foods and plant-based options.
Use sustainable transport options, such as walking, biking, or using public transportation, instead of driving a car. This can be difficult in Laguna Beach, but there are trains if you're coming from LA or San Diego and can spare the extra travel time.
Avoid flying whenever possible, as air travel is a major contributor to greenhouse gas emissions.
Support the local community by staying in locally-owned accommodations, eating at locally-owned restaurants, and participating in local activities.
Please share your sustainability tips in the comments.
FAQ
How far is Laguna Beach from LA?
Laguna Beach is located 50 miles south of Downtown LA. It's around a 90-minute drive and much longer on the MetroLink line to Orange County.
How far is Laguna Beach from San Diego?
Laguna Beach is located 80 miles north of San Diego. It's around a 90-minute drive and about 3 hours on the Pacific Surfliner.
Where to stay in Laguna Beach?
I recommend staying at Hotel Joaquin for its cool design, modern rooms and great service or at the Inn at Laguna Beach for its amazing location.
If you have questions or want to leave a hotel review, please do so in the comments.
—
Recommendations are independently chosen based on personal travel experiences and extensive research. This post contains affiliate links to Laguna Beach, CA, United States hotels. This means I get a small commission from any bookings at no extra cost to you.