Recommendations are based on personal travel experiences and research. If you book through links on our site, we may earn a commission at no extra cost to you.
—
Dana Point is a beautiful and welcoming city located in Orange County, California. I had the opportunity to visit there a few years ago and was blown away by the area's natural beauty and laid-back atmosphere.
I spent most of my time exploring the local beaches, but you'll also find great hiking nearby and plenty of fun shops and restaurants to check out.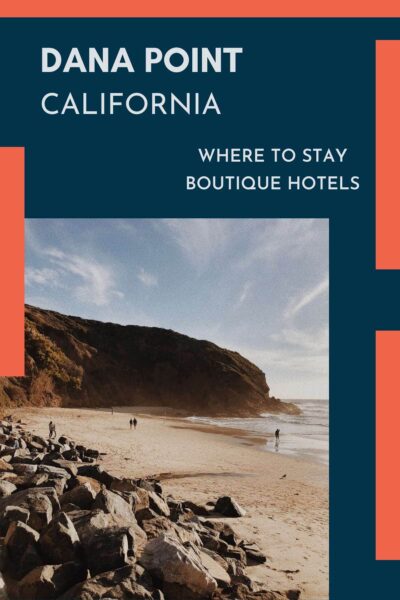 If you want to know where to stay, I recommend finding an independent boutique hotel. These smaller hotels often have a lot of character and charm, and can provide a more personalized and memorable experience.
Boutique Hotels in Dana Point
Dana Point has several interesting neighborhoods and districts to explore, each with its own unique character and offerings.
The Lantern District, for example, is known for its charming boutiques, art galleries, and restaurants. This is more or less the Downtown area. The Doheny Village area is another relaxing area home to many fun activities and attractions, including the Doheny State Beach.
If you're visiting Dana Point and looking for the best area to stay in, I would recommend considering the Lantern District and the adjacent area near the harbor.
This area has a lively and inviting atmosphere and is conveniently located close to many of the city's top attractions and amenities.
Top Pick
Blue Lantern Inn
Address: 34343 Blue Lantern Street, Dana Point, CA
Dana Point is a bit short on boutique hotels, with the Blue Lantern being the one exception. It's a small hotel in a brilliant location that is focused on great experiences. Located directly above the Dana Point Yacht Harbor, it's a short walk to the shops and restaurants on Del Prado Ave in the Lantern District. You also have the Headlands Conservation Area, Dana Point Caves and several beaches nearby.
Features:
Spacious rooms with balconies and ocean views.
Complimentary full breakfast, wine and cheese platters, and freshly baked cookies are available daily.
Four poster beds in the lux rooms, which also include patio access, terrace or balcony.
Pros: Small boutique located in the best area of Dana Point. Dolphin and whale watching, kayaking and other water activities are available nearby.
Cons: Some rooms are pet-friendly, but you need to book in advance via telephone and a fee applies.
Check Availability
If you're looking for the best boutique hotel in Dana Point, I would recommend this one. However, if you're interested in something a bit more unique or located in a different area, my next top pick might be a better fit for you.
Next Best
Laguna Cliffs
Address: 25135 Park Lantern, Dana Point, CA
While this might not qualify as a boutique hotel, it's a great place to stay nonetheless. The Laguna Cliffs Resort & Spa is located on the cliffs of Dana Point with breathtaking views of the Pacific Ocean.
You'll have two heated swimming pools to choose from, plus a dedicated kids' pool. The resort is just a short walk from the beach and the harbor, making it a great location if you're looking to spend time in the great outdoors.
The hotel uses 100% renewable energy, food waste is limited, single-use plastic is avoided and most food provided is locally-sourced. So despite the heated pools, this is the most eco-friendly hotel in Dana Point.
If you haven't found what you're looking for, maybe consider staying in nearby Laguna Beach. Or read my guide to boutique hotels in Orange County to see where to stay in the region.
If you're planning a trip to California and looking for some inspiration on where to go and what to do, be sure to check out my guide to the best places to visit in the state!
Visit Dana Point has a helpful website for visitors to the beach town located in the southern coast of the OC. You can find information on local attractions, events, and activities. You can also find ideas for things to do, where to stay, and ways to plan your trip, making it a valuable resource for anyone looking to explore Dana Point and the surrounding area.
Responsible Travel Tips
Many of us are increasingly concerned about climate change and sustainability.
There are many ways that people can travel more responsibly in Dana Point and reduce their impact on the environment while still having a fun and enjoyable trip. Some ideas include:
Staying in accommodations powered by renewable energy or with energy-efficient features, such as LED lighting.
Reducing food waste by planning meals carefully and choosing to eat at sustainable restaurants, such as using locally-sourced ingredients and composting food scraps.
Limiting consumerism by choosing to buy souvenirs from local artisanal shops rather than chain stores and opting for experiences rather than material goods.
Adopting a sustainable diet by choosing plant-based options or locally-grown and organic foods whenever possible.
Using sustainable transport options, such as public transportation, biking, or walking, instead of driving or flying. If you must drive, for example, from San Diego or La, then you could drive in an EV powered by renewables.
Supporting the local community by staying in locally-owned accommodations, eating at locally-owned restaurants, and participating in community events and activities.
Please share your sustainability tips in the comments.
FAQ
How far is Dana Point from San Diego?
Dana Point is 65 miles from central San Diego. This would take around an hour by car on the I-5.
What county is Dana Point, CA in?
Dana Point is in Orange County, California. It's located on the coast in the southern area of OC.
How far is Dana Point from Laguna Beach?
Dana Point is 7 miles from Laguna Beach, which is around 15-20 minutes by car.
If you have questions or want to leave a hotel review, please do so in the comments.
—
Recommendations are independently chosen based on personal travel experiences and extensive research. This post contains affiliate links to hotels in Dana Point, OC, California. This means I get a small commission from any bookings at no extra cost to you.