Recommendations are based on personal travel experiences and research. If you book through links on our site, we may earn a commission at no extra cost to you.
—
Newport Beach is a popular SoCal destination in the heart of Orange County. Well-known for its picturesque beaches, bustling harbor, and the charming Balboa Peninsula, which is home to two piers and an old-fashioned amusement park.
If you're looking for where to stay, I suggest staying at a boutique hotel near the harbour and Newport Beach Pier.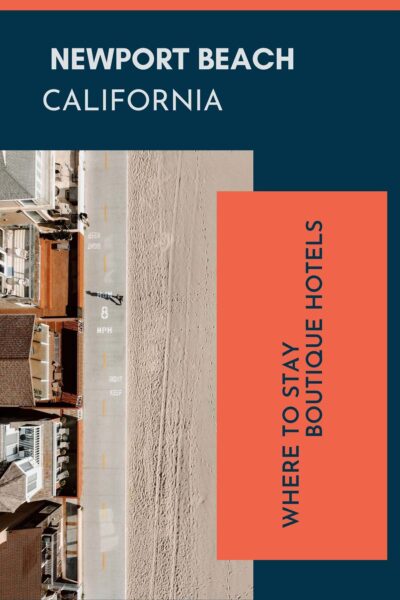 Boutique Hotels in Newport Beach
Newport Beach has many interesting neighborhoods and districts to explore, each with its own unique character and attractions.
Some popular areas include Fashion Island's shopping and dining district, the lively marina area with its many boats and yachts, and the charming Balboa Island neighborhood with its quaint cottages and charming shops.
If you're visiting Newport Beach, I would recommend staying in the Balboa Peninsula area, which is close to the beach and has a variety of restaurants, shops, and other attractions. This area is a great base for exploring all Newport Beach offers.
Top Pick
Lido House
Address: 3300 Newport Boulevard, Newport Beach, CA
Lido House is located on the Bilboa Peninsula, a 15-minute leisurely walk to the surf beach, Newport Beach Pier and the boardwalk. The hotel was designed with a beach vibe in mind, and you'll find an outdoor pool and ocean views. You can choose from a regular room, king suites or full-featured cottages.
Features:
New, modern rooms with a fresh beach vibe.
Rooftop bar.
Heated saltwater pool, champagne available.
Good-sized gym, open 24 hours per day.
An American diner-style restaurant on-site.
Sustainability:
Avoid single-use plastic.
Organic food is provided.
Local artwork is displayed.
Pros: This is easily the best hotel in Newport Beach, the cottages are perfect for comfortable, longer stays. You can walk to the beach, great restaurants and the marina.
Cons: Although a privately-owned boutique hotel, this property is managed by the Marriot hotel group. There's a $30 per day amenities fee.
Check Availability
If you're seeking the best boutique hotel in Newport Beach, I recommend this one. However, my next pick might be a better fit for you if you prefer something a bit more unique or in a different location.
Next Best
Newport Beach Hotel
Address: 2306 West Oceanfront , Newport Beach, CA
The Newport is the best choice if you want to stay directly on the beach with the boardwalk at your door. This hotel is geared towards relaxing vacations, cool vibes, sun, sand and swimming. Fresh seafood is available at the local restaurants, beach gear is available from reception and the hotel can even arrange surf lessons. Rooms are light and bright with hardwood floors. Bikes are available for free.
If you can't find what you're looking for, consider staying in nearby Huntington Beach or Laguna Beach.
Or check out my guide to places to stay in Orange County.
Check out my guide to the best places to visit in California for insider tips on the top attractions and hidden gems in SoCal.
If you're planning a trip to California and need more information, be sure to visit the website of Visit California. They have a wealth of information and resources to help you plan your trip, including recommendations for places to stay, things to do, and events happening throughout the state.
But if you want information specifically about Newport Beach, Visit Newport Beach is a great resource.
Responsible Travel Tips
Many of us are increasingly concerned about climate change and sustainability.
Here are a few ideas for how people can travel more responsibly in Newport Beach:
Reduce food waste by planning meals carefully and choosing restaurants that prioritize sustainability.
Limit consumerism by buying local and secondhand products instead of new items.
Adopt a sustainable diet by choosing locally grown, organic, and plant-based options.
Use sustainable transport methods such as biking, walking, or using public transportation. You could even travel by train from nearby places like San Diego by catching the Pacific Surfliner.
Support the local community by staying in locally-owned accommodations, eating at locally-owned restaurants, and shopping at local businesses.
Please share your sustainability tips in the comments.
FAQ
How far is Newport Beach from San Diego?
Newport Beach is around 90 miles from San Diego, which is more or less a 1 hour 20-minute drive or it's 4 hours on the train.
Where is Newport Beach in CA?
Newport Beach is in southern California in the heart of Orange County. It's located on the coast between Huntington Beach and Laguna Beach.
How far is Laguna Beach from Newport Beach?
Laguna Beach is 10 miles from Newport Beach and can be reached in 18 minutes by car.
How far is Huntington Beach from Newport Beach?
Huntington Beach is 5 miles from Newport Beach and can be reached in 8 minutes by car.
If you have questions or want to leave a hotel review, please do so in the comments.
—
Recommendations are independently chosen based on personal travel experiences and extensive research. This post contains affiliate links to hotels in Newport Beach, California. This means I get a small commission from any bookings at no extra cost to you.