Recommendations are based on personal travel experiences and research. If you book through links on our site, we may earn a commission at no extra cost to you.
—
The historic charm of Savannah, Georgia, is palpable in every corner, from the moss-draped oaks to the delightful scent of blooming azaleas. This city, steeped in Southern hospitality, is a beautiful destination filled with unique experiences.
In this guide, we delve into the heart of Savannah's best boutique hotels, all of which reflect the city's unique character and warm charm.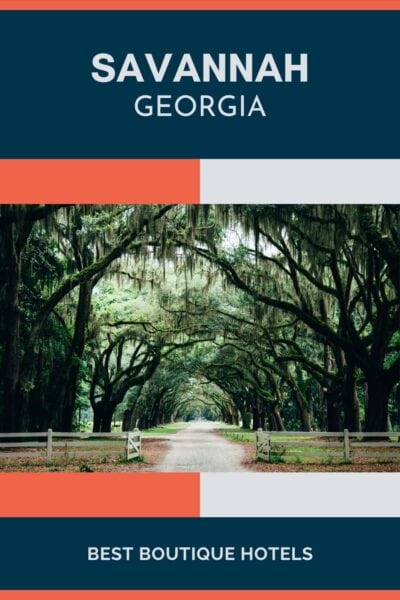 Boutique Hotels in Savannah GA
When you're considering booking a boutique hotel in Savannah GA, it's all about location. Savannah's North and South Historic districts have a charm that's hard to resist, with the historic architecture and labyrinth of scenic squares.
Top Pick
Perry Lane Hotel
Address: 256 East Perry Street, Savannah
Location: North Historic District
You'll find Perry Lane Hotel quite the standout spot in Savannah, with its superb location and exceptional staff that'll have you feeling like royalty in no time. The facilities are stunning, especially the rooftop pool, which comes with complimentary champagne and a daily cocktail to add to your enjoyment. Throw in the locally sourced food and their exceptional service; you're looking at an absolute gem of a boutique stay in Savannah.
Features:
Distinctive decor and design.
Stylish rooms with ample natural light.
Rooms with city views.
Huge selection for breakfast.
Rooftop bar, ideal for sunset cocktails.
Great location near The Historic Savannah Theater, Chippewa Square.
Sustainability:
Energy-efficient heating and cooling system.
Efforts are made to minimise food waste.
Most food is organic and locally sourced.
It avoids using single-use plastics.
Offset a portion of emissions.
Pros: Location, friendly staff, locally sourced food, facilities including a rooftop pool, complimentary champagne and daily cocktail.
Cons: Occasionally crowded pool, limited vegetarian menu options.
Check Availability
While Perry Lane is a top hotel in Savannah, I've got a couple more boutique hotels up my sleeve. Each of these spots has its own flair, whether it's a distinct style, unique location, or a strong commitment to eco-friendliness.
Next Best
Mansion on Forsyth Park
Address: 700 Drayton Sreet, Savannah, Georgia
Location: South Historic District
The Mansion on Forsyth Park is a brilliant pick, combining the grandeur of a historic mansion with modern comfort. The staff is excellent, and the hotel's stunning decoration, brimming with chandeliers, Greek columns, and marble statues, gives it a personality that's hard to beat. The location, right across from the park, couldn't be better, and you'll love lounging by the heated pool or sipping champagne in the lobby at 5 pm. It's not just the aesthetics; the practical aspects, like a comfortable bed and clean shower, make your stay just as enjoyable. You'll definitely appreciate the calm and classy vibe of this spot.
Cool and Unique Hotel
A cool, unique boutique hotel is like a treasure trove of experience waiting to be explored. These hotels stand out due to their individualistic design approach, passion for local culture, and knack for creating intimate, personalised experiences.
The Cotton Sail Hotel
Address: 126 West Bay Street, Savannah, United States
Location: North Historic District
The Cotton Sail Hotel in Savannah is a top pick for anyone looking to soak up the city's vibe in a cool and unique setting. The smooth check-in experience sets the tone for a truly enjoyable stay, where the friendly staff are always on hand to help out. With its great location, you'll be just a hop, skip and a jump away from shopping, restaurants and parks. You'll love the spacious rooms with superb views, and the rooftop bar is a cracking spot for a sundowner. What's more, it's a sustainable choice with its high sustainability rating.
Eco-Friendly Hotel
Staying in an eco-friendly hotel is about more than just a bed for the night; it's about making a positive impact. These hotels prioritise practices that minimise environmental harm, such as energy efficiency, waste reduction, and use of sustainable materials.
Thompson Savannah
Address: 201 Port Street, Savannah, GA
Location: Hitch Village/Fred Wessels Homes
For those seeking to make a sustainable choice without skimping on comfort, the Thompson Savannah Hotel is your go-to. The staff is friendly and courteous, making your stay relaxing and enjoyable. You'll appreciate the well-equipped, stylish rooms and quality facilities like the pool with its comfy sunbeds and cabanas. But the real standout is the hotel's commitment to eco-friendly practices, with 100% renewable electricity used throughout the property. The location, just a half-mile walk to River Street along the river, is spot on. All in all, a brilliant choice for a comfortable and sustainable stay in Savannah.
Luxury Boutique Hotel
Luxury boutique hotels are the top choice for travellers looking to inject a bit of indulgence into their holidays. These gems provide an intimate setting that's chock-full of unique styles and personalised service.
Andaz Savannah
Address: 14 Barnard Street, Savannah, GA, United States
Location: North Historic District
Take a well-deserved break at the Andaz Savannah, a luxury boutique hotel that truly shines. Cleanliness is paramount here, and the staff are not just amiable, but they really know their stuff about Savannah. Perfectly positioned, it's a hop and skip from lively bars, fine dining restaurants and the bustling City Market. You're also a casual stroll away from sightseeing gems like Forsyth Park. On arrival, you're made to feel special with a welcoming champagne. You're well catered for with a downstairs bar, coffee spot, and a high-end restaurant. The pool is a delightful spot to unwind and breakfast, while on the dear side, it's packed full of delicious, locally sourced goodies.
Where to Stay in Savannah
North Historic District: This is the heart of the city and a must-consider when deciding where to stay in Savannah. Teeming with historical landmarks, quaint shops, and delightful eateries, the North Historic District is where you'll find the pulse of Savannah's vibrant culture. This is the downtown area.
South Historic District: Another gem in Savannah, the South Historic District presents a charming, bygone backdrop with its cobblestone streets, Spanish moss-draped trees, and stunningly restored homes. It's also home to various museums, art galleries and Forsyth Park.
River Street: Iconic River Street, sitting along the Savannah River, offers a unique experience with its bustling waterfront, packed with shops, pubs and a range of eateries. Whether it's a casual walk or indulging in local cuisine, it's never a dull moment here.
Starland District: Known for its vibrant arts scene, Starland District is a thriving neighbourhood filled with independent stores, art galleries, and cool cafes. If you're into creative vibes, this is your spot.
City Market: A four-block open-air market, the City Market is the go-to place for entertainment, dining, and shopping. It's a dynamic area, especially after sunset, when lively bars and music venues come alive.
Thomas Square: For a residential feel mixed with an assortment of eateries, boutiques and cultural spots, Thomas Square is a great choice. It's a charming area with historic homes near Forsyth Park and the artsy Starland District.
Victorian District: Just south of the Historic District, the Victorian District showcases stunning architecture and peaceful tree-lined streets. It's close enough to the action but offers a quieter stay.
These are some of the best areas to stay in Savannah, each offering its own unique charm and characteristics to suit different traveller tastes.
For an authentic taste of America's rich cultural and natural tapestry, delve into my guide to the best places to visit in Georgia, where I shed light on hidden gems and famed locales alike.
The Visit Savannah official website is a great resource for more insights about Savannah, providing a wealth of information on activities, must-see spots, and upcoming events. It's a one-stop shop for fine-tuning your travel plans. They have a comprehensive guide to Savannah's unique neighbourhoods, expanding on what I've discussed here.
Responsible Travel Tips
Here are a few ideas on how we can travel more responsibly in Savannah, Georgia.
Use Renewable Energy: Savannah is a city that supports green initiatives, and you can do your part by staying in hotels that use renewable energy. Look for accommodations that harness solar power or other sustainable resources.
Minimise Food Waste: Savannah's Southern hospitality means generous portions, but to avoid food waste, consider sharing meals or requesting smaller servings at local eateries. Remember to take any leftovers back to your hotel, as many places will provide compostable containers.
Sustainable Diets: Enjoy the local produce of Georgia by choosing plant-based or locally sourced meals where possible. Savannah is blessed with plentiful farmers markets that focus on local, seasonal produce.
Sustainable Transport: Walk or cycle to experience Savannah's charm; it's a compact city with many pedestrian-friendly areas. Opt for public transport for longer trips like the free Downtown Transportation (DOT) system.
Avoid Flying: If you're travelling within the States, consider taking a train to Savannah or driving. The city is a lovely road trip destination, and Amtrak services also stop here, reducing the carbon footprint compared to flying.
Support the Local Community: Shop at local businesses, enjoy local arts and crafts and participate in community events. Savannah has a vibrant art scene and many small businesses that benefit from tourism. By shopping locally, you are supporting the local economy and artisans.
Respect Wildlife and Nature: Savannah boasts beautiful parks and wildlife refuges. Enjoy these spaces responsibly by sticking to marked trails, not feeding wildlife, and leaving no trace of your visit.
FAQ
What are the best areas to stay in Savannah?
The Historic District is popular for first-time visitors, offering a blend of history, charm, and convenience. The Starland District is an up-and-coming area known for its creative scene and local businesses, while the Riverfront is ideal for those who prefer scenic views and proximity to shopping and dining options.
How easy is it to get around Savannah without a car?
Savannah is a walkable city, particularly in the North Historic District, which is compact and pedestrian-friendly. The city also offers a free Downtown Transportation (DOT) system, which includes buses and a ferry.
What kind of hotels are available in Savannah?
Savannah has a broad range of accommodations to suit different preferences. This includes luxury boutique hotels, unique and eclectic boutique hotels, and even eco-friendly hotels that focus on sustainability. Each of these types of accommodations provides a unique experience to the traveller.
What are some local foods to try while in Savannah?
While in Savannah, you must try Southern classics like shrimp and grits, fried green tomatoes, and peach cobbler. The city is also known for its seafood, particularly oysters and crab.

Savannah truly has something for everyone with its rich history, southern charm, and exciting culinary scene. The variety in boutique hotels, each with its own unique style and character, further enhances the city's allure.
If you have questions or want to leave a hotel review, please do so in the comments.
—
Recommendations are independently chosen based on personal travel experiences and extensive research. This post contains affiliate links to hotels in Savannah, GA, United States. This means I get a small commission from any bookings at no extra cost to you.