Recommendations are based on personal travel experiences and research. If you book through links on our site, we may earn a commission at no extra cost to you.
—
Beautiful Huntington Beach in Southern California is popular for its pristine beaches, delicious seafood, and abundance of sunny days. If you're looking to spend your days enjoying the sandy shores, trying out new surf spots, and exploring the town's nightlife scene, it's the place to go.
By choosing one of these recommended boutique hotels, you can fully immerse yourself in the relaxed Huntington Beach lifestyle and make the most of your vacation.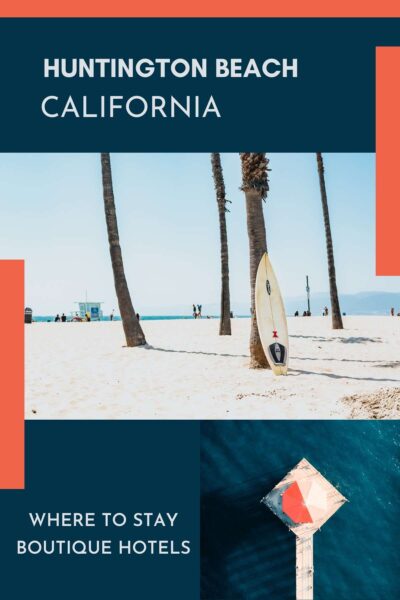 Boutique Hotels in Huntington Beach
Huntington Beach has several cool neighborhoods to explore, including downtown Main Street, which is home to a variety of restaurants, bars, and shops. Another popular area is Pacific City, where you'll find cool shopping and outdoor dining.
The incredible Bolsa Chica Conservation Area and Seal Beach Wildlife Refuge are a bit further away. In fact, this entire coastline is full of natural beauty.
If you're visiting Huntington Beach, I recommend staying in the beachfront area for easy access to all the town has to offer. This central location is near Huntington Beach Pier. Staying here will allow you to explore and experience the best of the region easily.
Top Pick
Kimpton Shorebreak Huntington Beach Resort
Address: 500 Pacific Coast Highway, Huntington Beach, CA
The Kimpton Shorebreak is a boutique hotel located in the heart of Huntington Beach, just steps from the beach, pier and the vibrant Main Street scene. The hotel has a relaxed, coastal vibe with spirited interior design, an open-air patio with cozy firepits, and elevated beach dining at the Pacific Hideaway restaurant.
Features:
Rooms with ocean views.
Beachfront restaurant, known for its seafood dishes.
Full range of beach amenities, including beach cruisers.
Good-sized gym open 24 hours a day, in-room yoga mats, plus Sunday yoga classes.
Spa services include massages, facials, and body wraps.
Pet-friendly – no extra charges, any size dog, any breed. Pet walking and sitting are also available.
Sustainability:
Energy-efficient LED lighting.
Low-flow plumbing fixtures reduce water usage.
A recycling program is in place, diverting waste from landfills.
Recycled and eco-friendly paper products.
Pros: The hotel is located right across from the beach, so you have easy access to swimming, sunsets and everything at your door.
Cons: There is a daily guest amenities fee of $35.00 plus taxes. So be sure to factor that into the cost of your stay. Unfortunately, this is pretty standard in hotels and beach resorts in Huntington Beach.
Check Availability
You might prefer my second hotel recommendation if you're looking for something different.
Next Best
Paséa Hotel & Spa
Address: 21080 Pacific Coast Highway, Huntington Beach, CA
The Paséa Hotel & Spa is a beachfront resort located in Huntington Beach, California, next to Pacific City and across from the beach. It's decorated in classic fun Socal style. The resort hotel features a spa with a variety of indoor and outdoor treatments and services. Towels, beach chairs, umbrellas, bikes and scooters are complimentary. You can book watersports and activities like stand-up paddle boarding and kayaking. The resort also has an outdoor pool and sun terrace so you can relax and enjoy the California sunshine and sunsets.
Paséa is pet-friendly and provides special dog amenities, including exclusive dog park access and gourmet pet treats.
Note that there is a resort fee of $38 per day.
Experience the best of California with our insider's guide to the top destinations and attractions, from stunning beaches and national parks to vibrant cities and world-class museums.
Visit Huntington Beach has a helpful website for visitors to the town, offering information on local attractions, events, and dining options. Whether you're looking to explore the beaches, visit popular theme parks, or discover the local culture in the OC, the tourist office's website has everything you need to plan your trip.
Beach resort hotels are generally cheaper in Hungtington Beach than in Santa Monica. But if you can't find what you're looking for at Huntington Beach, Santa Monica has many more boutique hotel options.
But if you would prefer to stay close by, choose one of my recommended boutique hotels in Orange County.
Responsible Travel Tips
Many of us are increasingly concerned about climate change and sustainability.
Here are some ideas on how people can travel more responsibly in Huntington Beach:
Choose accommodations that are committed to sustainability: Look for hotels or vacation rentals that have implemented energy-efficient measures, have recycling programs, and source sustainable products.
Consider renewable energy options: Consider using renewable energy sources, such as solar panels or wind power, to reduce your carbon footprint.
Reduce food waste: Be mindful of your food consumption and reduce food waste by only purchasing what you need and eating everything you buy.
Limit consumerism: Consider buying locally made and sustainable products to support the local community and reduce your environmental impact.
Adopt a sustainable diet: Try to incorporate more plant-based and locally sourced foods into your diet to reduce your carbon footprint.
Use sustainable transportation: Choose public transportation, carpooling, or biking over driving alone to reduce your carbon emissions.
Avoid flying: Consider alternative modes of transportation, such as trains or buses, to reduce your carbon emissions from flying.
Support the local community: Consider staying in locally-owned accommodations and eating at locally-owned restaurants to support the local economy.
Please share your sustainability tips in the comments.
FAQ
What hotels in Huntington Beach allow pets?
Both Kimpton Shorebreak and Paséa Hotel are not only pet-friendly but encourage pets. Plenty of dog-friendly services and amenities and included in stays at these two hotels in Huntington Beach.
Which hotels are cheaper Santa Monica vs Huntington Beach?
Beach resort hotels are generally cheaper in Hungtington Beach than in Santa Monica. However, Santa Monica has a lot more to choose from and there are more things to do in Santa Monica.
Who owns Paséa Hotel Huntington Beach?
Paséa Hotel is owned by Pacific Hospitality Group. They currently own 12 hotels and resorts across the US. Paséa is part of the Meritage Collection, which is their higher-end boutique hotel group.
If you have questions or want to leave a hotel review, please do so in the comments.
—
Recommendations are independently chosen based on personal travel experiences and extensive research. This post contains affiliate links to hotels in Huntington Beach, California. This means I get a small commission from any bookings at no extra cost to you.