Recommendations are based on personal travel experiences and research. If you book through links on our site, we may earn a commission at no extra cost to you.
—
Ghent is often overlooked in favour of Bruges, the city's massively popular neighbour that receives all the attention. While of course Bruges is an incredibly beautiful destination, so is Ghent, yet with fewer crowds. I'd say it's actually more appealing for that reason alone.
In this guide, I recommend the best boutique hotels in Ghent.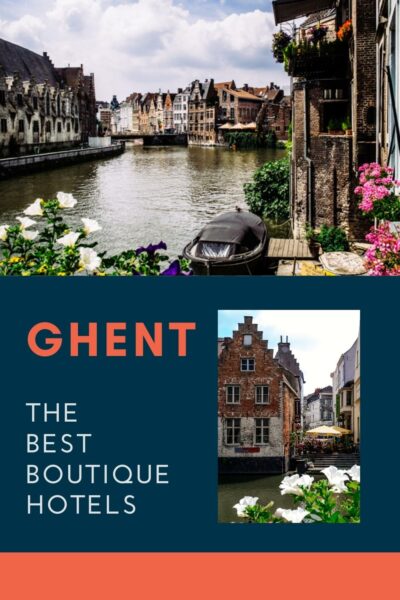 Boutique Hotel in Ghent
Ghent is a river port city that boomed during the Middle Ages. The medieval influence can be seen all around the city through architecture such as the stunning Gravensteen Castle and the guildhalls along the river.
As a university city, today you'll find Ghent to be a vibrant and bustling cultural hub. When deciding on where to stay in Ghent, most boutique hotels are located in the historic centre.
However, you might also consider staying in Patershol, the medieval quarter, Kouter for its flower and plant market, Prinsenhof for its tranquillity or the affluent Miljoenenkwartier, Millionaires Quarter.
Top Pick
1898 The Post
Address: 16 Graslei, Binnenstad, Ghent, Belgium
Situated directly on Korenmarkt, 1898 The Post is metres from Graslei, Korenlei, Grasbrug and Gravensteen Castle amongst many other sights and attractions. You can't get a better location. The historic building is incredibly beautiful, inside and out. The dark decor creates a cosy atmosphere in the spacious bedrooms and the bathrooms are stocked with fluffy towels and luxury amenities. Additionally, this is the most sustainable hotel in Ghent due to its use of renewable energy, low waste and plastic-free initiatives.
Features:
City views from all rooms.
King-sized beds.
Famous cocktail bar on-site.
Shared area where to relax or enjoy afternoon tea.
Pros: An opportunity to stay in one of Ghent's most historic buildings in a luxury boutique hotel with outstanding facilities and service.
Cons: Some may find the rooms to be too dark. Driving is restricted in the historic centre.
Check Availability
Pillows Grand Boutique Hotel Reylof
Address: Hoogstraat 36, Elisabethbegijnhof-Papegaai, Gent
A stunning and luxurious boutique hotel, the rooms at the Pillows Grand are large, light and bright, with huge, comfortable beds and stunning modern bathrooms. The bar and restaurant are highly-rated and the location is near Korenmarkt and Vrijdagmarkt, Ghent's two most popular city squares.
Ganda Rooms & Suites
Address: Houtbriel 18, Binnenstad, Gent
The Ganda is Ghent's most highly-rated hotel. The rooms are fitted with timber floorboards and furnished with quality fittings, deep colours and plush materials. The hotel is known for its exceptional breakfast.
The Loft
Address: Nederkouter, 134, Binnenstad, Ghent, Belgium.
If you're happy to stay in an apartment, The Loft is a boutique apartment in a lively neighbourhood of Ghent. While you won't find the services offered in a hotel, you will have privacy, space and a unique experience.
This guide is part of our series on the best places to visit in Belgium.
If you have questions or want to leave a hotel review, please do so in the comments.
For detailed information on visiting Ghent, the official tourism website, Visit Gent is an excellent resource.
—
Recommendations are independently chosen by our travel editors. This post contains affiliate links to hotels in Ghent, Belgium. This means we get a small commission from any bookings at no extra cost to you.