Recommendations are based on personal travel experiences and research. If you book through links on our site, we may earn a commission at no extra cost to you.
—
I had the chance to visit Long Beach recently and was impressed by everything it offered. From the beautiful beaches to the lively downtown area, there was so much to see and do. One of the highlights was exploring the Museum of Latin American Art – it was such an interesting experience.
If you're planning a trip to Long Beach, I would definitely recommend staying in a boutique hotel. There are so many cool and unique options to choose from, and it's a great way to get a feel for the city's character.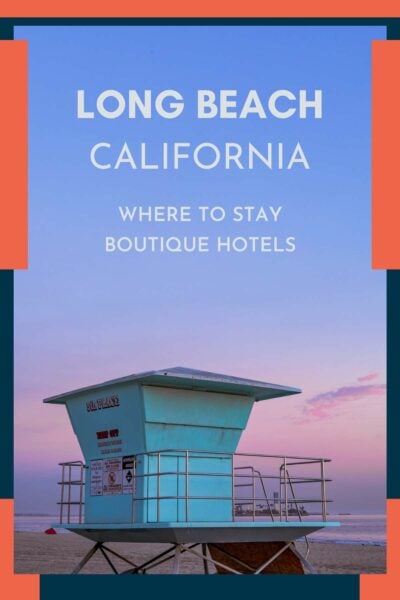 Boutique Hotels in Long Beach
There are many cool neighborhoods and districts to explore in Los Angeles, including downtown LA, Silver Lake, Santa Monica and Venice Beach. Each area has its own unique character and attractions, from world-class museums and restaurants to hipster shops and vibrant nightlife.
If you're visiting LA and looking for a place to stay, I would recommend checking out the area around Long Beach. It's a great location just south of Los Angeles, with plenty of things to see and do.
There are a variety of hotel options in Long Beach to suit different budgets and preferences. Unfortunately, there isn't much in the way of boutique hotels, but I recommend the following two hotels, which are the best in Long Beach.
Top Pick
The Westin Long Beach
Address: 333 East Ocean Boulevard, Long Beach, CA
The Westin offers the perfect opportunity to balance your mind, body, and spirit in the calm rooms and lounge areas that bring nature indoors. Located in the East Village, cool bars, unique galleries, sustainable stores and gastropubs are all within walking distance. The hotel is just steps away from downtown Long Beach, Alamitos Beach, the Museum of Latin American Art and several popular parks. The Queen Mary and the Catalina Express are both easily accessible from the hotel.
Features:
Minimalist design features.
Comfortable rooms with large beds and tea and coffee facilities.
Ocean views rooms within steps of the sandy beach.
A good-sized gym that includes a Peloton bike.
Rooftop swimming pool.
Stunning lobby, lounge and bar areas.
Sustainability:
The Westin uses 100% renewable electricity.
Food waste reduction measures are in place.
Bike rental is available to help you get around sustainably.
EV charging station.
Hotel can arrange tours led by local guides.
A portion of emissions are offset.
Pros: The most stylish luxury hotel in Long Beach with a location that is ideal for those interested in the arts, cultural attractions and the city's best beaches.
Cons: This isn't a boutique hotel, so if you're particularly looking for a small, more personalised hotel experience, I recommend the one below.
Check Availability
If you're searching for a unique or alternative accommodation option in Long Beach, my next pick might be more to your liking. However, I personally believe that The Westin is the best choice in the city.
Next Best
The Cove Hotel
Address: 200 E Willow Street, Long Beach, CA
The Cove Hotel is generally considered one of Long Beach's best budget boutique hotels. Unfortunately, it's not located near downtown or the beach, but there are great options for eating out here, and it's easy to get around Long Beach if you have a car. The rooms are a good size, there's a nice pool area and activities include giant chess.
Discover the top must-see destinations in California with our comprehensive guide, featuring insider tips and recommendations for the best places to visit in the Golden State.
The Long Beach tourist office has a user-friendly website that provides a wealth of information for visitors to the city. From events and activities to local restaurants and attractions, the website is a valuable resource for planning a trip to Long Beach.
Responsible Travel Tips
Here are some ideas on we can travel more responsibly in the Long Beach and LA area:
Choose accommodation options that prioritize renewable energy and energy efficiency. There aren't many options for this in Long Beach at the moment. Hopefully, this will change soon.
Look for restaurants and cafes that prioritize locally sourced and sustainable ingredients, and try to reduce food waste by only ordering what you can finish. This is easy to find in the East Village district of Long beach.
Consider alternative modes of transportation, such as biking or using public transportation, to reduce your carbon footprint.
Consider adopting a sustainable diet that prioritizes plant-based options and locally grown food.
Make an effort to support the local community by eating at locally-owned restaurants and participating in local events and activities. Long Beach has many events throughout the year, especially at Long Beach Symphony. Also, look out for the Long Beach Juneteenth Celebration if you're visiting in mid-June.
Please share your sustainability tips in the comments.
If you have questions or want to leave a hotel review, please do so in the comments.
—
Recommendations are independently chosen based on personal travel experiences and extensive research. This post contains affiliate links to hotels in Long Beach, California. This means I get a small commission from any bookings at no extra cost to you.