Recommendations are based on personal travel experiences and research. If you book through links on our site, we may earn a commission at no extra cost to you.
—
This iconic neighbourhood in Los Angeles is renowned for its vibrant culture, laid-back atmosphere, and beautiful beaches. To make your stay even more memorable, consider booking a charming boutique hotel in Venice Beach that captures the essence of this eclectic and artistic coastal community.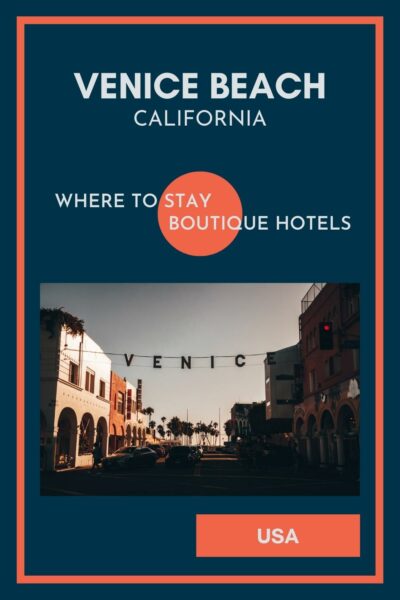 On my last visit to Venice Beach, I had an amazing time exploring all it has to offer. From the famous boardwalk to the lively street art scene, there's something for everyone in this lively LA neighbourhood.
One of the highlights of my trip was staying in a cool boutique hotel in the heart of Venice Beach. Everything was within walking distance, and they had bikes I could use to free. It meant I could explore further and visit other nearby places like Santa Monica.
Boutique Hotels in Venice Beach
Los Angeles is home to various cool neighbourhoods and districts, each with its unique character and charm. From the trendy streets of Silver Lake to the bohemian vibes of Echo Park, there's something for everyone in this diverse city.
Venice Beach is definitely worth considering if you're visiting Los Angeles and looking for the best area to stay in.
With its laid-back beach atmosphere, colourful street art, and abundance of shops, restaurants, and attractions, Venice Beach is a must-visit destination for any traveller.
Top Pick
Venice V Hotel
Address: 5 Westminster Avenue, Venice Beach, Los Angeles, CA
The Venice V Hotel is a stylish and trendy boutique hotel located on the absolute Boardwalk beachfront, directly across from the famous Venice Beach Skate Park. Known for its cool beach vibe and stunning 1915 landmark building, the V offers a unique and unforgettable experience for travelers.
Features:
Rooms are designed to match 3 themes; beachy bohemian, soulful artist and skater culture.
Ocean views from every room.
Walk-in showers with Aesop amenities.
Bikes, skateboards and surfboards are available at reception.
Rooftop bungalows are available for short or long-term rent.
Sustainability:
Plastic reduction program.
Food waste prevention measures.
Air and water filtration.
Partnered with local community organisations, including Heal the Bay and the California Coastal Commission.
Pros: Unforgettable location and atmosphere where you can immerse yourself in the Venice Beach culture.
Cons: The hotel doesn't use renewable electricity.
Check Availability
In my experience, this boutique Venice V stands out as one of the best in Venice Beach. The amenities are top-notch, the staff is friendly and accommodating, and the location is ideal for exploring all that this vibrant neighbourhood offers.
However, I understand that every traveller has unique preferences and needs, so if you're open to exploring other options or want to stay in a different area of Los Angeles, my next top pick may be a better fit for you.
Next Best
Hotel Erwin
Address: 1697 Pacific Avenue, Venice Beach, California.
Hotel Erwin is a great choice for anyone looking to experience the essence of Venice Beach. The hotel's prime location, just one block from the beach, allows guests to enjoy the vibrant energy of the neighbourhood without breaking the bank.
One of the most impressive features of the hotel is the rooftop bar, which has breathtaking views of the Pacific Ocean. The bar is the perfect place to unwind and soak up the ambience while enjoying a refreshing cocktail or sampling one of the local craft beers.
The guest rooms at Hotel Erwin are a haven of comfort and style, with bright and cozy interiors that create a welcoming atmosphere. After a long day of exploring the dynamic neighbourhood, guests can relax in the comfort of their rooms and recharge for the next adventure.
Overall, Hotel Erwin provides a fantastic opportunity to immerse oneself in the true Venice Beach lifestyle. With its affordability, prime location, and impressive amenities, this boutique hotel is the perfect choice for travellers looking to experience all that Venice Beach has to offer.
Cool and Unique Hotel
When choosing a boutique hotel, considering what kind of experience you're looking for is worth it. If you're someone who values unique and creative accommodations, my next recommendation might be the perfect fit for you. This hotel is designed to emphasise style and aesthetics, creating a unique experience that immerses guests in the local culture.
The Kinney
Address: 737 Washington Boulevard, Venice Beach, Los Angeles
The Kinney Venice Beach is a gem of a boutique hotel that offers a vibrant and playful atmosphere that perfectly captures the spirit of Venice Beach. The hotel's interiors are filled with quirky and eclectic design elements that will surprise and delight you at every turn, from the bold colours and patterns to the vintage touches that add a touch of nostalgia.
What's more, the Kinney Venice Beach staff are incredibly friendly and welcoming and are always happy to provide recommendations and insider tips on the best things to do in the area.
And with its prime location just a short walk from the beach, you'll have easy access to all the best attractions Venice Beach offers, including the famous boardwalk, the skate park, and the numerous bars and restaurants that line the beach.
When it comes to the rooms, The Kinney Venice Beach truly shines. Each room has been designed to be spacious and comfortable, with plush beds and high-quality linens that guarantee a good night's sleep.
Eco-Friendly Hotel
If you're looking to reduce your carbon footprint and stay in a more sustainable and eco-friendly hotel, you can expect a property that prioritizes environmentally-conscious practices such as using renewable energy, reducing waste, and sourcing locally.
In this case, you might like to book the following sustainable boutique hotel, although it's important to note that this hotel is located a bit further away in Santa Monica.
Viceroy
Address: 1819 Ocean Avenue, Santa Monica, near Venice Beach
Experience a socially responsible stay at The Viceroy, an eco-friendly hotel located just a stone's throw away from Venice Beach in Santa Monica. The hotel has implemented a range of energy conservation measures to reduce its carbon footprint, such as using renewable energy sources and energy-efficient lighting.
Additionally, The Viceroy is committed to minimizing food waste, supporting local food producers, and offering tours with local guides, allowing you to explore the area while supporting the local community.
Not only is The Viceroy a leader in sustainable hospitality, but it's also a cool and unique boutique hotel that perfectly captures the laid-back vibe of Southern California. From the stylish and modern design of the rooms to the chic poolside cabanas, every detail has been carefully crafted to provide guests with a truly memorable experience.
Best Beachfront Hotel
While I've previously highlighted some beachfront hotels, there's another Venice Beach hotel situated close to the shoreline that I think you might be interested in.
Venice Breeze Suites
Address: 2 Breeze Avenue, Venice Beach, Los Angeles, CA
As a guest at the Venice Breeze, you'll have the opportunity to experience the best of Venice Beach. The hotel's prime beachfront location means that you're only a few minutes walk away from the Ocean Front Walk shops, street performers and vendors, providing endless entertainment options.
The rooftop deck is undoubtedly a highlight of the hotel, featuring barbecue facilities, lounge chairs, and a wet bar. It's the perfect spot to relax and enjoy stunning views of the Pacific Ocean. The hotel's open-layout studios are well equipped, complete with modern kitchens featuring white cabinets, black counters, and stainless steel appliances. Each studio has cable channels and an iPod docking station.
If you can't find what you're looking for, consider staying at nearby Santa Monica, which has more hotel options than Venice Beach.
Where to Stay in Venice Beach
If you're wondering where to stay in Venice Beach for your next trip, you'll be happy to know that this vibrant and eclectic neighbourhood has plenty of options to suit every taste and budget.
Here are some of the best areas to stay in or near Venice Beach, each with its own unique charm and personality:
Venice Beach Boardwalk: The heart of Venice Beach is a bustling and lively area perfect for those who want to be in the thick of things. With its colourful street performers, funky shops, and trendy cafes, this area is a magnet for artists, creatives, and free spirits.
Abbot Kinney Boulevard: Known as the "coolest block in America," Abbot Kinney Boulevard is home to some of the city's best independent stores, cafes, galleries, and restaurants. If you're looking for a trendy and fashionable area to stay, this is the place to be.
Marina del Rey: Just a short distance from Venice Beach, Marina del Rey is a peaceful and upscale area that's perfect for those who want to escape the hustle and bustle of the city. With its beautiful marina, green spaces, and waterfront restaurants, this area is a great choice for those who want a more relaxed and tranquil stay.
Santa Monica: Adjacent to Venice Beach, Santa Monica is another popular neighbourhood that's known for its beachfront attractions, great restaurants, and shopping. With its wide range of accommodations, from luxury hotels to budget-friendly hostels, Santa Monica is a great choice for those who want to be close to the action but also have easy access to other parts of Los Angeles.
Culver City: A short drive from Venice Beach, Culver City is an up-and-coming area that's known for its creative scene, cool bars, and restaurants. With its art galleries, museums, and outdoor spaces, this area is perfect for those who want to explore a different side of Los Angeles while still being close to Venice Beach.
No matter which area you choose, you'll find plenty of options for boutique hotels that offer style, comfort, and personality. Whether you're looking for a hotel with a rooftop bar, a pool, or a beachfront location, you'll find it all in Venice Beach.
Experience the diverse beauty and culture of the Golden State with my comprehensive guide to the best places to visit in California, featuring tips and recommendations on the top attractions, restaurants and activities.
More Information
Discover Los Angeles has a helpful website for visitors to the city as it provides a wealth of information on local attractions, restaurants, events and more.
Whether you're interested in exploring the famous Venice Beach boardwalk, checking out the local art scene, or trying out some of the city's many restaurants and shops, the tourist office can help you plan your trip and make the most of your visit.
In addition to listings and descriptions of popular attractions and activities, they also feature maps, travel tips, and information on local events and festivals, making it an invaluable resource for visitors to Venice Beach and LA more generally.
So whether you're planning a day trip or an extended stay, be sure to check out their site for all the information you need to make the most of your visit to this vibrant and colourful area of the city.
Responsible Travel Tips
Many of us are increasingly concerned about climate change and sustainability. Here are some ideas on how people can travel more responsibly in Venice Beach:
When looking for accommodations in Venice Beach or California, consider eco-friendly options that prioritize renewable energy and energy efficiency, such as those that are LEED-certified.
To reduce food waste, try dining at restaurants that are committed to sustainability, like The Butcher's Daughter, which uses locally sourced ingredients and composts food scraps.
Support local artisans and craftsmen by shopping at places like the Venice Beach Boardwalk or the Farmers Market at The Grove, and choose a sustainable diet by dining at restaurants like Cafe Gratitude, which offers plant-based options.
Walk or bike to nearby attractions, rent electric or hybrid vehicles, or carpool to reduce your carbon footprint.
If travelling from afar, consider taking a train or bus instead of flying.
Explore community events like the Venice Art Crawl or the Santa Monica Farmers Market to support the local community.
Please share your sustainability tips in the comments.
FAQ
How far is Venice Beach from LAX?
Venice Beach is 6 miles from LAX and takes around 20 minutes by car.
How far is Venice Beach from Santa Monica?
Venice Beach is 2 miles from Santa Monica. It's a 10-minute drive and even faster by bike. If you want to walk, it only takes around 30 minutes, and it's a great way to experience the beach and ocean views.
Where to stay in Venice Beach?
The Kinney Venice Beach, Hotel Erwin, and the Venice V Hotel are all popular boutique hotels that offer a unique and stylish experience, some with beachfront locations.
What is the best time of year to visit Venice Beach?
The best time to visit Venice Beach is during the summer months of June through September when the weather is warm and sunny. However, visiting during the spring and fall shoulder seasons can be a good option if you prefer fewer crowds.
Is Venice Beach a safe area to stay in?
Overall, Venice Beach is a safe area to stay in, but it's important to be aware of your surroundings and take precautions like anywhere else. Avoid walking alone at night, and be mindful of your belongings in crowded areas.
Final Thoughts
As you plan your trip to Venice Beach, remember to embrace this dynamic neighbourhood's unique and eclectic spirit.
Whether you're lounging on the beach, exploring the local art scene, or simply soaking up the atmosphere at a cool boutique hotel, there's no shortage of fun and exciting things to do.
And by prioritizing sustainability and supporting the local community, you can make your trip even more meaningful and socially responsible.
If you have questions or want to leave a hotel review, please do so in the comments.
—
Recommendations are independently chosen based on personal travel experiences and extensive research. This post contains affiliate links to hotels in Venice Beach, California. This means I get a small commission from any bookings at no extra cost to you.