Recommendations are based on personal travel experiences and research. If you book through links on our site, we may earn a commission at no extra cost to you.
—
Santa Monica, the vibrant beach town just west of Los Angeles, is a dream destination for many, including myself. Honestly, who doesn't love staying by the beach?
Known for its iconic pier, beautiful beaches, and bustling 3rd Street Promenade, Santa Monica is always a fun place to visit, especially if you love the classic Californian lifestyle.
If you're planning a visit, be sure to stay in a cool or unique boutique hotel for a truly memorable experience. Stay in one of my recommended hotels near Santa Monica Pier and the beach so you can be in the action within minutes.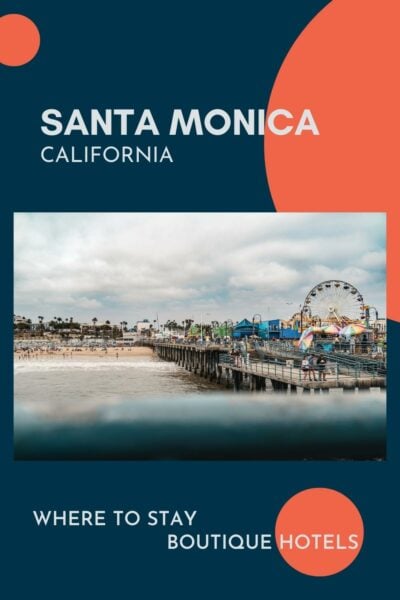 Boutique Hotels in Santa Monica
Los Angeles is a sprawling city with many unique neighbourhoods to explore. From the trendy arts district of Downtown LA to the bohemian vibes of Silver Lake and Echo Park, there is something for everyone in this diverse city.
But Santa Monica, located just west of LA, has it all if you want to be near the beach while still being close to the sights and attractions elsewhere in LA. From shopping and dining to outdoor activities and cultural attractions, this lively beach town always has something to do.
I would go as far as to say there is no better area to stay in LA and suggest staying near Santa Monica Pier if you can. Here you can ride the famous Ferris wheel or walk, skate or cycle along the waterfront.
Top Pick
Santa Monica Proper Hotel
Address: 700 Wilshire Boulevard, Santa Monica, LA, CA
The Proper Hotel is located in a 1920s-era building that has been beautifully preserved and renovated to include contemporary architectural and design elements. The combination of historic charm with the modern amenities offered in each room creates a unique and memorable experience for guests. Located within a 10-minute walk of 3rd Street Promenade, Santa Monica Beach and Pier.
Features:
Luxurious Fili D'oro linens and custom Italian-made pillows and bathrobes.
Aesop bathroom amenities.
Rooftop swimming pool gym and yoga terrace.
Spa with Ayurvedic treatments.
Sustainability:
Proper Hotel uses 100% renewable electricity.
Most food in the hotel is locally sourced, reducing food miles and supporting local businesses.
No single-use plastic is used.
Bike rental is available to help you get around sustainably.
Pros: High-end amenities, welcoming service and the incredible rooftop terrace and pool make this a great hotel choice by the beach. Excellent use of natural light that enters through the large windows adds to the warmth of the rooms.
Cons: You'll likely find better restaurants outside of the hotel.
Check Availability
I highly recommend the Proper Hotel for those seeking a boutique hotel experience in Santa Monica. One of the standout features of this property is its stunning design by renowned interior designer Kelly Wearstler. Her signature style is showcased throughout the hotel, providing guests with a visually appealing and sophisticated atmosphere.
However, if you're looking for something different or a hotel situated a bit closer to the beach, my next best pick might be more suitable for your needs. There are numerous other boutique hotels in Santa Monica that offer unique design elements, excellent amenities, and various degrees of proximity to the beach.
Depending on your preferences and priorities, exploring other options may lead you to a property that better aligns with your ideal vacation experience.
Next Best
Huntley Santa Monica Beach
Address: 1111 2nd Street, Santa Monica, CA
The Huntley boutique hotel is a stylish and contemporary option for travellers seeking accommodations in the heart of Santa Monica. Situated just one block from the beach, the hotel provides easy access to the ocean and its picturesque surroundings. A short stroll from the hotel will take you to the iconic Santa Monica Pier, offering a range of entertainment options for guests to explore.
As a mid-rise hotel, The Huntley boasts incredible views from most of its rooms. To take full advantage of this feature, be sure to request a beach-view room on a higher floor when making your reservation. These rooms will provide stunning vistas of the coastline, making your stay even more memorable.
While The Huntley does not have a pool, its proximity to the beach more than compensates for this. Guests can enjoy swimming, sunbathing, or taking leisurely walks along the shore without having to venture far from their accommodations. Additionally, the hotel offers a well-equipped gym for those who wish to maintain their fitness routine during their stay.
The Huntley boutique hotel is an excellent choice for visitors seeking a stylish and conveniently located option in Santa Monica. With its remarkable views, modern amenities, and easy access to the beach and other popular attractions, guests can look forward to a comfortable and enjoyable stay at this exceptional property.
Luxury Boutique Hotel
You can expect high comfort, service, and amenities when staying at a luxury hotel. If you enjoy being pampered and taking care of all your needs, my next recommendation may be the perfect fit for you.
Casa Del Mar
Address: 1910 Ocean Way, Santa Monica, Los Angeles, CA
Casa del Mar is an exceptional choice for those seeking a luxurious stay in Santa Monica. The hotel prides itself on providing excellent service, ensuring guests receive the highest care and attention throughout their visit. The paradise-like atmosphere at Casa del Mar and its timeless elegance create an inclusive experience that caters to the discerning traveller.
Guests can anticipate beautifully appointed rooms that exude sophistication and comfort. Attention to detail is evident in every aspect of the accommodations, from the tasteful furnishings to the premium amenities. These features contribute to a sense of indulgence and relaxation, allowing guests to feel truly pampered during their stay.
One of Casa del Mar's most significant attributes is its prime location on Santa Monica Beach. This sought-after setting provides guests with easy access to the picturesque coastline, where they can enjoy the sun, sand, and surf just steps away from their accommodations. The hotel's proximity to popular attractions such as the Santa Monica Pier, Third Street Promenade, and various dining and shopping options further enhances its appeal.
In summary, Casa del Mar offers a luxurious and memorable experience for those seeking a high-end getaway in Santa Monica. With its outstanding service, opulent atmosphere, and unbeatable beachfront location, guests can expect an unforgettable stay at this remarkable hotel.
Cool and Unique Hotel
You might like a cool and unique boutique hotel where you can expect an experience that's different from the standard chain hotel. These hotels often offer personalized service, trendy decor, and a relaxed atmosphere.
My next recommendation might be the perfect fit for you if you're looking for a memorable and unique stay.
Ambrose Hotel
Address: 1255 20th Street, Santa Monica, California
The Ambrose Hotel stands out as a cool and unique boutique hotel in Santa Monica, offering guests a blend of style, comfort, and eco-friendly features. The atmosphere is clean and beautiful, with tasteful design elements that create a welcoming environment. The hotel boasts a range of thoughtful amenities, such as complimentary bikes for guests to explore the area and electric car charging stations to encourage sustainable transportation choices.
One of the highlights of staying at The Ambrose Hotel is the warm and attentive service provided by the staff. They are dedicated to ensuring your stay is enjoyable and catering to your needs, enhancing the overall experience. The hotel's commitment to eco-friendliness is also evident in its various green initiatives, which make it an appealing option for environmentally-conscious guests.
The hotel's convenient location is another significant advantage. Situated across the street from an incredible bakery, guests can easily indulge in delicious pastries and other treats during their stay. Additionally, the hotel hosts a surprise happy hour featuring local beer and wine, allowing guests to sample some of the region's best beverages and socialize in a relaxed atmosphere. The Ambrose Hotel's combination of style, service, and sustainability make it an excellent choice for those seeking a unique and memorable stay in Santa Monica.
Eco-Friendly Hotel
When choosing a sustainable or eco-friendly hotel, you can expect a commitment to minimizing the hotel's impact on the environment through energy-efficient practices, the use of eco-friendly products, and sustainable design.
My next pick might be the perfect fit for you if you're passionate about sustainability and want to minimize your carbon footprint while travelling.
Oceana Santa Monica
Address: 849 Ocean Avenue, Santa Monica, LA
The Oceana Santa Monica is a commendable choice for sustainability-conscious visitors seeking an eco-friendly hotel in Santa Monica. This hotel is dedicated to sustainable practices that minimize its environmental impact and promote responsible tourism. Some of the eco-friendly initiatives implemented at the Oceana Santa Monica include sourcing food from local producers, using energy-efficient lighting, and implementing measures to reduce food waste. These efforts help conserve resources and promote a greener stay for guests.
In addition to its sustainable practices, Oceana Santa Monica is committed to supporting the local community and fostering sustainable development in addition to its sustainable practices. A portion of the hotel's revenue is invested in community and sustainability projects, demonstrating the establishment's dedication to social and environmental responsibility.
Furthermore, the hotel takes pride in offering tours and activities organized by local guides and businesses, allowing guests to experience the authentic culture of Santa Monica while supporting the local economy. This focus on community engagement makes the Oceana Santa Monica an excellent option for eco-conscious travellers seeking a memorable and responsible stay in this beautiful coastal city.
Quirky Hotel in Santa Monica
Palihouse Santa Monica
Address: 1001 3rd Street, Santa Monica, Los Angeles
Palihouse Hotel in Santa Monica stands out as a quirky boutique hotel, providing guests with a memorable experience. Its vintage-inspired design and eclectic decor create a charming atmosphere that sets it apart from conventional hotel options. This hotel is ideal if you're searching for a lodging option that offers character and flair.
In addition to its unique ambience, Palihouse Hotel boasts a range of excellent amenities to ensure a comfortable and enjoyable stay. Guests can expect attentive service, well-appointed rooms, and modern conveniences that cater to their needs. The hotel's common areas are designed to encourage relaxation and socialization, making it easy to unwind after a day of exploring Santa Monica.
The prime location of the Palihouse Hotel is another significant advantage. Situated close to the iconic Santa Monica Pier, guests can easily access this popular attraction and other nearby highlights, such as the beach, Third Street Promenade, and a variety of dining and shopping options. This convenient location makes Palihouse Hotel an outstanding choice for anyone seeking a distinctive stay while experiencing the best of Santa Monica.
If you're planning a trip to California and want to make the most of your visit, be sure to check out my guide to the best places to visit in the state – it's packed with top recommendations for things to see and do, from iconic landmarks to hidden gems.
Where to Stay in Santa Monica
If you're wondering where to stay in Santa Monica, there are several areas that are great for visitors looking to book a boutique hotel:
Ocean Avenue: Ocean Avenue is ideal for visitors seeking proximity to the beach and picturesque ocean views. This area is home to a variety of upscale hotels and eateries, providing a luxurious experience. The iconic Santa Monica Pier and Palisades Park are easily accessible from Ocean Avenue, ensuring that you can enjoy the best of Santa Monica's coastal beauty without venturing far from your accommodations.
Downtown Santa Monica: As the heart of the city, Downtown Santa Monica offers a diverse range of lodging options, catering to both luxury and budget travellers. This vibrant district is packed with shops, cafes, and restaurants, ensuring that you'll have everything you need within walking distance. Additionally, popular attractions such as the Third Street Promenade and Santa Monica Place provide ample opportunities for shopping and entertainment.
Montana Avenue: This upscale area is characterized by its stylish boutiques, art galleries, and cafes, making it an excellent choice for those who want to immerse themselves in Santa Monica's distinctive culture. Montana Avenue is also situated near several green spaces, like Palisades Park and Douglas Park, providing opportunities for relaxation and outdoor activities. The tranquil atmosphere and tree-lined streets make it a lovely area to explore during your stay.
Main Street: For a more relaxed, bohemian vibe, consider staying near Main Street. This area boasts numerous independent shops, galleries, and cafes that reflect the unique spirit of Santa Monica. Main Street also offers a variety of bars and nightlife options, giving you the chance to experience the local scene. This district combines a laid-back atmosphere with the convenience of easy access to the beach and other attractions.
Wilshire Boulevard: While slightly further from the beach, Wilshire Boulevard provides a more residential ambience while still being close to key attractions like the Santa Monica Pier and Third Street Promenade. Choosing accommodations in this area will give you a glimpse into everyday life in Santa Monica, with tree-lined streets and a range of dining and shopping options. Staying near Wilshire Boulevard can provide a peaceful retreat while still offering easy access to the city's highlights.
The Los Angeles Tourist Office has a helpful website for visitors to the city, offering a wealth of information on things to see and do and practical information on getting around, accommodation, and local events. Whether planning a trip to LA for the first time or being a seasoned visitor, the website is a great resource for making the most of your time in the city.
Responsible Travel in Santa Monica
Look for hotels and other accommodations prioritising renewable energy and energy efficiencies, such as LED lighting and low-flow showerheads.
In Santa Monica, seek out accommodations that have implemented green initiatives. Many hotels in the area have adopted environmentally-friendly practices such as using solar panels, installing energy-efficient lighting, and utilizing low-flow water fixtures. When researching hotels, look for certifications like LEED or Green Seal, which indicate that the establishment has met stringent sustainability standards.
Support local, sustainable agriculture by choosing to eat at restaurants that source their ingredients from local farms and use compostable packaging.
Santa Monica has a thriving farm-to-table dining scene. Opt for eateries that prioritize locally-sourced ingredients and maintain partnerships with nearby farms. This practice supports local agriculture, reduces transportation emissions, and often results in fresher, more flavorful dishes. Additionally, seek out restaurants that use compostable packaging for takeout orders to reduce plastic waste.
Reduce food waste by being mindful of portion sizes and choosing to compost or donate excess food.
When dining in Santa Monica, be conscious of the portion sizes you order. Try sharing dishes with your travel companions to minimize food waste, and if you have leftovers, take them home for another meal. Many local accommodations and restaurants provide composting facilities, so inquire about these options for disposing of food waste responsibly. You can also donate excess food to local food banks or shelters.
Limit consumerism by shopping at locally-owned, independent businesses and buying secondhand goods whenever possible.
Santa Monica is home to an array of locally-owned boutiques, artisan shops, and vintage stores. Shopping at these establishments supports the local economy and reduces the environmental impact associated with mass-produced goods. Choose to buy locally-made, artisanal products and consider shopping for secondhand items at thrift stores or consignment shops to minimize your carbon footprint.
Consider sustainable transport options, such as walking, biking, or using public transportation instead of driving or flying.
Santa Monica is a pedestrian and cyclist-friendly destination. With its well-maintained sidewalks, bike lanes, and dedicated bike paths, it is easy to explore the city on foot or by bike. Santa Monica's public transportation system, the Big Blue Bus, is an affordable and eco-friendly alternative to driving. Additionally, the Metro Expo Line connects Santa Monica to downtown Los Angeles, providing a convenient and sustainable option for regional travel.
Support the local community by staying in locally-owned accommodations and choosing tours and activities that benefit the community.
When booking your stay in Santa Monica, opt for locally-owned accommodations such as boutique hotels, bed and breakfasts, or vacation rentals. This supports the local economy and often provides a more authentic experience.
Participate in tours and activities led by local guides, and consider visiting local cultural institutions, such as art galleries and museums, to learn more about the community and contribute to its wellbeing.
Please share your sustainability tips in the comments. Your input is valuable in helping others make informed choices and promote responsible travel, ensuring that Santa Monica remains a beautiful and thriving destination for years to come.
FAQ
Who designed the Proper Hotel Santa Monica?
Kelly Wearstler designed the updated Proper Hotel in Santa Monica by blending designs from established and emerging artists.
When did the Proper Hotel in Santa Monica open?
Santa Monica Proper Hotel opened on 17th June 2019.
How can I get a cheaper hotel near Santa Monica?
If you're looking for a cheaper hotel in Santa Monica, look for a hotel further away from the beach with fewer amenities like swimming pools and restaurants.
What are some activities to do in Santa Monica besides the beach?
Visitors can explore the Santa Monica Mountains National Recreation Area, go shopping on Montana Avenue or the Third Street Promenade, visit the Getty Center or Getty Villa, or take a bike ride along the beach path.
Final Thoughts
As you plan your visit to Santa Monica, keep in mind that there are many great hotels to choose from, whether you're looking for luxury, boutique, or eco-friendly places to stay.
You'll also find plenty of activities to enjoy, from visiting the beach and pier to exploring the local parks and museums. No matter what brings you to Santa Monica, you're sure to have a memorable and enjoyable trip.
If you have questions or want to leave a hotel review, please do so in the comments.
—
Recommendations are independently chosen based on personal travel experiences and extensive research. This post contains affiliate links to hotels in Santa Monica, California. This means I get a small commission from any bookings at no extra cost to you.