Recommendations are based on personal travel experiences and research. If you book through links on our site, we may earn a commission at no extra cost to you.
—
Nestled in the foothills of the Cascade Mountains, Bend is a small city that is a haven for outdoor enthusiasts. It's home to plenty of breweries and cool restaurants highlighting locally-sourced food. But the real draw is the abundance of natural beauty in the surrounding area.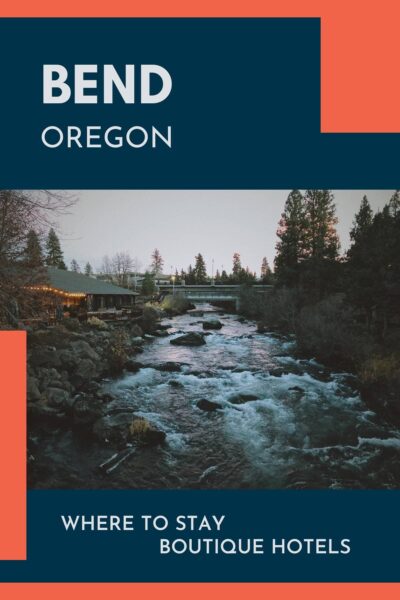 Hiking, mountain biking, fishing, and skiing are all popular activities here. The scenery is breathtaking and there's no shortage of things to do. One trail from Bend leads up to Pilot Butte, an extinct volcano. It's not surprising that Bend is one of the most popular destinations in the Pacific Northwest.
Boutique Hotels in Bend Oregon
Bend is home to several interesting neighborhoods, each with its own character and attractions. The Old Mill District, located along the Deschutes River, is a former industrial area that has been transformed into a popular shopping and dining destination.
The Westside is known for its upscale homes and abundance of breweries and restaurants, including Bangers & Brews. Alternatively, Downtown Bend and Old Bend are this historic areas worth visiting for the Deschutes Historical Museum and the peaceful Drake Park.
For the best overall experience, I recommend staying in a boutique hotel in Downtown Bend, as this offers easy access to all these neighbourhoods while within walking distance of many of the city's top attractions.
Top Pick
Oxford Hotel Bend
Address: 10 Northwest Minnesota Avenue, Bend, Oregon
Oxford Hotel is a cool boutique hotel located in the heart of downtown Bend. It features stylish rooms, a cozy lobby with a fireplace, and a rooftop bar with stunning views of the surrounding mountains. The Oxford is ideally located in the Downtown area, an ideal location for sightseeing, eating out and experiencing the local music and art scene. You'll also have easy access to local nature trails.
Features:
Modern, clean rooms with large beds and sitting areas.
All rooms have tea and coffee-making facilities with locally roasted coffee and organic tea.
Some rooms have kitchens, perfect if you're planning a longer stay.
A good-sized gym that includes a Peloton bike.
Sustainability:
The Oxford runs on 100% renewable energy.
Energy-efficient heating and cooling system.
The restaurant offers sustainable and locally-sourced food, beer and wine.
Organic amenities are provided in refillable bottles.
Sustainable materials are used throughout the hotel, including structural steel.
Pros: An eco-friendly hotel with thoughtful sustainability features, good design and friendly service.
Cons: Free parking is only available for guests with EVs or hybrid vehicles.
Check Availability
While I believe the Oxford Hotel is the best boutique hotel in Bend, Oregon, other options may suit your specific preferences or desired location. Where to stay in Bend if you don't want to be Downtown? My next recommendation is located in the Old Mill District.
Next Best
Hilton Garden Inn Bend
Address: 425 Southwest Bluff Drive, Bend, OR
Hilton Garden Inn is a cheaper hotel in Bend located in the Old Mill District, just outside the town centre. This is a good family-friendly option as they have larger, family-style rooms, a gym, a swimming pool and an American grill restaurant. This is a chain brand, so not a boutique hotel but there aren't really any other boutique hotels in Bend. This is a solid option in a great location that is near the Riverside Trail.
If you're planning a trip to the Pacific Northwest, don't miss out on my expertly curated guide to the best places to visit in the region. Or check out this list of the prettiest places in Oregon that you might like to add to your itinerary.
The Oregon tourist office has a helpful website for visitors to the city, providing information on local attractions, events, and accommodations. It is a great resource for planning a trip to Bend and learning more about the city.
Responsible Travel Tips
Many of us are increasingly concerned about climate change and sustainability. There are many ways that travellers can be more responsible when visiting Bend, Oregon:
Choose accommodations that are committed to renewable energy and energy efficiency, such as hotels that use solar panels or have implemented energy-saving measures.
Reduce food waste by planning meals in advance and packing any leftovers for later. Consider supporting local farms and farmers' markets to reduce the environmental impact of food transportation.
Limit consumerism by shopping at local, independent retailers and avoiding fast fashion and single-use items.
Consider adopting a sustainable diet while on vacation, such as choosing plant-based options or locally-sourced meats and produce.
Use sustainable forms of transportation, such as walking, biking, or using public transit. Avoid flying or driving long distances whenever possible. This is achievable if you're from somewhere nearby, like Portland or Eugene.
Support the local community by patronizing local businesses and participating in community-driven activities and events. This is particularly easy to do in Bend!
Please share your sustainability tips in the comments.
FAQ
How far is Bend, Oregon from Portland, Oregon?
Bend is 163 or 176 miles from Portland, Oregon, depending on the route. Both routes take around 3 hours and 10 minutes by car.
How far is Bend, Oregon from Eugene, Oregon?
Bend is 129 miles from Eugene, Oregon. It takes around 2 hours and 30 minutes by car or around 3 hours by train.
Where to stay in Bend, Oregon?
I suggest staying in Downtown Bend and recommend the Oxford Hotel for its exceptional sustainability measures and great service.
If you have questions or want to leave a hotel review, please do so in the comments.
—
Recommendations are independently chosen based on personal travel experiences and extensive research. This post contains affiliate links to hotels in Bend, Oregon, USA. This means I get a small commission from any bookings at no extra cost to you.