Recommendations are based on personal travel experiences and research. If you book through links on our site, we may earn a commission at no extra cost to you.
—
Portland is Oregon's vibrant, progressive capital, an incredibly beautiful area in the Pacific Northwest. It's a fun city to visit, especially if you're into visiting artisan breweries, hipster bars and healthy cafes.
There are many cool and interesting hotels in the region, and in this guide, I recommend the best boutique hotels in Portland, Oregon.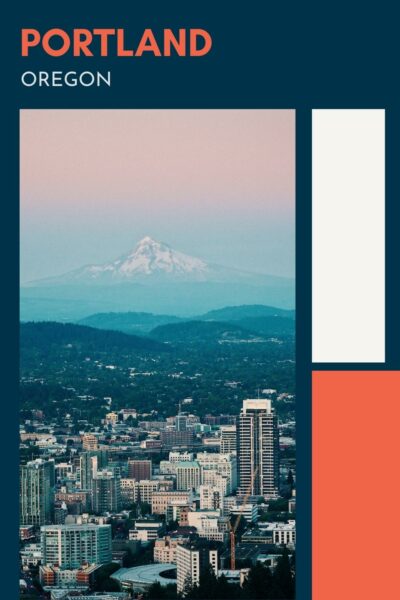 Boutique Hotels in Portland
Portland is known for its unique neighbourhoods where you can find diverse food, culture, history and communities.
The city has 20 prominent neighbourhoods spread across what's known as the six quadrants.
Most visitors choose to stay between Pioneer Courthouse Square and Old Town Chinatown as this is the most central area of Portland.
But neighbourhoods like Nob Hill, Lloyd, Division/Clifton, Belmont and Hawthorne are great places to stay for style, food, fashion and the sights of Portland.
Top Pick
Woodlark
Address: 813 SW Alder Street, Portland, Oregon, United States
Portland is home to a number of excellent boutique hotels but we rate Woodlark as the best thanks to its refined style, incredibly comfortable beds, gorgeous bathrooms and exceptional service.
Features:
Highly-rated restaurant and bar.
Ideal central Downtown location.
Modern gym for a quick workout.
Local products in the rooms.
Pros: A luxury boutique hotel with warm, friendly service and beautiful, understated design.
Cons: Sustainability initiatives are limited.
Check Availability
While my top pick for the best boutique hotel in Portland, I've also suggested a few other hotels that might appeal if you're looking for something more unusual or if you'd prefer to stay in a different area of Portland.
Next Best
Jupiter NEXT
Address: 900 East Burnside Street, Portland, OR
Tucked away on Portland's vibrant Eastside, Jupiter Next awaits on the opposite side of the Willamette River, beckoning you to come and explore the eclectic Lloyd District and the charming Hawthorne neighbourhood.
The rooms here are the epitome of modern sophistication, boasting plush carpets and a welcoming colour palette that will make you feel right at home. With its edgy concrete and sturdy timber accents, the reception area is chic and sleek, exuding cool vibes.
This hotel is trendy and cosy and environmentally conscious, with zero-waste products, verdant green spaces, and a passion for supporting local artists.
Cool and Unique Hotel
If you're hunting for a cool and unique hotel, prepare for a unique experience you won't soon forget. From quirky decor to unusual amenities, these hotels are designed to stand out from the crowd and provide an unforgettable stay.
Consider my next recommendation, as it's sure to satisfy your craving for something a little out of the ordinary.
Hotel Vance
Address: 1455 Southwest Broadway, Portland, United States
Hotel Vance in Portland is a contemporary design hotel located Downtown, just a stone's throw away from the Portland Art Museum.
This new and immaculate hotel boasts an intriguing array of artwork, unique red and white decor, and an overall creative ambience. The 24-hour fitness centre, snack station, and enjoyable games room are all convenient amenities.
Highly rated and brimming with boutique vibes, Hotel Vance is undoubtedly a cool hotel in Portland.
The Heathman Hotel
Address: 1001 Southwest Broadway at Salmon, Portland, Oregon
The Heathman Hotel is the ultimate destination for those seeking a luxurious boutique hotel experience in Portland.
Positioned right in the heart of Downtown, this gem is nestled opposite three stunning green spaces – Chapman Square, Lownsdale Square, and Terry Shrunk Plaza. Take an early morning stroll or break up your day with a peaceful retreat from nature.
This hotel is renowned for its vast library, but that's not all – indulge in the hotel's impressive gym and yoga facilities, peruse the stunning onsite art gallery, or treat yourself to a delectable afternoon tea at the highly-regarded restaurant.
For those who enjoy staying fit on the go, each room comes equipped with gym equipment perfect for morning stretches or quick workouts, and the minibars are thoughtfully stocked with delicious local produce.
The Heathman Hotel is the perfect place to unwind, indulge, and embrace the lavish side of Portland.
Eco-Friendly Hotel
If you're passionate about sustainability and eco-friendliness, you'll love staying in a hotel that shares your values. Expect to find a range of green initiatives in place, from energy-efficient lighting to locally-sourced amenities.
You might prefer my next recommendation, as it's the perfect choice for anyone looking to reduce their carbon footprint without sacrificing on comfort or style.
The Society Hotel
Address: 203 Northwest 3rd Avenue, Portland, OR, USA
Nestled in the heart of Old Town Chinatown, The Society Hotel is hands-down the creme-de-la-creme of boutique hotels.
Boasting a sleek and chic design throughout the lounge, bar, and rooftop terrace, as well as in the minimalist rooms themselves, this hotel is the epitome of class.
One of the standout features of The Society is their unwavering commitment to sustainability, relying solely on 100% renewable energy for their electricity needs.
And if you're on a budget, fear not – The Society Hotel offers the option of booking a single bed in their mixed dorm room, providing a fantastic opportunity to connect with fellow solo travellers while experiencing all this incredible hotel has to offer.
Ace Hotel Portland
Address: 1022 Southwest Stark Street, Portland
If you're in the market for a hotel that's equal parts comfortable and edgy, look no further than The Ace Hotel. Situated right near the iconic Powell's City of Books, you'll be able to fully immerse yourself in Portland's vibrant literary scene.
Renowned for its cloud-like beds and effortlessly cool industrial vibe, this hotel boasts an in-room sound system that will have you dancing the night away.
And let's not forget about their famously quirky breakfast spread, featuring the likes of Stumptown Coffee, Smith Tea, fresh fruit, and the most delectable pastries from Saint Honore.
The rooms themselves are a work of art, featuring luxurious Mascioni sheets, cozy Pendleton Woolen Mills blankets, and chic Tivoli radios that come together to create an unforgettable hotel experience.
KEX Hotel
Address: 100 NE MLK Jr. Blvd, Portland
If you're searching for a unique and quirky place to rest your head in Portland, look no further than the Kex Hotel.
While the hotel offers private rooms with ensuite bathrooms, it has more of a boutique hostel vibe, making it the perfect spot for solo travellers, groups of friends, or families looking for an adventure.
With a wide range of room options to choose from, you're sure to find the perfect fit for your needs. And let's not forget about the location – nestled on the hip and happening Eastside, you'll be in the perfect spot to explore everything Portland has to offer.
Whether you're in town for a quick getaway or an extended stay, the Kex Hotel is the ultimate home base for your next adventure.
Dossier
Address: 750 Southwest Alder Street, Portland, OR, United States
Searching for a stylish and centrally-located hotel in the heart of Portland's bustling Downtown district? Look no further than the Dossier Hotel. Boasting impeccable cleanliness, unbeatable comfort, and friendly staff, this hotel has everything you need for a memorable stay.
The spacious rooms are already cozy, but take it up a notch by visiting the Pillow Bar, where you can pick your perfect pillow. Wake up each morning to a complimentary breakfast that will fuel you up for a day of exploring all Portland offers.
And for those travelling with furry companions, the Dossier is the ultimate pet-friendly hotel, offering pet beds, bowls, toys, and treats for your four-legged friends.
The Dossier Hotel is the perfect home away from home for anyone seeking a comfortable and convenient stay in the heart of the city.
Where to Stay in Portland
If you're wondering where to stay in Portland, you'll be spoiled for choice when it comes to vibrant and unique neighbourhoods.
Here are some of the best areas to consider for your next boutique hotel stay:
Pearl District – This trendy neighbourhood boasts a vibrant nightlife scene, with endless cool bars and restaurants to explore. The Pearl is also home to art galleries, green spaces, and a bustling streetcar system.
Alberta Arts District – A hub of creativity, the Alberta Arts District is known for its independent galleries, boutique shops, and trendy cafes. This neighbourhood is perfect for art lovers, foodies, and anyone who wants to experience Portland's thriving cultural scene.
Downtown – For those who want to be in the heart of the action, Downtown is the place to be. This bustling neighbourhood is home to museums, theatres, shopping centres, and much more. Downtown is also conveniently located near some of the city's most iconic landmarks, like Powell's City of Books.
Sellwood-Moreland – Located in the southeast corner of Portland, this neighbourhood offers a more relaxed and residential feel, with plenty of green spaces and parks to explore. The Sellwood-Moreland area is also home to antique shops, boutique stores, and a charming farmer's market.
This article is part of my series on the prettiest places in Oregon.
No matter which neighbourhood you choose, you're sure to find a unique and unforgettable experience in Portland. So why not book your boutique hotel stay today and start exploring all that this incredible city has to offer?
For more details on Portland's interesting neighbourhoods, this city tourism office has an excellent guide.
Responsible Travel Tips
Many of us are increasingly concerned about climate change and sustainability. Here are a few ideas on how we can travel more responsibly in Portland.
If you're interested in travelling responsibly during your time in Portland, here are some ideas to consider:
Choose accommodations committed to sustainability – Portland is home to several hotels that prioritize sustainability, like The Society Hotel, which relies solely on renewable energy for its electricity needs.
Minimize food waste – When dining out, consider choosing restaurants that prioritize sustainability by minimizing food waste. For example, the Portland restaurant "Farm Spirit" creates plant-based menus based on what is currently in season, minimizing the waste of excess produce.
Embrace a sustainable diet – If you're interested in supporting sustainable food systems, make sure to visit one of Portland's many farmer's markets, like the popular Portland Farmers Market, where you can find fresh, locally sourced produce. Most importantly, try to limit your consumption of meat and dairy.
Opt for sustainable transport – Portland is known for being a bike-friendly city, so why not rent a bike or use the city's bike share system instead of taking a car? Alternatively, the city's efficient public transit system is another sustainable option.
Avoid flying if possible – If you're travelling from within the United States, consider taking a train or bus to Portland instead of flying. Not only is this a more sustainable option, but it also allows you to enjoy the scenery and explore other destinations along the way.
Support the local community – Finally, one of the best ways to travel responsibly is to support the local community. Whether it's by shopping at local markets or buying from local artisans, there are many ways to support the people and businesses that make Portland such a special place.
FAQ
What are the best areas to stay in Portland?
Some of the best areas to stay in Portland include the Pearl District, Alberta Arts District, Downtown, and Sellwood-Moreland. Each neighbourhood offers its own unique blend of culture, dining, and entertainment.
What should I look for in a boutique hotel in Portland?
When choosing a boutique hotel in Portland, consider factors like sustainability, unique design features, and location. Make sure to read reviews from previous guests to get a sense of the hotel's overall vibe and quality of service.
What are some sustainable travel tips for visiting Portland?
To travel sustainably in Portland, consider choosing accommodations committed to sustainability, minimizing food waste, embracing a sustainable diet, using sustainable transportation, avoiding flying if possible, and supporting the local community.
Final Thoughts
As you plan your trip to Portland, remember to keep an open mind and embrace all this incredible city offers.
From trendy neighbourhoods to sustainable initiatives, Portland is a hub of creativity, culture, and innovation.
By choosing a boutique hotel in the heart of the action and exploring everything this city has to offer.
If you have questions or want to leave a hotel review, please do so in the comments.
—
Recommendations are independently chosen based on personal travel experiences and extensive research. This post contains affiliate links to hotels in Portland, Oregon. This means I get a small commission from any bookings at no extra cost to you.