Recommendations are based on personal travel experiences and research. If you book through links on our site, we may earn a commission at no extra cost to you.
—
The natural beauty you'll find in Oregon is incredibly special and Eugene is a great place to explore it from. As the second largest city in the state, the downtown area is vibrant and crammed with cultural attractions and outstanding food. The city is known for its performing arts centre, film locations, active lifestyles, health and wellness.
In this guide, I recommend two excellent boutique hotels that are located in the downtown area, right in the heart of the bustling city centre.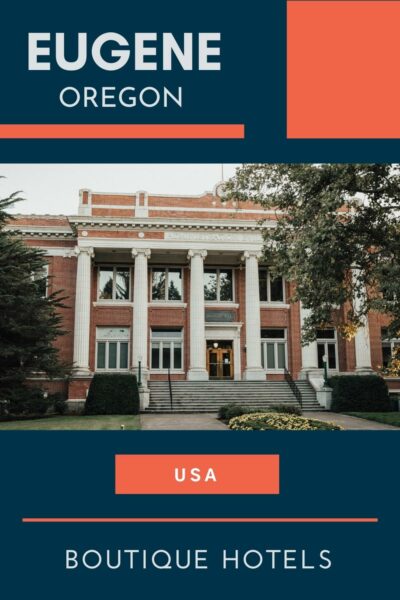 Boutique Hotels in Eugene Oregon
The 5th Street Public Market is the dynamic centre of Eugene where you'll find artisan stores, gourmet food and wine, farm-to-table restaurants, breweries, a distillery and access to music and art.
I suggest staying in this area of Eugene as you'll also find many other of the city's sights and attractions close by.
Fun fact: The classic movie Stand By Me was filmed in Eugene and you can visit the famous railroad bridge that crosses Mosby Creek.
Top Pick
The Gordon Hotel
Address: 555 Oak Street, Eugene, Oregon
Located in the most sought-after area in Eugene near the famous 5th Street Public Market, this hotel is like no other in Eugene. It's well-designed with beautiful features and artwork. The focus is on creative styling and a warm welcome. The rooms are designed for comfort with natural light and Italian bed sheets. Oregon crafted tea and coffee are available in the room. Suites are also available and pets are welcome.
Features:
Brand new hotel.
Cool interior design.
Quality locally-sourced food.
Fun rooftop bar.
Complementary snacks and bikes.
State-of-the-art gym.
Pros: The Gordon is easily the best boutique in Eugene, there really isn't any comparison. The location is ideal for most visitors, the design and rooms are fantastic. This hotel can't be beaten for style.
Cons: This is the most expensive hotel in Eugene so it won't suit everyone. I have listed a cheaper hotel below.
Check Availability
Selection Criteria
I found it difficult to find a boutique hotel in Eugene that is worth recommending until I came across the Gordon Hotel. It's relatively new, so I only recently discovered it. You can easily book directly through the hotel's own website.
Next Best
Graduate Eugene
Address: 66 East 6th Avenue, Eugene, Oregon, USA
If the Gordon Hotel isn't in your budget, you could stay at their sister hotel, the Inn at the 5th, or the Graduate Eugene. The Graduate is located one street away on 6th Avenue and the rooms are quiet and comfortable with unique decor. This hotel is a good option if you're interested in sustainability, as the hotel has some energy-saving measures such as double glazing and LED light bulbs. The hotel invests a percentage of revenue into community or sustainability projects.
Eugene is one of the most popular smaller cities to visit in the Pacific Northwest. Read my guide to the pretty places in Oregon that are worth visiting for more inspiration.
If you have questions or want to leave a hotel review, please do so in the comments.
If you're looking for things to do in Eugene, Visit Oregon is the best source of information. They list options for nature travellers, accessible travel options and several food trails.
—
Recommendations are independently chosen by our travel editors. This post contains affiliate links to hotels in Eugene, Oregon. This means we get a small commission from any bookings at no extra cost to you.