Recommendations are based on personal travel experiences and research. If you book through links on our site, we may earn a commission at no extra cost to you.
—
Mission Beach is a must-see destination when visiting San Diego. The wide, sandy beach is perfect for sunbathing, swimming, and beach games, and the adjacent boardwalk is great for a leisurely stroll or bike ride.
I enjoyed visiting the historic Belmont Park amusement park with its wooden roller coaster and other classic carnival rides.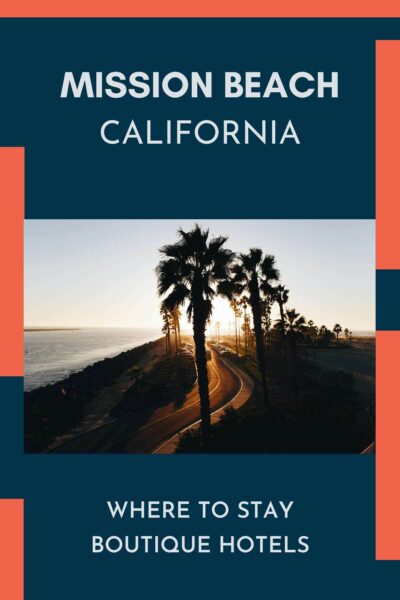 When it comes to accommodation, I recommend staying in a cool and unique boutique hotel. Choose one of these chic, modern hotels near Mission Beach in San Diego.
Boutique Hotels in Mission Beach, San Diego
San Diego has many cool neighborhoods to visit, each with their own unique character and attractions.
The Gaslamp Quarter is popular for its nightlife, dining, and shopping. While Mission Beach is a laid-back beach community with a boardwalk and amusement park.
For a more upscale experience, La Jolla offers stunning ocean views and high-end shopping and dining.
If you're visiting San Diego, it's best to stay in Mission Beach if you want a classic SoCal experience.
Top Pick
Tower 23 Hotel
Address: 723 Felspar Street, Pacific Beach, San Diego, CA
Tower 23 Hotel is located on the Pacific Beach boardwalk, next to lifeguard tower 23, hence the name. This unique hotel boasts distinctive architecture and style inspired by the lively beach culture of San Diego. During your stay, you can take a short drive to visit nearby neighborhoods like La Jolla, Gaslamp, North Park, and Hillcrest, or stay closer to the hotel and experience the energy of Pacific Beach and nearby Mission Beach.
Features:
Minimalist design features.
Stylish rooms with loads of natural light.
High-end amenities in the bathrooms.
Rooms with ocean views.
Beachfront restaurant, known for its seafood dishes.
Beachfront location.
Pros: The hotel is within a short distance of so many of Southern California's great beaches and natural beauty. Tower 23 is in a brilliant location, directly across from the beach and Crystal Pier. The beachfront location and rooftop lounge are highlights.
Cons: The hotel has yet to implement sustainability measures. If this is an issue for you, I recommend a more eco-friendly hotel below.
Check Availability
If you're interested in staying in Mission Beach, I think this is the best boutique hotel in the area. However, my next best pick might be worth considering if you're seeking something unique or in a different location.
Next Best
Blue Sea Beach Hotel
Address: 707 Pacific Beach Drive, Mission Beach, San Diego, CA
The Blue Sea Beach Hotel is located across from Pacific Beach, near Mission Beach in San Diego. This is a surf-inspired haven for guests to enjoy the California sun.
As the only beachfront hotel with a pool in the area, it's a unique place to stay. The hotel's friendly staff and bright, beachy rooms are popular all year round.
The Blue Sea is located halfway between Pacific Beach and Mission Beach. It's the closest to Mission Beach of the three hotels recommended here.
Eco-Friendly Hotel
Staying in an eco-friendly or sustainable hotel may be preferred if you're looking to reduce your environmental impact while on vacation.
Eco-friendly and sustainable hotels often offer a range of amenities and services that cater to environmentally conscious travellers, such as locally sourced food and recycled materials used in construction and decor.
Ocean Park Inn
Address: 710 Grand Avenue, Pacific Beach, San Diego, CA
The Ocean Park Inn has been shaped by decades of beach vacations and the iconic surf culture of Southern California. Its unique atmosphere is created by the sound of waves crashing and the vast expanse of the blue sea.
The hotel's mid-century design reflects the diverse community of beach residents and free-spirited creatives that call SoCal home.
The hotel is making efforts to reduce food and plastic waste, and food is mostly organic and locally sourced. A portion of their carbon footprint is offset.
If you're planning a trip to California, be sure to check out my guide to the best places to visit in the Golden State for an insider's look at the top attractions, hidden gems, and must-see destinations.
The San Diego tourist office has a helpful website for visitors to the city, with information on local attractions, events, and dining options. The website also provides resources for planning a trip to San Diego, including information on transportation, accommodation, and activities to suit different interests and budgets.
Responsible Travel Tips
Many of us are increasingly concerned about climate change and sustainability.
Here are some ideas on how people can travel more responsibly in Mission Beach and San Diego:
Staying in a hotel that uses renewable energy sources and practices energy efficiency. This is difficult to find at the moment. Hopefully, that will change in the near future.
Reducing food waste by carefully planning meals and choosing restaurants that prioritize sustainability. Ask to take home any leftovers, which you can turn into a picnic by the beach the following day.
Limiting consumerism by opting for experiences over material possessions and supporting local businesses. This is easy to do in San Diego, where there is a huge focus on outdoor activities, fitness and wellness.
Choose locally grown, organic, and plant-based options to adopt a sustainable diet. You'll find lower-impact meals and farmers' markets along the main street in Pacific Beach.
Using sustainable transport options such as public transportation, biking, or car sharing. This can be difficult in California, but you could rent a bike while visiting the local area.
Supporting the local community by participating in cultural activities and supporting local organizations and initiatives.
Please share your sustainability tips in the comments.
If you have questions or want to leave a hotel review, please do so in the comments.
—
Recommendations are independently chosen based on personal travel experiences and extensive research. This post contains affiliate links to hotels in Mission Beach, California. This means I get a small commission from any bookings at no extra cost to you.