Recommendations are based on personal travel experiences and research. If you book through links on our site, we may earn a commission at no extra cost to you.
—
I recently had the opportunity to visit La Jolla and was blown away by the beauty of the area. The beaches are stunning and the shopping and dining options were top-notch. One of my favorite experiences was visiting La Jolla Cove, which offered incredible views of the Pacific Ocean.
If you're planning a trip to La Jolla, I would definitely recommend staying in a boutique hotel by the sea. Not only are boutique hotels typically more intimate and personalized, but many of them also offer unique amenities and experiences that you won't find at larger chain hotels.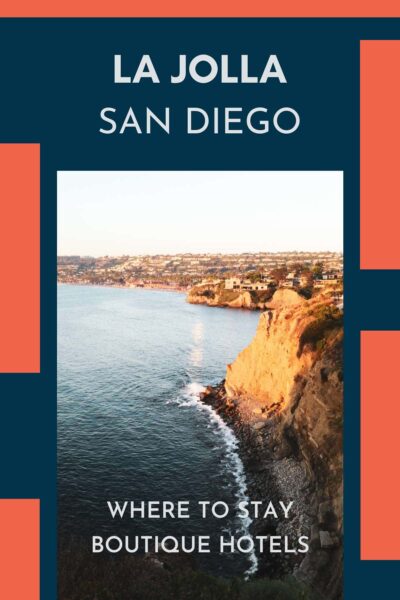 Boutique Hotels in La Jolla
La Jolla is a vibrant and upscale neighborhood located in San Diego, California. Some popular areas to visit in La Jolla include La Jolla Cove, which offers stunning views, snorkling and diving, and La Jolla Shores Beach, which is known for its calm waters and picnic areas.
I recommend staying in the La Jolla Village area if you're visiting La Jolla. This is the most central area of La Jolla and is within walking distance of La Jolla Cove, Seal Rock and La Jolla Tide Pools. It's also where you'll find most of the area's shops and restaurants.
Top Pick
La Valencia Hotel
Address: 1132 Prospect Street, La Jolla, San Diego, CA
La Valencia Hotel is a historic hotel located in the Village of La Jolla, a 5-minute walk from La Jolla Cove. The hotel was built in 1926 and is known for its Mediterranean architecture and pink facade. The rooms are decorated in a classic and elegant style and the bathrooms feature a mix of modern and classic decor.
Features:
Unique architecture and luxury design.
Brilliant location in the heart of La Jolla Village.
King rooms with ocean views.
Good-sized gym with a Peloton bike.
Pros: A charming, historic hotel in the best location in La Jolla, with high-end features, beautiful grounds, and a pool.
Cons: Some areas of the hotel may need updating.
Check Availability
Although I think this is the best boutique hotel in La Jolla, you may want to consider my next best pick if you're looking for something more affordable or in a different location.
Next Best
Hotel La Jolla
Address: 7955 La Jolla Shores Drive, La Jolla, San Diego, CA
The Hotel La Jolla is located away from the Village of La Jolla and is closer to Kellogg Park and La Jolla Shores.
This isn't a boutique hotel, as it's part of a chain, but this is all that's available in this area. The hotel offers a range of amenities, including a heated outdoor pool, a good-sized gym, and a high-end lounge for guests.
Cool and Unique Hotel
You might prefer staying in a cool, unique hotel like the Grande Colonial as it offers a more personalized and memorable experience.
Grande Colonial La Jolla
Address: 910 Prospect Street, La Jolla, San Diego, CA
The Grande Colonial La Jolla is a luxurious hotel located in the heart of La Jolla Village.
The hotel is located within walking distance of several beaches, including Shell Beach, Boomer Beach and La Jolla Cove. All the area's best places to eat are close by, as is the Museum of Contemporary Art.
The hotel is a classic beauty from another era, with modern amenities, huge rooms and exceptional service.
To ensure that you have the best possible experience during your visit to California, consider consulting my guide to the top places to visit. It includes a list of the best attractions, events, and activities in the region, making it a valuable resource for planning your trip.
If none of these options suit you, check out these hotels near Mission Beach that are not far from La Jolla.
La Jolla by the Sea has a helpful website for visitors to the city because it provides a wealth of information about local attractions, events, and activities.
This can be especially useful for travelers who are planning their trip in advance and want to make the most of their time in La Jolla.
Responsible Travel Tips
One way to travel more responsibly in La Jolla is by choosing accommodation that prioritizes energy efficiency and renewable energy. This could include staying at hotels that have installed solar panels or use energy-efficient appliances and lighting.
Solar panels are increasingly common in hotels in California, so hopefully, I'll be able to update this guide with more sustainable hotels in the future.
Another way to be more responsible is by reducing food waste during your trip. This could involve packing your own snacks and meals to take with you, choosing restaurants that offer smaller portion sizes or take-out options, only ordering what you can eat, and composting or recycling any food waste you do generate.
Limiting consumerism while traveling is another way to be more responsible. This could involve avoiding buying souvenirs or other unnecessary items and instead supporting local businesses by purchasing locally-made products or services.
In La Jolla, you might support local businesses involved with outdoor activities like cycling or surfing.
Choosing a sustainable diet while traveling can also be a way to reduce your impact. This could involve opting for plant-based meals, supporting local farmers and producers, and choosing sustainably caught seafood.
This is one of the easiest ways to be more sustainable, as San Diego has great vegetarian and plant-based restaurants.
Another option for more responsible travel is to choose sustainable transportation options. This could include using public transportation, renting an EV, or even biking or walking to your destination.
Finally, supporting the local community is an important way to be a responsible traveler. This could involve choosing local, independently-owned businesses, visiting local art exhibitions, or participating in volunteer or community service opportunities.
Please share your sustainability tips in the comments.
—
Recommendations are independently chosen based on personal travel experiences and extensive research. This post contains affiliate links to hotels in La Jolla, California. This means I get a small commission from any bookings at no extra cost to you.