Recommendations are based on personal travel experiences and research. If you book through links on our site, we may earn a commission at no extra cost to you.
—
Coeur d'Alene is a beautiful destination in Idaho, popular with outdoor enthusiasts thanks to its stunning natural landscapes. Hiking on local trails and in the surrounding mountains is particularly popular, as is spending time on the lake.
If you're planning a trip to Coeur d'Alene, I recommend a boutique hotel near the waterfront.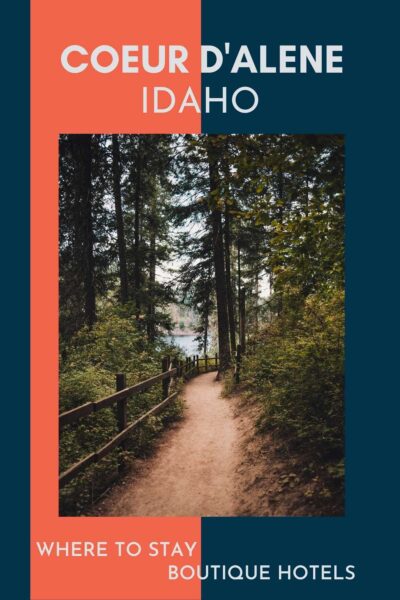 Boutique Hotels in Coeur d'Alene
There are several interesting neighbourhoods in Coeur d'Alene that are worth staying in during your visit. The most popular area to stay is the downtown district, which has a charming small-town feel and is home to many locally-owned shops and restaurants.
Another interesting area is the North Idaho College neighbourhood, which has a youthful energy and is known for its lively music and arts scene.
If you're visiting Coeur d'Alene, I recommend staying in either of these areas as you'll have access to the city's independent stores and restaurants while also being near the waterfront activities.
Top Pick
One Lakeside
Address: 201 N. First Street, Coeur d'Alene, ID
One Lakeside is an ideal home base for visitors looking to spend some time in Coeur d'Alene. The rooms are more like suites with kitchens, meaning you can prepare meals or picnics if you're heading out into nature. The hotel is the best located in Coeur d'Alene. It's not far from North Idaho College if you're heading there and the lake waterfront is a short walk away. I wouldn't say One Lakeside is a boutique hotel as such, but the best place to stay in Coeur d'Alene.
Features:
Choice of city view and lake view rooms.
Comfortable beds and pillows with very clean bathrooms.
Great location between downtown and the waterfront.
Rooms are effectively apartments with a full kitchen plus a washer and dryer.
Rooftop hot tub and dining with firepits.
Exceptional service.
Pros: An exceptional place to stay in the small city of Coeur d'Alene. Great location, highly-rated service and facilities.
Cons: There is an additional charge for the hot tub and there's no onsite gym.
Check Availability
While there aren't any true boutique hotels in Coeur d'Alene, you might find a locally-owned bed and breakfast to be worthwhile. You could also stay in nearby Post Falls, Idaho.
Next Best
Coeur de Lion BNB
Address: 8137 W Clemetson Road, Coeur d'Alene, Idaho
Although this isn't a boutique hotel, you might like to try this unique bed and breakfast in Coeur d'Alene. It's the most highly-rated accommodation in Coeur d'Alene, and much of that concern the local hospitality and the beautiful outdoor space. The decor is eclectic maximalism, so it won't be to everyone's taste, but the scenic location is probably more important.
Resort Style
SpringHill Suites
Address: 2250 West Seltice Way, Coeur d'Alene, ID, USA
If you're happy staying in a resort, this is one of the best in Northern Idaho. Great facilities include a huge indoor pool and gym. The rooms are suites, so you have plenty of room, ideal for a longer stay. It's close to the downtown stores, and you have easy access to hiking trails and the lake.
If you are interested in exploring the many amazing destinations that Idaho has to offer, you may want to consider checking out my guide to the most beautiful places in Idaho. This guide highlights some of the most popular and scenic spots in the region and provides valuable information about what to see and do at each location.
As someone planning a trip to Coeur d'Alene, you might find this site to be a helpful resource for getting ideas about things to do, places to stay and general information about the city.
Responsible Travel Tips
Many of us are increasingly concerned about climate change and sustainability. Here are a few ideas for travelling responsibly.
One way to travel more responsibly in Coeur d'Alene is by staying in accommodations using renewable energy, such as hotels or vacation rentals with solar panels or other green energy sources. This isn't available in the area right now, but hopefully, that will change soon.
Another way to reduce your impact while travelling is by being mindful of food waste. You can do this by planning meals in advance, purchasing locally grown and produced food, and supporting restaurants that have a focus on sustainability.
Limiting consumerism is another way to travel more responsibly. This can involve purchasing locally made products, supporting small and locally owned businesses, and being mindful of the environmental impact of the items you buy.
Adopting a sustainable diet while travelling can also make a big difference. This might involve choosing plant-based options, seeking out locally grown and raised food, and supporting sustainable farming practices.
Sustainable transport is another important aspect of responsible travel. In Coeur d'Alene, this could include biking or walking instead of driving, carpooling, or using electric or hybrid vehicles. If you're on vacation, this is a great opportunity to rent a bike and use it as your main means of transportation.
Finally, supporting the local community is a key part of responsible travel. This might involve staying in locally owned accommodations, participating in cultural events and activities, and supporting local charities and causes.
Please share your sustainability tips in the comments.
If you have questions or want to leave a hotel review, please do so in the comments.
—
Recommendations are independently chosen based on personal travel experiences and extensive research. This post contains affiliate links to hotels in Coeur d'Alene, Idaho. This means I get a small commission from any bookings at no extra cost to you.