Recommendations are based on personal travel experiences and research. If you book through links on our site, we may earn a commission at no extra cost to you.
—
The natural beauty of Oregon's Cannon Beach is truly breathtaking. There are so many fun things to do in the area, but even just walking along the beach and taking in the fresh sea air is incredibly refreshing.
On the sandy beach, you'll see the famous Haystack Rock with its unique tufted puffins. Further afield is the stunning Ecola State Park.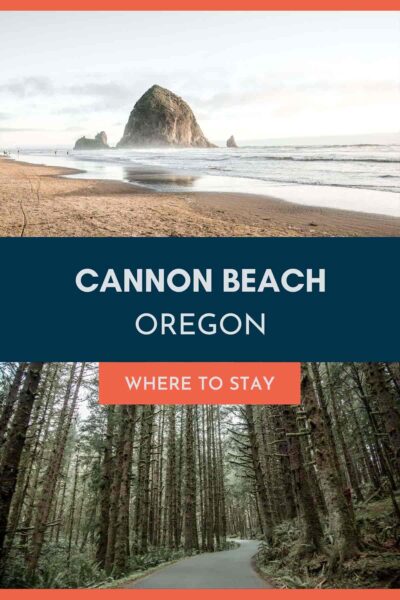 If you plan to visit Cannon Beach, I highly recommend staying in a cool or unique boutique hotel or locally owned resort.
Not only will you have a more memorable and enjoyable stay, but you'll also be supporting local, independent businesses that add to the charm of the community.
Boutique Hotels in Cannon Beach
Cannon Beach has several interesting neighborhoods and districts to explore, each with its own unique character and charm.
The small downtown area is home to several art galleries, boutiques and restaurants. You'll find a great range of locally caught seafood in the restaurants here.
A bit further south is closer to Haystack Rock, where you'll find a more laid-back atmosphere with a mix of residential and commercial areas. This is the area where I recommend staying if you're visiting Cannon Beach.
Top Pick
Hallmark Resort in Cannon Beach
Address: 1400 S Hemlock, Cannon Beach, Oregon
Located directly on the beach, this is the perfect place to create lasting memories. Haystack Rock is just steps away, you have a luxurious onsite spa and the vibrant downtown area is a short, scenic walk away.
Features:
Modern, clean rooms with large beds and sitting areas.
Ocean views rooms within steps of the sandy beach.
Complimentary freshly baked cookies and popcorn are available daily.
Pet-friendly – Exercise area, wash down station, pet food and dog treats.
Pros: The best-located hotel in Cannon Beach if you want to stay directly by the beach. The clean, freshly renovated rooms make for a particularly comfortable stay.
Cons: This is more of a resort than a boutique hotel, but it's easily the best place to stay in Cannon Beach.
Check Availability
Although I believe this is the best hotel in Cannon Beach, other great options are available if you're looking for something unique or in a different location. My next pick would be great for those interested in exploring alternatives.
Next Best
Inn at Cannon Beach
Address: 3215 South Hemlock Street, Cannon Beach, OR
The Inn at Cannon Beach is an ideal spot for rest and relaxation. It's located near the Tolovana Beach State Recreation Site, so the beach has a certain natural, wild beauty.
This area has so many state parks and forests, so this mix of beach, water and forests is relaxing. The hotel is highly-rated, and the rooms are quiet, clean, and packed with thoughtful features. You'll find blankets, cookies, a coffee machine, and beach chairs, to name a few things that are included.
What to Expect
If you're looking for a luxury or boutique hotel in Cannon Beach, there are a few features you should look for to ensure you have a truly exceptional stay.
Here are some of the key features to consider:
Location: Look for a hotel that is located near the beach, as this will allow you to enjoy the stunning coastline and ocean views. Some hotels may even offer direct beach access, which is a great perk if you plan to spend a lot of time on the sand.
Amenities: Luxury and boutique hotels often offer a wide range of amenities to ensure you have a comfortable and enjoyable stay. Look for hotels that offer things like spa services, full-service gyms, gourmet restaurants, and concierge services to make your stay as relaxing as possible.
Room features: When it comes to the actual rooms, look for hotels that offer high-end features like plush bedding, upscale toiletries, and in-room fireplaces or jacuzzis. These features will help create a luxurious and comfortable atmosphere where you can truly unwind.
Personalized service: One of the hallmarks of a boutique hotel is personalized service. This level of service will make you feel truly pampered during your stay.
Unique design: Boutique hotels often have a unique design or theme that sets them apart from larger chain hotels. Look for hotels that have a stylish and unique design that creates a memorable and immersive atmosphere.
Considering these key features, you can find a luxury or boutique hotel in Cannon Beach that meets all your needs and helps create a truly exceptional vacation experience.
Where to Stay in Cannon Beach
With miles of pristine coastline, quaint shops, and stunning views, it's no wonder this seaside town is a popular destination.
When it comes to choosing where to stay, there are a few areas that stand out for their unique charms and attractions.
I've touched on this already, but here are a few more details on the best areas to stay.
Downtown Cannon Beach: If you want to be in the heart of the action, then downtown Cannon Beach is the place to be. Here you'll find a variety of shops, galleries, and restaurants, as well as easy access to the beach. Staying downtown also means you won't have to worry about driving or parking, as everything is within walking distance.
Midtown Cannon Beach: Just a short walk from downtown, midtown Cannon Beach offers a quieter atmosphere while still being close to all the amenities. You'll find a mix of vacation rentals, hotels, and motels here, many of which offer ocean views. Midtown is also a great choice if you want to be near Haystack Rock, one of the most iconic landmarks in Cannon Beach. This is where you'll find my recommended boutique hotel.
Tolovana Park: Located a bit further south of downtown, Tolovana Park is a more residential area that's popular with families. This area is a great choice if you're looking for a quieter, more laid-back atmosphere and easy access to the beach. There are also several vacation rentals and hotels in Tolovana Park that offer oceanfront views.
Arch Cape: If you want to get away from it all, then Arch Cape might be the perfect choice for you. This secluded area is located a few miles south of Cannon Beach and offers a quieter, more peaceful atmosphere. There are several vacation rentals in Arch Cape that offer stunning ocean views, as well as easy access to hiking trails and other outdoor activities.
While the areas mentioned before are the most popular places to stay in Cannon Beach, there are also a few areas that are further away but still worth considering:
Manzanita: Located about 15 miles south of Cannon Beach, Manzanita is a quiet coastal town that offers stunning beaches and a more laid-back atmosphere. If you're looking for a peaceful retreat away from the hustle and bustle of Cannon Beach, then Manzanita might be the perfect choice for you.
Seaside: Located about 10 miles north of Cannon Beach, Seaside is a larger coastal town with a variety of shops, restaurants, and attractions. While it's not as quaint as Cannon Beach, Seaside offers families a boardwalk, aquarium, and other fun activities.
Astoria: If you're looking for a more urban experience, consider staying in Astoria, located about 25 miles north of Cannon Beach. Astoria is a historic city that offers a variety of museums, art galleries, restaurants, and stunning views of the Columbia River and the Pacific Ocean. I recommend a couple of boutique hotels in Astoria if you'd prefer to stay there.
Keep in mind that staying in these areas will require more driving to get to Cannon Beach and its attractions, but they offer unique experiences that may be worth the extra travel time.
If you're planning a trip to Oregon and want to make sure you don't miss out on any of the state's top attractions, be sure to check out my guide to the prettiest places to visit!
The Cannon Beach tourist office has a website that is full of helpful information for visitors to the city. It includes details about local attractions, events, accommodations, and tips for getting around and making the most of your visit.
Responsible Travel Tips
Many of us are increasingly concerned about climate change and sustainability.
There are many ways that people can travel more responsibly in Cannon Beach:
Consider staying in accommodation that uses renewable energy sources. This is currently difficult in Cannon Beach, but I'll update this page when that changes.
Consider alternative modes of transportation, such as walking, biking, or using public transportation. Many hotels offer free bikes or bike rentals to help you get around sustainably.
Reduce food waste by planning meals in advance and only purchasing what you will be able to consume.
Limit consumerism by choosing experiences over material possessions and supporting local businesses instead of large chains. This is easy to do in Cannon Beach as you're surrounded by opportunities for activities in nature that are free for everyone and have lower environmental impacts.
When possible, try to follow a sustainable diet by choosing locally grown, organic, and plant-based options.
Avoid flying, as it is a major contributor to carbon emissions.
Support the local community by purchasing from local vendors, participating in community events, and respecting the natural environment.
Please share your sustainability tips in the comments.
If you have questions or want to leave a hotel review, please do so in the comments.
—
Recommendations are independently chosen based on personal travel experiences and extensive research. This post contains affiliate links to hotels in Cannon Beach, Oregon. This means I get a small commission from any bookings at no extra cost to you.