Recommendations are based on personal travel experiences and research. If you book through links on our site, we may earn a commission at no extra cost to you.
—
Astoria is one of Oregon's many unique destinations. It has that classic northwest small-town atmosphere and natural beauty, at least that's what I noticed when passing through a few years ago.
The downtown area has a rich history and there are stunning views of the Columbia River and Astoria-Megler Bridge to take in. Honestly, it's a pretty incredible-looking bridge. It kind of reminds of that bridge in Lisbon, if you've ever seen it.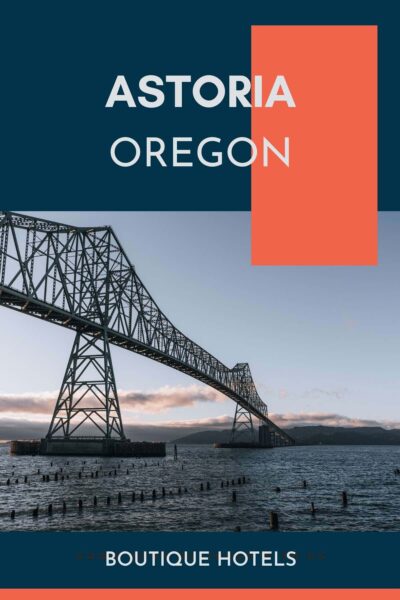 If you're planning a trip to Astoria, I suggest staying in a cool and unique boutique hotel to really make the most of your visit. There are a couple of interesting hotels in Astoria that fit that description.
Boutique Hotels in Astoria Oregon
Astoria is home to a number of interesting and unique neighbourhoods and districts, including the historic downtown area, the beautiful waterfront district, and the vibrant and eclectic Uppertown neighbourhood.
If you're visiting Astoria and looking for the best area to stay in, I would recommend the downtown area. This is where you'll find the city's cool microbreweries, specialty coffee and independent stores.
There's a decent range of restaurants, shops, and cultural attractions, and the downtown area is right near the waterfront.
Top Pick
Norblad Hotel
Address: 443 14th Street, Astoria, Oregon
Full disclosure, the Norblad Hotel is a mix of a budget boutique hotel and a hostel. But there are private rooms with private bathrooms and that's what I recommend booking. The hotel is located in a historic building that has been stylishly renovated in a unique and eclectic manner. The decor is cool and quirky and the rooms are clean and great value for money. The use of high-quality finishes and pieces throughout the hotel adds an extra touch of luxury while still maintaining a laid-back atmosphere.
Features:
Unique decor and design.
Stylish rooms with loads of natural light.
Fun lounge and common areas.
Minimalist bathrooms with bathrobes.
Comfortable sitting areas in the larger rooms.
Great location near all of Astoria's cool cafes and breweries, the Liberty Theatre and the distillery and ciderworks.
Pros: Amazing location if you want to be in the heart of Astoria. Cool and unique design features, with a fun vibe in a historic hotel.
Cons: As this is primarily a budget hotel and hostel, facilities are limited. I recommend a higher-end hotel below.
Check Availability
Although I believe the Norblad Hotel is the best boutique hotel in Astoria, you might prefer my next recommendation if you are looking for something different or if you want to stay closer to the waterfront.
Next Best
Cannery Pier Hotel & Spa
Address: No 10 Basin, Astoria, Oregon
For something very different, you might like the Cannery Pier Hotel. It's located at the end of the pier, directly across from the Astoria-Megler Bridge and next to the Riverfront Trolley.
The hotel has undergone a unique renovation, with a focus on adding luxurious and thoughtful touches throughout the property, creating a warm and cosy atmosphere. The views make this hotel incredibly special.
Cool and Unique Hotel
Staying in a cool and unique hotel can be an exciting and memorable experience, allowing you to try something different by stepping outside of your comfort zone.
Unique hotels often provide a more personalized and local experience, reflecting the character and culture of the Astoria community.
Basically, it adds to the travel experience if you want more than just a roof over your head for the night.
Selina Commodore Astoria
Address: 258 14th Street, Astoria, Oregon
The Selina Commodore definitely fits into the quirky category as far as decor goes. The hotel is a beautiful blend of old and new, with its antique features and modern amenities.
Its absolutely central location in downtown Astoria is near the waterfront and within proximity of popular hiking trails. Note that this is a 2-star hotel, so it might not have the high-end features and facilities you want.
Where to Stay in Astoria
There are several areas in Astoria that are popular among visitors, depending on preferences and interests. Here are some of the best areas to stay in Astoria:
Downtown Astoria: This is the heart of the city and the most popular area for visitors. It is home to many historic buildings, art galleries, boutique shops, restaurants, and bars. Staying in downtown Astoria puts you within walking distance of most of the town's attractions, including the Astoria Riverfront Trolley, the Columbia River Maritime Museum, and the Astoria Column.
The Riverwalk: This scenic path along the Columbia River is popular for strolling, jogging, and biking. Several hotels and vacation rentals along the Riverwalk offer great views of the river and easy access to the downtown area.
East End: This quiet residential area is located on the hill above downtown Astoria and offers stunning views of the town and the river. It is a great place to stay if you want to be close to downtown but prefer a quieter and more residential setting.
Uniontown: This historic neighbourhood is located on the city's east side, near the mouth of the Columbia River. It has many Victorian homes and is known for its lively arts scene, with several art galleries and studios. Staying in Uniontown will give you a taste of Astoria's rich history and culture.
Warrenton: This neighbouring town is located a few miles north of Astoria and is known for its beaches and outdoor activities. If you are interested in hiking, fishing, or kayaking, staying in Warrenton might be a good option. There are also several hotels and vacation rentals in the area that offer easy access to the beach.
The Best Areas to Stay
If you're looking for the best boutique hotels and stores in Astoria, you'll want to focus your search on downtown Astoria and Uniontown.
These areas are home to many charming boutique hotels, such as those I mentioned earlier. You'll love the unique decor and personalised service that these hotels offer.
When it comes to shopping, downtown Astoria is the place to be. You'll find many independent boutiques and specialty shops here, such as Cargo, Forsythea, and Finn Ware.
These stores offer a wide range of handmade and vintage items, from clothing and accessories to home decor and gifts.
In Uniontown, you'll find several art galleries and studios that showcase the work of local artists, such as RiverSea Gallery and Fulio's Pastaria & Tuscan Steakhouse.
Whether you're looking for a charming boutique hotel or a one-of-a-kind shopping experience, downtown Astoria and Uniontown are the places to be.
Regardless of where you stay, you will be able to explore the town and enjoy its unique charm.
Discover the beauty and diversity of Oregon with my guide to the best places to visit in the Pacific Northwest, featuring everything from breathtaking natural wonders to vibrant urban centres. Or stay close by at one of the prettiest places in Oregon.
Visit Oregon has a section on Astoria that is very helpful for visitors to the city. It provides information on local attractions, events, accommodations, and other useful resources for planning a trip to the region.
Responsible Travel Tips
Many of us are increasingly concerned about climate change and sustainability.
Here are some ideas for how people can travel more responsibly in Astoria:
Use renewable energy sources whenever possible. This could mean using an electric vehicle or public transportation powered by electricity.
Take public transport, cycle or walk to get around. Astoria has its famous riverfront trolley, a great way to get an overview of the city.
Reduce food waste by only ordering what you can eat, and consider packing your snacks and meals to bring while travelling.
Limit excess consumerism by being conscious of what you need, supporting local businesses, and buying products made from sustainable materials.
Adopt a sustainable diet by choosing local, seasonal, and organic food options whenever possible. This is easy to do in Astoria, where restaurants often focus on supporting local providers. However, be aware that overfishing can be an issue, so order wisely.
Support the local community by staying in locally-owned accommodations, eating at locally-owned restaurants, and participating in community events and activities.
Please share your sustainability tips in the comments.
If you have questions or want to leave a hotel review, please do so in the comments.
—
Recommendations are independently chosen based on personal travel experiences and extensive research. This post contains affiliate links to hotels in Astoria, Oregon. This means I get a small commission from any bookings at no extra cost to you.