Recommendations are based on personal travel experiences and research. If you book through links on our site, we may earn a commission at no extra cost to you.
—
Vancouver is a fantastic destination with something to offer for every type of traveller. From its stunning natural surroundings to its thriving arts and culture scene, this beautiful city always has something new to discover.
I was blown away by the gorgeous parks and nature when I visited. I loved trying all the amazing local cuisine and wouldn't be surprised if many people visited for the food.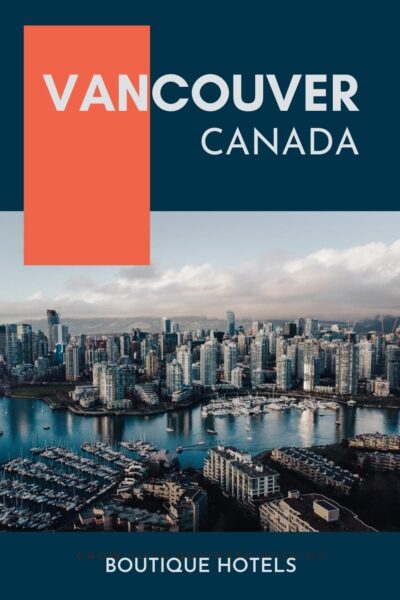 One of my favourite parts of the trip was exploring the different neighbourhoods. Although I stayed in Downtown Vancouver, I think it's more enjoyable to stay in one of the nearby neighbourhoods.
You'll find more interesting restaurants, bakeries, breweries and independent stores here.
But you'll still be close to all the museums, galleries and other attractions. Many of the best boutique hotels in Vancouver are located in these inner neighbourhoods.
Boutique Hotels in Vancouver
Vancouver is home to many cool and vibrant neighbourhoods that offer a wide range of experiences and attractions.
Some popular areas to explore include Granville Island, which is known for its arts and culture scene, and Gastown, which has a historic charm and is home to many trendy boutiques and restaurants.
If you're looking for the best area to stay in while visiting Vancouver, consider the West End, which is known for its diverse and welcoming community and beautiful beaches and parks.
Top Pick
The Listel Hotel Vancouver
Address: 1300 Robson Street, West End, Vancouver
Nestled in the heart of Vancouver's West End, the Listel Hotel is an eco-friendly boutique hotel. This small hotel is known for its sustainability initiatives and support for local artists. The Listel is a great choice if you're looking to reduce your environmental impact while experiencing cool design, excellent service and a great location.
Features:
Comfortable rooms with large beds and tea and coffee facilities.
Walking distance to many attractions, including Stanley Park and Canada Place.
Striking artwork from local painters and potters, including First Nations artists.
Award-winning Forage restaurant.
Sustainability:
Independently certified sustainable.
100% renewable electricity and they have reduced gas usage.
Zero waste hotel.
Bike rental is available to get around sustainably.
Sustainable food measures in place.
Pros: Warm and welcoming design and service for a relaxing stay in one of Vancouver's liveliest areas. Great breakfasts and room service, in-house gym and pet-friendly.
Cons: Not the sleek design and decor you find in some boutique hotels but it's exceptionally clean and comfortable.
Check Availability
Although I believe the Listel Hotel is the best option in Vancouver, you might prefer my second choice if you're looking for something different or if you want to stay in a different location, like Yaletown.
Yaletown is known for its warehouse conversions, independent shops and outdoor dining. There are plenty of cool and unique bars and cafes too.
This is also a nice neighbourhood if you're interested in outdoor activities, thanks to the many parks along the waterfront.
Next Best
Opus Vancouver
Address: 322 Davie Street, Yaletown, Canada
Opus is a stylish, modern hotel located in the cool Yaletown neighbourhood of Vancouver. It features good-sized rooms with colourful decor, a gym and city views. The hotel is within walking distance of many popular restaurants, cafes and the seawall. It's located opposite the Skytrain and the hotel provides bike rental to get around easily.
If you're planning a trip to the Pacific Northwest and are looking for ideas on where to go, be sure to check out my guide to the best places to visit in the region – or if you're looking for somewhere closer, try this guide to unique places to visit in BC.
Destination Vancouver is a tourist office that provides information and resources for visitors to the city. They have a helpful website that includes information on local attractions, events, travel tips, and resources for planning your trip to Vancouver. If you're interested in Vancouver's different neighbourhoods, they have several guides explaining what you can expect in each area.
Responsible Travel Tips
Many of us are increasingly concerned about climate change and sustainability. Here are some ideas for how we can travel more responsibly in Vancouver:
Use lower-impact energy sources: Consider using public transportation, cycling, or walking instead of driving a car, as these modes of transportation use less energy and produce fewer greenhouse gas emissions. Alternatively, you could consider renting an electric car powered by electricity from renewable energy sources.
Reduce food waste: When travelling, it's easy to overbuy food and end up throwing it away. To reduce food waste, plan your meals carefully and only buy what you need. You could also consider supporting local farmers' markets and eating at restaurants that source their ingredients locally.
Limit consumerism: Instead of buying souvenirs or other unnecessary items, consider supporting local businesses and charities by purchasing locally-made products or donating to community organisations.
Eat a sustainable diet: Consider eating a plant-based diet, which is generally more environmentally friendly than a diet that includes animal products. You could also try to eat seasonally and locally grown produce, reducing transportation's environmental impact.
Avoid flying: If possible, consider alternative modes of transportation, such as trains or buses, which have a lower carbon footprint than flying. If you do need to fly, you can offset your carbon emissions by purchasing carbon credits or supporting renewable energy projects.
Support the local community: Look for opportunities to volunteer or donate to local organizations that are working to improve the community. You could also support local businesses by eating at restaurants and shopping at stores that are owned by members of the community.
Please share your sustainability tips in the comments.
FAQ
What are the best boutique hotels in Vancouver?
I recommend the Listel Hotel or Opus if you're looking for a boutique hotel in Vancouver.
Where do celebrities stay in Vancouver?
There are reports that when in Vancouver, celebrities choose to stay at Opus in Yaletown.
How to get from Vancouver Airport to Listel Hotel?
Vancouver Airport to the Listel Hotel takes around 40-45 minutes on the Canada Line SkyTrain. Trains run every 12 minutes on this line. Get off at Vancouver City Centre station and walk 15 minutes or take the bus.
If you have questions or want to leave a hotel review, please do so in the comments.
—
Recommendations are independently chosen based on personal travel experiences and extensive research. This post contains affiliate links to hotels in Vancouver, Canada. This means I get a small commission from any bookings at no extra cost to you.