Recommendations are based on personal travel experiences and research. If you book through links on our site, we may earn a commission at no extra cost to you.
—
The southern Californian city of Palm Springs continues to be popular for its relaxing hot springs and spas, unique clothing and artisan stores, cool hotels and mid-century design vibes. One of the biggest draws is access to the incredible nature. In this guide, I recommend where to stay and the best cool and unusual boutique hotels in Palm Springs.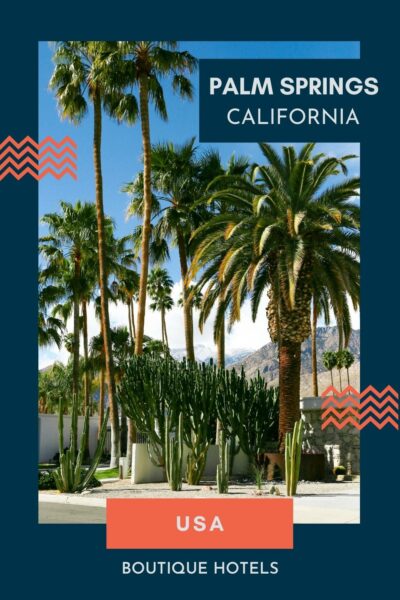 Surrounded by the Coachella Valley, with Joshua Tree National Park, Yucca Valley and the Big Morongo Canyon Preserve nearby, there's a lot to see in this area of California.
Boutique Hotels in Palm Springs
There are several interesting areas to stay in while in Palm Springs. Downtown is an obvious option if you want to stay somewhere central. This is where you'll find most of the city's hotels as well as many bars and restaurants.
The Uptown Design District stretches along North Palm Canyon Drive just north of Downtown. The district borders Old Las Palmas, a historic district where Hollywood royalty used to live. You'll find boutique and vintage stores, cool bars and popular green spaces. It's a good place to be based if you plan on heading to Joshua Tree National Park.
Uptown Design District is where I recommend staying.
Top Pick
Arrive Palm Springs
Address: 1551 North Palm Canyon Drive, Palm Springs, CA
Located directly on North Palm Canyon Drive, in the centre of the Uptown Design District, you can't beat this location. The vibe is fun, friendly, cool and wellness-focused. Get up early to grab one of the free bikes and explore the neighbourhood. Stay for yoga and relax by the pool.
Features:
Spacious, beautifully decorated rooms.
King size beds
Stunning heated swimming pool opens all year round.
Ice cream shop and specialty coffee onsite.
Sustainability:
Bikes are available for free. Cycling is a great way to get around central Palm Springs.
Bathroom products by Malin+Goetz.
Pros: Comfortable rooms, an amazing pool and patio area, quality food and a fun bar, all in a great location.
Cons: There is music by the pool at times, but this is only an issue if you're looking for quiet at all times.
Check Availability
Best Design Hotel
Next best is one of the most beautiful luxury boutique hotels in Palm Springs.
Villa Royale
Address: 1620 South Indian Trail, Palm Springs, California
Great for a stylish luxury getaway where you can eat great food, sip cocktails by the pool and relax in your comfy room. Villa Royale is located in the popular Tahquitz River Estates district just south of Downtown. This is another stunning area of Palm Springs, close to Moorton Botanical Garden and several hiking trails. Take a walking tour to experience to highlights of this neighbourhood.
For more travel ideas and inspiration, read my guide to the best places to visit in California.
Visit Palm Springs is a great resource for travellers to Palm Springs and the surrounding area. Visit them for details on upcoming events, popular things to do, neighbourhood guides and eating out.
Sustainable Travel Tips
The choices we make have a social and environmental impact on the places we visit. These responsible travel measures are a great starting point for travelling more sustainably when in California.
Walk, cycle and use public transport to get around.
Stay in a sustainable hotel powered by renewable energy.
Shop mindfully. Only purchase what you really need.
Try to eat locally sourced, organic food where possible.
Limit your consumption of meat and dairy.
Be open to diverse cultures and experiences.
Explore more than just the main tourist areas and attractions.
Support the arts by attending local events, galleries and concerts.
Try to avoid flying to your destination if you can.
FAQ
Where to stay in Palm Springs?
Uptown Design District and Tahquitz River Estates are two of the best areas to stay in Palm Springs.
How far is Joshua Tree from Palm Springs?
Palm Springs to Joshua Tree is a 45-minute drive.
How far is Yucca Valley from Palm Springs?
Yucca Valley is a 30-minute drive from Palm Springs.
If you have questions or want to leave a hotel review, please do so in the comments.
—
Recommendations are independently chosen based on personal travel experiences and extensive research. This post contains affiliate links to hotels in Palm Springs, California. This means I get a small commission from any bookings at no extra cost to you.