Recommendations are based on personal travel experiences and research. If you book through links on our site, we may earn a commission at no extra cost to you.
—
Whistler is one of my all-time favourite destinations and the first place I ever saw snow. It was quite a memorable experience for this Australian.
The scenery is breathtaking with its towering mountain peaks and snow-covered slopes, perfect for skiing, snowboarding, or even admiring the views. The lively après-ski scene adds an extra level of excitement to your trip.
In this guide, I recommend a few cool boutique hotels in Whistler and where to stay for the best experience.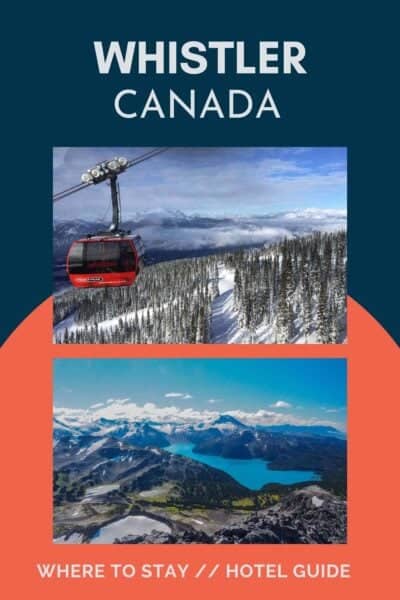 Whistler Boutique Hotels
If you're interested in a cosy village atmosphere, Creekside is a great option.
The Village is a great base for outdoor and wellness activities, you'll be near the Creekside Gondola for access to Whistler Mountain, and it's considerably quieter than Whistler Village.
For a more peaceful and serene experience, consider staying in Alpine Meadows, located on Green Lake. It's ideal if you're interested in visiting parks, going fishing or just relaxing.
If you're interested in luxury accommodations, Whistler Village or the Upper Village area may be the best fit for you. There are many high-end hotels and resorts in this area and a couple of boutique hotels.
Top Pick
Summit Lodge Boutique Hotel Whistler
Address: 4359 Main Street, Whistler, Canada
The Summit Lodge Boutique Hotel, situated in the heart of Whistler Village, offers a surprisingly modern and minimalistic interior that contrasts with its traditional exterior. The hotel provides a distinctive and laid-back ambience, ideal for those seeking an unconventional mountain lodge experience.
Features:
The design is distinct and unconventional.
You can enjoy an outdoor swimming pool.
A vast breakfast assortment is available.
Complimentary full breakfast, wine, and cheese platters are included.
Sustainability:
Single-use plastics are avoided.
The hotel has measures to minimise food waste.
Bike rentals are accessible, providing a sustainable transportation option.
The hotel features and promotes local artists.
Local tours with guides can be arranged by the hotel.
Pros: The hotel features kitchenettes in their suites, an outdoor pool, and a hot tub, and provides complimentary ski, snowboard and bike storage, and it's located within walking distance to Blackcomb Excalibur Gondola.
Cons: The hotel's restaurant may be a bit pricey for some but there are many other places to eat out nearby.
Check Availability
In my opinion, the Summit Lodge Boutique Hotel in Whistler is an excellent choice, but if it doesn't suit your preferences or you'd like a more unique experience in another area, I can recommend a few other places to stay.
Cool and Unique Hotel
As someone who values new and exciting experiences, you may prefer staying in a cool and unique hotel over a conventional one.
Nita Lake Lodge
Address: 2131 Lake Placid Road, Whistler, Canada
The lodge is in a very different location, 5 minutes south of Whistler Village on Nita Lake.
If you can, treat yourself to the spacious and beautifully designed suite rooms, which blend modern and calming decor and include a cosy fireplace and a luxurious hot tub.
Enjoy delicious local cuisine while taking in stunning mountain and lake views, and unwind with a massage at the spa or a refreshing dip in the plunge pool.
Next Best
Sundial Hotel
Address: 4340 Sundial Crescent, Whistler, Canada
The Sundial Hotel is located at the base of Whistler & Blackcomb Mountain amidst the bustling village centre, offering a unique combination of coastal wilderness beauty and comfort.
It's very close to Whistler Ski Lift, Fitzsimmons Express Chairlift and Whistler Village Gondola.
The hotel is known for its friendly service, local insider tips, and all the amenities needed to unwind and recharge, making it the perfect destination for exploring the surrounding area.
Final Pick
Four Seasons Resort Whistler
Address: 4591 Blackcomb Way, Whistler, BC
This isn't a boutique hotel, but the Four Seasons is a top choice if you're looking for a luxury ski getaway in Whistler's Upper Village.
With the convenience of a ski concierge, you'll have a seamless experience on the slopes.
The daily complimentary wine tastings add a touch of elegance to your stay, while the après-ski beverages sipped by a classic Canadian bonfire provide a warm and cozy atmosphere.
The hotel's contemporary take on the classic mountain lodge design is both stylish and inviting.
My guide to unique places to visit in British Columbia is a comprehensive resource that offers in-depth information and insights into the top destinations in the province, providing a valuable tool for anyone looking to make the most of their time in BC.
As someone planning a trip to Whistler, you'll find their website incredibly useful, providing you with all the information you need to make the most of your visit.
Responsible Travel Tips
Many of us are increasingly concerned about climate change and sustainability.
Here are some ways we can travel more responsibly in Whistler, BC:
Use renewable energy: Stay in hotels and support businesses in Whistler that have switched to renewable energy sources, such as solar or wind power, to reduce their carbon footprint.
Reduce food waste: Support restaurants and cafes in Whistler that have environmentally-friendly waste management practices and buy locally-sourced food to minimize transportation-related emissions.
Limit consumerism: Reduce waste and resources by buying what you need.
Sustainable diets: Eat mostly plant-based and locally-sourced options with a lower environmental impact, and avoid overfishing by avoiding threatened species on menus.
Sustainable transport: Use public transportation, carpool, bike, or walk to get around Whistler instead of driving alone, and take advantage of the extensive network of trails for outdoor activities.
Avoid flying: If possible, take the train or drive to Whistler instead of flying, which has a much higher carbon footprint. This is easy to do if you live locally.
Support the local community: Shop at locally-owned, independent businesses, participate in cultural events and use tour operators that prioritise sustainable tourism practices to support the local economy and culture.
If you have questions or want to leave a hotel review, please do so in the comments.
—
Recommendations are independently chosen based on personal travel experiences and extensive research. This post contains affiliate links to hotels in Whistler, Canada. This means I get a small commission from any bookings at no extra cost to you.