Recommendations are based on personal travel experiences and research. If you book through links on our site, we may earn a commission at no extra cost to you.
—
Descriptions of Marseille often mention the city being a bit rough around the edges or a 'tough Port city' and although that may have been the case in the past, these days, the city is generally safe, vibrant and a lot of fun to visit.
In this guide, we recommend where to stay, highlighting the best boutique hotels in Marseille, a wonderful city in the south of France.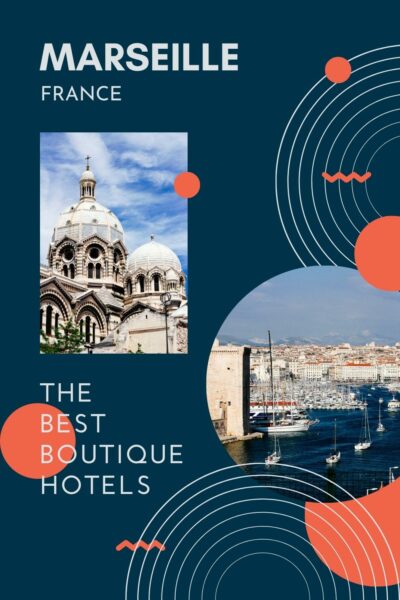 Boutique Hotels in Marseille
There are a few areas where you'll find boutique hotels in Marseille. One of the most popular is the Le Panier district. This is the historic quarter of Old Marseille, a neighbourhood with narrow cobblestone streets, beautiful monuments like La Vielle Charité and excellent cafes, bars and restaurants.
On the other side of the port is the Pharo district, perfect if you would like to stay near the beach and close to sights, including the famous Basilique Notre-Dame de la Garde. Next to Pharo is the exclusive beachside district called Endoume, which is very popular with the locals.
Alternatively, stay in one of the cool neighbourhoods like Belle de Mai, Opéra, Cinq Avenues or Notre-Dame du Mont – Cours Julien.
Top Pick
Hotel C2
Address: 48 rue Roux de Brignoles, Marseille, France
Situated in an incredible 19th-century mansion featuring marble and parquet floors, bas-relief sculptures, frescoes and bronze banisters. It's a stunning building that has been renovated in a minimalist style. Hotel C2 is a luxury boutique hotel with high standards, designer furnishings, large comfortable beds and a beautiful pool and wellness area.
Features:
Sustainability measures certified by FEE's Green Key.
Lounge area for brunch, afternoon tea or cocktails.
Regular art and photography exhibitions.
Friendly and helpful staff.
Pros: Excellent location between the Opera and Pharo districts that is great for sightseeing and for access to the beach and port. Spacious and comfortable rooms.
Cons: The wifi could be better.
Check Availability
Mama Shelter Marseille
Address: 64 Rue de la Loubière, Marseille, France
Mama Shelter is a lively and fun place to stay in the hipster Cours Julien district of Marseille. Each room is uniquely decorated using a white, grey and green theme. Thoughtful touches include plush towels, quality cosmetics and excellent lighting. Mama Shelter's boutique hotels became popular after the first opening in Paris and are now doing well in Marseille. Some of the rooms are on the smaller side, check before you book.
Alex Hotel & Spa
Address: 13-15 Place des Marseillaises, Marseilles, France
Alex Hotel is a calm, modern hotel located just outside of the wonderful Le Panier district, near Marseille's main train station. The spacious rooms are nicely designed and some have views over the city. This is one of the most affordable boutique hotels in Marseille. The spa is available for an additional cost.
La Residence Du Vieux Port
Address: 18 Quai Du Port, Marseille, France
This hotel is perfect for those who would like to stay in the heart of Marseille's Old Port district with access to all the great sights and attractions that allows. Try to book a room with a balcony if you can.
nhow Marseille
Address: 200 Corniche J.F. Kennedy, Marseille, France
Nhow is a large hotel, so it won't be for everyone, but the location is great if you want to be on the water with amazing views. If you prefer to be in the historic port area, I suggest one of the hotels mentioned above. The rooms are light, bright and spacious, ideal for a relaxing holiday.
This guide is part of our series covering where to stay in the South of France.
If you have questions or want to leave a hotel review, please do so in the comments.
Read up on the Marseille Essentials with help for planning your trip to this wonderful city and the surrounding region.
—
Recommendations are independently chosen by our travel editors. This post contains affiliate links to hotels in Marseille, France. This means we get a small commission from any bookings at no extra cost to you.