Recommendations are based on personal travel experiences and research. If you book through links on our site, we may earn a commission at no extra cost to you.
—
Victoria boasts charming historic neighbourhoods, beautiful parks, and a thriving food and art scene.
The Rockland area is particularly delightful with its historic houses and gardens, including the impressive Craigdarroch Castle. However, if you prefer more activity, downtown Victoria and James Bay offer a lot more.
Consider one of Victoria's historic or luxury boutique hotels for a stylish and unique stay.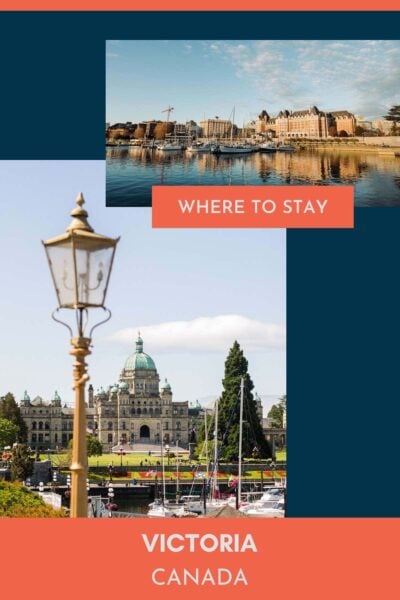 Boutique Hotels in Victoria BC
If you want to explore the stunning historic neighbourhoods and immerse yourself in the lively culture of Victoria, BC, there are plenty of opportunities to do so.
Make sure to visit the Inner Harbour in Victoria, BC, where you can savour delicious food, explore numerous attractions, and immerse yourself in the vibrant atmosphere. If you're in the mood for a luxurious seaside experience, Oak Bay is the perfect spot to relax and enjoy charming surroundings.
Looking for the perfect place to stay? It all depends on your preferences, but check out the Inner Harbour or James Bay neighbourhoods for a central and convenient location.
While small, independent boutique hotels are rare in Victoria, don't worry – some fantastic options are still available to make your stay comfortable and memorable.
Top Pick
Fairmont Empress Hotel
Address: 721 Government Street, Victoria, Canada
The Fairmont Empress is a luxurious and iconic hotel located in the heart of the city. It's just steps away from the Inner Harbour and not far from the bustling streets of downtown Victoria. The building is recognised as a National Historic Site and recently underwent a high-end renovation. Many of the rooms feature stunning views of the harbour or the hotel's lush, manicured gardens.
Features:
Large, comfortable rooms with sitting areas.
Rooms with views of the Inner Harbour, city skyline or garden.
Modern gym, heated swimming pool and award-winning spa.
Iconic British-style afternoon tea is available.
Restaurant featuring Pacific Northwest cuisine.
Exceptional service, as you would expect of a grand hotel.
Sustainability:
Independently certified sustainable initiatives.
Food waste is minimised and unavoidable waste is composted.
Onsite honey hives.
Locally-sourced sustainable food is served in the restaurant.
Food waste reduction measures are in place.
BMW bikes are available for rent for exploring the city and nature trails.
Pros: The Fairmont is an iconic historic hotel situated in the heart of Victoria, near the Inner Harbour and many of the city's top attractions. This stunning hotel is known for its grand Edwardian architecture and its elegant, old-world charm.
Cons: This hotel is part of the large Accor hotel group, so it's not a boutique hotel but a large luxury hotel. I recommend staying here because it's so much better than anywhere else and it's not unreasonably priced for what you get. I recommend a smaller hotel below.
Check Availability
In my opinion, this is the top luxury boutique hotel in Victoria, BC. However, if you're looking for something in a different location or something more intimate, you might also enjoy my next best pick.
Small Boutique Hotel
Hotel Rialto
Address: 653 Pandora Avenue, Victoria, Canada.
Hotel Rialto is a small, independently-owned boutique hotel located in downtown Victoria, BC. Rooms feature charming vintage-inspired decor and views of the harbour or the city skyline. The hotel has a rooftop patio with panoramic views of the city. If you're looking for a stylish and uniquely-decorated place to stay during your visit to Victoria, Hotel Rialto is an excellent choice.
Oak Bay Hotel
Oak Bay is a lovely seaside community located near Victoria, BC. This area has a picturesque coastline and stunning beaches that are perfect for leisurely strolls or relaxing afternoons in the sun.
The community is also home to some of the area's most upscale shops and restaurants, making it a popular destination for visitors looking for a luxurious experience.
Additionally, Oak Bay is a short drive or bike ride away from downtown Victoria, which makes it a convenient location to explore the city while still having a peaceful retreat to return to.
Oak Bay Beach Hotel
Address: 1175 Beach Drive, Victoria, Canada
Oak Bay Beach Hotel is a luxury resort located in the beautiful Oak Bay neighbourhood of Victoria, BC. The hotel offers stunning ocean views and luxurious amenities, including a full-service spa, mineral pools, and hot tubs. The hotel rooms and suites are designed with luxury and comfort in mind, featuring high-quality linens, plush bedding, and elegant furnishings. Additionally, Oak Bay Beach Hotel has a variety of dining options, including The Dining Room, which serves up locally sourced, farm-to-table cuisine, and the Snug Pub, a cozy spot to enjoy a drink or meal. Overall, Oak Bay Beach Hotel is a great choice for those looking for a luxurious and relaxing stay in Victoria.
Eco-Friendly Hotel near Inner Harbour
By staying in a sustainable or eco-friendly hotel, you can expect to enjoy a more environmentally conscious travel experience.
You might like my next hotel recommendation because it offers sustainable features and practices, allowing you to reduce your carbon footprint while enjoying a comfortable stay.
The Magnolia Hotel
Address: 623 Courtney Street, Victoria, BC
The Magnolia Hotel and Spa is both a luxurious and sustainable option for your stay in Victoria. The hotel is located in the heart of Victoria's historic downtown area, just a few blocks away from the Inner Harbour. As an eco-certified hotel with an EV charging station, they have committed to responsibly managing their environmental impacts, reducing energy and water consumption, minimising waste and pollution, and complying with all environmental regulations. The Magnolia Hotel has also been recognized as one of the top hotels in Canada and is committed to training all staff in environmental management practices, engaging guests to reduce their environmental impact, and continuously improving their environmental management and performance through an annual review process.
Traditional Manor Inn
When looking for a traditional manor inn, expect an elegant and charming atmosphere with a focus on personalised service and attention to detail.
These accommodations often feature architecture, historic charm, and luxurious amenities such as fireplaces, antique furnishings, and plush bedding.
Guests can also expect delicious, locally sourced cuisine and a range of on-site activities, such as spa services, wine tastings, or outdoor adventures.
My next pick is the best inn hotel in Victoria, located in the Rockland neighbourhood.
Fairholme Manor Inn
Address: 638 Rockland Place, Victoria, BC, Canada
Fairholme Manor Inn in Victoria's Rockland district is a highly-rated 5-star boutique accommodation that is sure to impress. You will be captivated by the elegant Victorian architecture, luxurious amenities, and personalized service, creating a charming and unforgettable atmosphere. Fairholme Manor Inn is the perfect place to relax and indulge in a truly special experience during your stay in Victoria with its light and bright rooms, beautiful gardens, and delicious breakfasts.
Where to Stay in Victoria
Victoria, BC, is a beautiful city with many unique and exciting neighbourhoods. When deciding where to stay in Victoria, consider the following areas:
Downtown Victoria: This is the heart of the city, where you'll find plenty of cafes, bars, and restaurants, as well as a variety of independent stores and galleries. Stay here if you want to be close to the action and within walking distance of many of Victoria's top attractions.
Inner Harbour: This area is a bustling hub of activity, with plenty of restaurants, shops, and attractions. It's also home to some of Victoria's best green spaces, including Beacon Hill Park and the waterfront walkway.
James Bay is a quieter, more residential neighbourhood just south of the Inner Harbour. Here, you'll find charming streets lined with heritage homes and plenty of parks and green spaces.
Rockland: If you're looking for a more upscale experience, this is the neighbourhood for you. Rockland is known for its stately mansions, beautiful gardens, and proximity to some of Victoria's top museums and galleries.
Oak Bay is a picturesque seaside community just outside of downtown Victoria. Here, you'll find plenty of upscale shops and restaurants, as well as beautiful beaches and stunning ocean views.
No matter where you choose to stay in Victoria, you're sure to find a boutique hotel that perfectly suits your style and preferences.
Get ready to explore the stunning natural beauty and diverse culture of the region with my comprehensive guide to unique places to visit in BC, Canada's most breathtaking province.
Victoria's tourist office has a website that is a valuable resource for visitors to the city. The website provides information on attractions, events, and activities in Victoria and recommendations for accommodation, dining, and transportation.
Responsible Travel Tips
Many of us are increasingly concerned about climate change and sustainability.
Here are some ideas for how people can travel more responsibly in Victoria, Canada:
Stay in hotels that use renewable energy sources whenever possible.
Reduce food waste by carefully planning meals and snacks and purchasing locally-grown and organic products.
Limit consumerism by only buying what you need or choosing secondhand or locally-made items rather than new ones. Consider if you really need new clothes for your trip and whether shopping is essential while you're there.
Choose a sustainable diet that includes plenty of plant-based foods and locally sourced ingredients.
Consider alternative modes of transportation, such as biking, walking, or using public transportation, to reduce your carbon footprint. This is easy to do in Victoria if you're able-bodied. Many of the sites and attractions are within walking distance of central Victoria.
Support the local community by staying in locally-owned accommodations, eating at locally-owned restaurants, and purchasing products from local businesses. Victoria has a lot to offer visitors in terms of unique businesses that are locally owned.
FAQ
What are the top areas to stay in Victoria?
Downtown Victoria, Inner Harbour, James Bay, Rockland, and Oak Bay are popular areas to stay in Victoria. Each area offers its unique charm and appeal, such as proximity to attractions, beautiful green spaces, or a relaxing seaside atmosphere.
What are some must-visit attractions in Victoria?
Some of the top attractions in Victoria include the Royal BC Museum, Butchart Gardens, Craigdarroch Castle, the Inner Harbour, and Fisherman's Wharf. There are also many excellent restaurants, shops, and galleries throughout the city to explore.
What types of hotels are available in Victoria?
There are a variety of hotel options in Victoria, from cosy bed and breakfasts to luxurious spa resorts. Boutique hotels are popular in the area and can offer unique and personalized experiences. Many hotels also offer stunning views of the city, waterfront, or surrounding nature.
When planning your trip to Victoria, BC, keep in mind that staying near the Inner Harbour is a wise choice as it provides easy access to many of the city's top attractions.
If you prefer to stay in the heart of downtown or in the quieter James Bay area, plenty of boutique hotel options are available to suit your needs.
If you have questions or want to leave a hotel review, please do so in the comments.
—
Recommendations are independently chosen based on personal travel experiences and extensive research. This post contains affiliate links to hotels in Victoria, Canada. This means I get a small commission from any bookings at no extra cost to you.