Recommendations are based on personal travel experiences and research. If you book through links on our site, we may earn a commission at no extra cost to you.
—
In the heart of the Canadian Rockies, Canmore is a gateway to natural beauty, diverse outdoor activities, and a popular art scene. It's a magnet for those who crave both serenity and adventure.
In this guide, you'll find a selection of the best boutique hotels in Canmore to add to your experience.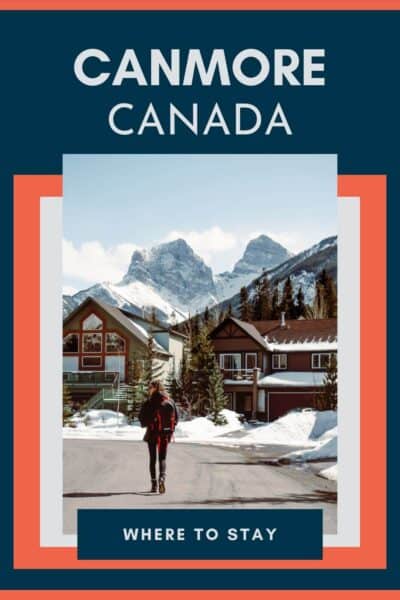 Boutique Hotels in Canmore
When searching for a hotel, picking the area where you would like to stay is a good starting point.
The downtown area of Canmore is often a favourite amongst visitors, with its accessible amenities, busy streets, and proximity to key attractions.
On the other hand, the Spring Creek district has a lively cafe scene, unique shops, and vibrant arts, making it interesting.
Most visitors choose to stay in the very centre, and given the relatively small size of Canmore, I agree that's a good option.
Top Pick
The Malcolm Hotel
Address: 321 Spring Creek Drive, Canmore
Location: The Heart of Canmore
The Malcolm Hotel provides exceptional service and a high-spec room experience accentuated by fabulous views. Its location is noteworthy, giving easy access to the town's amenities, a scenic trail just outside, and the clean, clear water nearby. The breakfast presentation and variety is highly rated.
Features:
Distinctive hotel decor and design.
Stylish rooms with lots of natural light.
Great breakfast selection.
Great location near Friendship Park.
Pool and spa area.
Exceptional attention to detail and service.
Sustainability:
Efforts are made to minimise food waste.
Most food is locally sourced.
It avoids using single-use plastics.
Support is given to local community organisations.
Pros: Central location near scenic trails.
Cons: Outside of downtown.
Check Availability
While The Malcolm Hotel has its merits, I'll highlight other boutique hotels. Each stands out for distinct reasons: location, design, value, or eco-friendliness.
Next Best
Creekside Villa
Address: 709 Benchlands Trail, Canmore, Canada
Location: Benchlands Trail
Creekside Villa ticks all the boxes for a comfortable stay. In a great location, it's a convenient starting point for trips to Banff, Lake Louise, and Lake Moraine, with heaps of hiking spots just around the bend. The spacious and quiet rooms reflect a quality decor that's easy on the eyes, and the staff are always ready with handy tips.
Mornings here are a treat with a tasty breakfast, and if you're interested, the Iron Goat restaurant nearby is worth a look. After a long day, what better way to wind down than with excellent drinks at the bar or perhaps a complimentary homemade cookie that the hotel makes available? With just 12 rooms, the hotel is cosy, peaceful and relaxing as you explore the Banff area.
Cool and Unique Hotel
When considering a unique boutique hotel, you might want to look out for distinctive designs, innovative services, or unconventional amenities.
These hotels often blend local culture and contemporary facilities, providing an experience that stands apart from mainstream accommodations.
Lamphouse By Basecamp
Address: 610 8th Street, Canmore, Canada
Location: Downtown
Lamphouse By Basecamp delivers a unique experience right at the centre of downtown. As you step out, phenomenal views greet you, and the town's attractions are but a short stroll away. Your stay promises comfort with a spacious room, cozy ambience, and a particularly comfy bed. Further enhancing the experience are amenities like the much-appreciated hot tub and the added convenience of included parking. With its blend of accessibility and thoughtful features, it stands out as an excellent choice in the area.
Best Value for Money
Blackstone Mountain
Address: 170 Kananaskis Way, Canmore, Canada
Location: Bow Valley Trail
Blackstone Mountain Hotel stands out as an example of excellent value for money. Its strategic location offers breathtaking views of the Three Sisters Mountains, a sight that adds to the experience. Coupled with this, the impeccable service delivered by the fantastic staff, who greet guests with warmth and professionalism, sets the hotel apart. The added perks, such as complimentary upgrades and early check-ins, further add to its value proposition. It's easy to see why many would recommend the Blackstone Mountain Hotel as a place to stay.
If you'd like more information options on where to stay in the area, this list of boutique hotels in Banff might be useful as it's not far from Canmore.
Where to Stay in Canmore
Here's a detailed breakdown of the best areas for visitors:
Downtown Canmore: At the centre of the city, Downtown Canmore is a buzzing hub with easy access to most attractions. It's a hotspot for visitors, given its convenient amenities and range of dining and shopping options. If you want to be in the middle of all the action, this is your go-to spot.
Spring Creek: Known for its lively cafe scene and unique boutiques, Spring Creek is a cultural haven. You'll discover a vibrant arts atmosphere dotted with galleries and independent stores that showcase local talent. Its proximity to green spaces also makes it ideal for those keen on some nature time.
Three Sisters: Named after the iconic mountain range that serves as its backdrop, this area offers both residential calm and recreational activity. It's great for visitors looking to balance a quiet stay with outdoor adventures, especially with several trails and parks nearby.
Benchlands: A quieter neighbourhood, Benchlands is perfect for those looking for a more relaxed atmosphere while still being close to key attractions. It's home to several local eateries and offers easy access to hiking paths and scenic viewpoints.
Cougar Creek is a charming residential neighbourhood with green spaces and local parks. It is ideal for visitors keen on experiencing a slice of everyday Canmore while being a short drive away from the main attractions.
Silvertip: This is a choice spot for golf enthusiasts, given its renowned golf course. Beyond that, Silvertip offers picturesque views and a tranquil setting, making it ideal for a peaceful retreat.
Each of these areas offers a unique flavour of Canmore, ensuring you have a stay that aligns with your preferences and interests.
While you're exploring the many facets of Canmore, you might also find my guide to the best places to visit in Canada of interest. It provides insights into diverse destinations across the country, allowing you to consider potential spots for your next adventure.
Plan Your Trip
For those interested in additional insights into the city's attractions and events, Visit Canmore publishes some helpful information.
It's packed with things to do, sightseeing opportunities, and upcoming events you might like to attend.
Responsible Travel Tips
Here are a few pointers on how you can travel more responsibly in Canmore:
Renewable Energy: Book a hotel that uses renewable energy sources, like solar or wind power. With its mountainous location, Canmore often has places progressively turning towards sustainable energy solutions.
Minimising Food Waste: When dining out, consider asking for portion sizes that you can finish or be ready to take leftovers home. Many eateries in Canmore are accustomed to providing reusable containers for this purpose.
Sustainable Diets: Embrace local plant-based produce and dishes when dining in Canmore. The town has a range of restaurants focusing on locally sourced, organic ingredients, reducing carbon footprints and supporting local farmers.
Sustainable Transport: Make use of the town's public transport system or rent bicycles for short distances. Canmore's compact size and scenic routes make it ideal for cycling, reducing emissions and giving you a fresh perspective on the locale.
Avoiding Flying: If you're travelling within Canada, consider taking a train or bus to Canmore instead of flying. The scenic routes offer a unique view of the Canadian landscape while reducing your carbon footprint.
Supporting the Local Community: Purchase handmade crafts and local goods or even attend workshops and events hosted by local artisans. This offers you a genuine Canmore experience and injects money directly into the community, supporting local talent and businesses.
By following these guidelines, you'll enjoy what Canmore has to offer and ensure you're treading lightly on its rich natural and cultural heritage.
Choosing the right boutique hotel can significantly enhance your experience in Canmore.
As you explore the diverse areas and attractions, it's worth noting that the town is a blend of natural beauty and cultural richness.
If you have questions or want to leave a hotel review, please do so in the comments.
—
Recommendations are independently chosen based on personal travel experiences and extensive research. This post contains affiliate links to hotels in Canmore, Canada. This means I get a small commission from any bookings at no extra cost to you.