Recommendations are based on personal travel experiences and research. If you book through links on our site, we may earn a commission at no extra cost to you.
—
Banff is located within Canada's Rocky Mountains and is known for its stunning natural beauty and vibrant wildlife.
With snow-capped peaks, serene lakes, and a charming town centre, it's a sought-after destination for local travellers.
In this guide, we'll look into the best boutique hotels in Banff for a comfortable stay.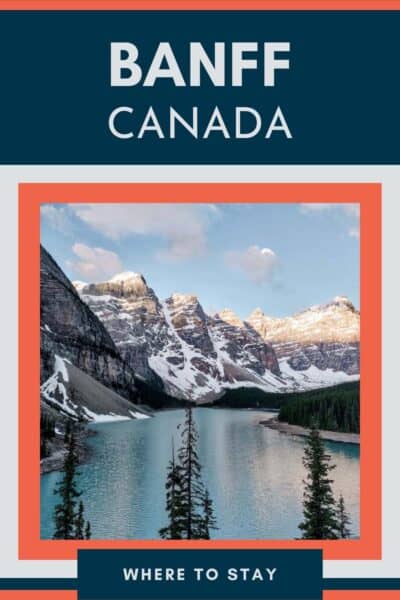 Boutique Hotels in Banff
When thinking about where to stay in Banff, it's essential to consider which area aligns best with your preferences.
The town centre, which is often referred to as Banff Avenue, is the heart of the town, with easy access to shopping, dining, and entertainment.
On the other hand, the Bear Street area provides a more relaxed vibe, replete with independent boutiques, cosy cafes, and art galleries.
For a balanced blend of convenience and things to do, the town centre might be your best bet for accommodation.
Top Pick
Rimrock Resort Hotel
Address: 300 Mountain Avenue, Banff
Location: Town Centre
Rimrock Resort Hotel is well-situated, providing guests with unrivalled views of downtown Banff, especially from the upper floors. The staff at the hotel is exceptional, always ensuring guests are satisfied, and the on-site dining, including the Larkspur Lounge, doesn't disappoint. With a movement towards towards eco-friendly practices, Rimrock stands out not only for its vistas but also for its ethos and outstanding service.
Features:
Distinctive hotel decor and design.
Stylish rooms with lots of natural light.
Great breakfast selection.
Luxury spa and wellness centre.
Exceptional attention to detail and service.
Sustainability:
Efforts are made to minimise food waste.
Most food is locally sourced.
Vegetarian and vegan menus are available.
It avoids using single-use plastics.
Electric vehicle charging station.
Support is given to local community organisations.
Pros: Unparalleled Banff views and excellent service.
Cons: Slight distance from the town centre.
Check Availability
Beyond Rimrock Resort Hotel, I'll highlight a few other boutique hotels that stand out based on location, value, uniqueness, design, or commitment to sustainability.
Each has distinct attributes that might align with what you're looking for. It's always good to have options, and these selections could provide just that.
Next Best
Peaks Hotel
Address: 218 Lynx Street, Banff, Canada
Location: Town Centre
Peaks Hotel & Suites is a modern hotel in the heart of Banff, making it a breeze to access the town's sights, shops, and restaurants. Everything you need is within walking distance, including an exceptional restaurant next door. One of the standout features is the drinks station in the reception, ideal for prepping drinks before heading out for a hike. Plus, the convenience of on-site parking beneath the hotel ensures ease of movement. The staff at Peaks Hotel consistently goes above and beyond, from the helpful receptionists to the meticulous housekeeping team.
Best Value for Money
Mount Royal
Address: 138 Banff Avenue, Banff, Canada
Location: Town Centre
Mount Royal Hotel provides genuine value for money, a sentiment echoed by many guests. Strategically located on Main Street, its position is ideal for accessing Banff's shops and restaurants on foot. The convenience doesn't end there, with ample parking close to the hotel entrance, simplifying the experience for those with vehicles. Inside, guests are met with impeccably clean and thoughtfully designed rooms that don't compromise on comfort. The staff's friendly and supportive nature is a consistent highlight, further elevating the stay. For those looking to start their day right, breakfast at Brazen is a treat, complemented by the inviting ambience of the hotel's lobby. This hotel is a sound choice for those wanting a centrally located stay without breaking the bank.
Apartment Stay
Basecamp Suites
Address: 101 – 316 Marten Street, Banff, Canada
Location: Town Centre
Basecamp Suites Hotel consistently delivers excellent value for money through its extensive services and facilities. At the heart of the picturesque town, its location is unbeatable, ensuring convenience with local attractions, scenic walks, shopping, and even the farmers' market, all within a stone's throw. The hotel's suites are spacious, clean, and thoughtfully equipped with amenities like a well-appointed kitchen. This, coupled with the proximity of a grocery store, can significantly ease food expenses for guests. Additionally, comfort takes a front seat with remarkably comfortable beds and pillows, with the added luxury of ensuites in select bedrooms. Views from the suites are great, framing the majestic mountains beautifully. The practicality extends to the parking, easily accessible, and the impeccable service from the help desk.
Luxury Boutique Hotel
When thinking about booking a luxury boutique hotel, it's essential to consider the unique and personalised experience they provide.
These places often merge sophisticated design with intimate settings, giving them a distinct charm different from larger chain hotels.
While they might come at a premium, the tailored services and attention to detail can render them excellent value for money.
Fairmont Banff Springs
Address: 405 Spray Avenue, Banff, Canada
Location: Banff National Park
The Fairmont Banff Springs is a testament to exquisite architecture, resembling a majestic castle in the Rockies. Its strategic location provides outstanding views and unparalleled customer service – a direct line via text ensures all queries are promptly addressed. Beyond the rooms' comfort, guests have many amenities at their disposal, including the fine Waldhaus restaurant, a versatile bar, spa, golf, and shopping.
Where to Stay in Banff
Banff Town Centre: This is the heart of Banff, filled with history and modernity. You'll find a blend of boutique stores, lively bars, and culturally rich museums here. Its walkability makes it easy for visitors to explore at a leisurely pace.
Fairmont Area: Near the iconic Fairmont Banff Springs hotel, this district exudes luxury and charm. Perfect for those who enjoy the finer things in life, it's not just about the opulent accommodations but also the panoramic mountain views.
Mount Royal Area: Close to the bustling Main Street, it presents an excellent blend of convenience and serenity. The streets here are dotted with quaint cafes and intriguing galleries, making it a hub for arts and culture.
Basecamp Suites Area: This is a good choice for those who want comfort with a touch of modernity. Its proximity to the central shopping area and various dining options make it popular among visitors.
Rimrock Area: Renowned for its breathtaking views and impeccable service, this region is a slice of Banff's luxury. The natural beauty is complemented by green spaces, providing a refreshing retreat from the urban hustle.
Peaks Area: A good choice for adventure seekers, this neighbourhood is ideal for those who want to be within arm's reach of nature trails and scenic walks. It's also convenient for food enthusiasts, thanks to a neighbouring farmers' market and a selection of fine restaurants.
Tunnel Mountain: Slightly removed from the central buzz, it's a peaceful haven offering scenic hiking trails and a closer connection to nature. The views from this vantage point, overlooking the town and sprawling forests, are a sight to behold.
Norquay Area: Best known for its skiing and snowboarding facilities, it's a winter wonderland. Beyond the snowy season, it's a hotspot for hiking and wildlife watching, giving visitors a taste of the great outdoors.
Deciding where to stay in Banff depends on your preferences, but rest assured, each area has its unique charm and possibilities.
While exploring Canada's vast landscapes, you might find my guide to the best places to visit in Canada a handy reference to plan your travels.
Plan Your Trip
For those interested in further details about the city's attractions and events, Visit Banff Lake Louise is an excellent resource, especially when it comes to sightseeing and things to do.
Responsible Travel Tips
Here are a few tips on how we can travel more responsibly in Banff:
Renewable Energy: Opt for places in Banff that use renewable energy sources, like solar or wind power.
Minimising Food Waste: Ensure you only order what you can eat in Banff's restaurants and cafes, and consider packing leftovers for your next meal.
Sustainable Diets: Choose places to eat that use locally sourced ingredients; it supports the Banff community and reduces carbon footprint.
Sustainable Transport: Make the most of Banff's extensive trail system by walking or cycling, especially when exploring nearby attractions.
Avoiding Flying: Instead of short-haul flights, consider arriving in Banff via train or bus, significantly reducing carbon emissions.
Supporting Local Community: Buy locally-made crafts and goods rather than imported items, ensuring your money benefits Banff's artisans and makers.
Eco-friendly Activities: When enjoying Banff's natural beauty, join guided eco-tours or hikes that educate about the local flora, fauna, and best conservation practices.
Respect Wildlife: Remember, Banff is home to a range of wildlife. Always maintain a safe distance and never feed or approach them, ensuring their natural behaviours remain undisturbed.
Water Conservation: While staying in Banff, be mindful of your water usage, especially given the mountainous region's limited freshwater sources.
Waste Reduction: Carry reusable items like water bottles, bags, and cutlery, and avoid single-use plastics throughout your visit to Banff.
Final Thoughts
Selecting a boutique hotel can add to your experience in any destination, providing a unique blend of personalised service, character, and often a nod to the local culture.
Banff, with its breathtaking landscapes and vibrant community, is no exception.
When visiting, making informed choices that align with your preferences and the broader goal of sustainable and responsible tourism is essential.
If you have questions or want to leave a hotel review, please do so in the comments.
—
Recommendations are independently chosen based on personal travel experiences and extensive research. This post contains affiliate links to hotels in Banff, Canada. This means I get a small commission from any bookings at no extra cost to you.