Recommendations are based on personal travel experiences and research. If you book through links on our site, we may earn a commission at no extra cost to you.
—
Midway along Victoria's famous Great Ocean Road, Apollo Bay is a relaxing place to stop to experience protected swimming beaches, outdoor activities like hiking or kayaking and the unique nature at the Great Otway National Park. If you're lucky, you might even come across a koala.
There is so much to see and at only two and a half hours away, it's the perfect weekend break from Melbourne.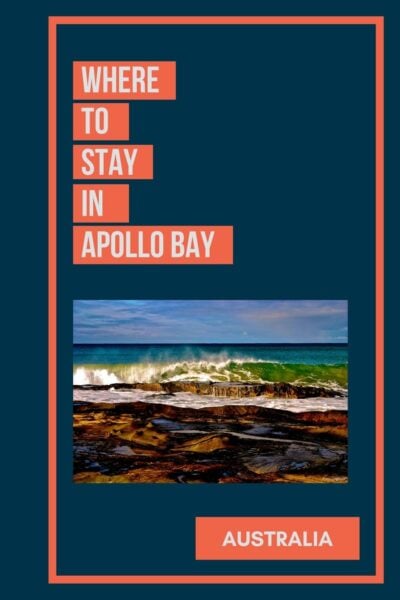 Like many destinations in regional Victoria, you won't find many boutique hotels in Apollo Bay, with most accommodation being of the guesthouse or holiday home variety.
Apollo Bay Accommodation
That's not to say there aren't any luxury places to stay; there definitely are, often with mountain or ocean views and easy access to the Otway Ranges.
Top Pick
Bed of Roses
Address: 53 nelson street, Apollo Bay, Australia
By far the best place to stay in Apollo Bay is walking distance to all the boutique shops, bakeries, cafes as well as the beautiful Apollo Bay beach. Bed of Roses is within a 5 minute walk from everything. You'll find large, comfortable beds, exceptionally clean bathrooms and kitchen plus a romantic garden make this an ideal choice for a short or longer stay. This two-bedroom house is particularly suited to couples who would like a little space but the house sleeps 5 or 6 if you are travelling as a group or with family.
Check Availability
Next Best
Point of View Villas
Address: 185 Tuxion Road, Apollo Bay, Victoria
The highest-rated villa in Apollo Bay, the Point of View holiday home, is most well known for its exceptional views (as the name suggests) across the gentle hills sloping towards the ocean and Apollo Bay. The benefit of being on higher land above the town is the absolute tranquillity that comes with its position. That being said, you are still a short drive from restaurants, gourmet food stores and all the region's incredible attractions. The house is large and well-equipped, so you can comfortably prepare your own meals on the balcony or by the fire if you don't feel like eating in town.
Chocolate Gannets
Address: 6180 Great Ocean Road, Apollo Bay, Victoria
The most luxurious holiday accommodation in Apollo Bay, Chocolate Gannets is a large house on the outskirts of the town centre. The high-end kitchen and bathrooms can't be beaten and the sea views are stunning. At 3 km from the town centre, it's a short drive away and you also have easy access to the Otway Ranges and the 12 Apostles further along the Great Ocean Road.
Guesthouse in Apollo Bay
If the top 3 hotels and accommodations aren't suitable or available, consider one of these guesthouses or apartments.
Sea Change Guesthouse
Address: 5 Galbraith Way, Marengo, Apollo Bay, Australia
Known for occasional visits by local koalas, Sea Change Guesthouse is a bit out of Apollo Bay, closer to the town of Marengo. This highly-rated guesthouse is decorated in a more traditional manner, but it's a popular place to stay. The benefit of staying here over hotels in Apollo Bay itself is the price. This budget accommodation is excellent value for locations along the Great Ocean Road.
Apartment in Apollo Bay
The Dolphin Apartments
Address: 2 Thomson Street, Apollo Bay, Australia
Finally, if you would like to stay in a modern apartment directly on the Apollo Bay foreshore, The Dolphin Bay Apartments are excellent. Balconies overlook the ocean, the apartments are nicely designed, service is friendly. The location is ideal if you want to focus on the beach, outdoor activities, and a quiet stay.
For information on what to do in Apollo Bay, visit the official tourism website and if you're visiting in late January or early February, be sure to look out for events forming part of the famous Apollo Bay Seafood Festival.
If you're interested in visiting an off-the-beaten-path destination in Victoria, instead of the ever-popular Great Ocean Road, look at somewhere like Nagambie, north of Melbourne.
Here are some ideas for luxury accommodation in Nagambie.
If you have questions or want to leave a hotel review, please do so in the comments.
—
Recommendations are independently chosen by our travel editors. This post contains affiliate links to accommodation in Apollo Bay, Australia. This means we get a small commission from any bookings at no extra cost to you.