Recommendations are based on personal travel experiences and research. If you book through links on our site, we may earn a commission at no extra cost to you.
—
With so many beautiful and historic destinations within a couple of hours of Melbourne, it's easy to overlook visiting some of the lesser talked about regional towns.
One of those towns is Nagambie, a small town in the Goulburn Valley region of Victoria. Given it's only a one and a half hour drive from Melbourne, it's a great destination for a weekend away.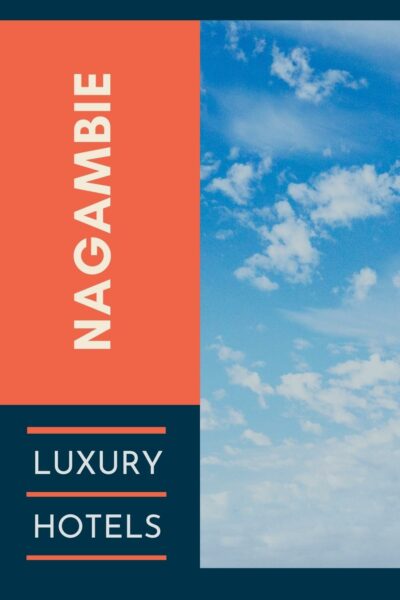 If you're looking for where to stay, there are a couple of options for luxury accommodation in Nagambie, most notably the Mitchelton winery hotel.
Luxury Accommodation in Nagambie
Nagambie is one of those destinations that's considered off the beaten path. But it's well worth visiting for its natural beauty, food, wine and water activities on Lake Nagambie.
The Mitchelton Hotel Nagambie
There is only one option if you're looking for luxury accommodation or winery hotels in Nagambie and that is the Mitchelton Hotel.
Top Pick
Mitchelton Hotel Nagambie
Address: Nagambie
The beautifully designed rooms either overlook the vineyards or the Goulburn River. The hotel is perfect to use as a base to explore wineries and activities in the region but you can find everything you need for a weekend away within the estate grounds. You can have a wine tasting experience, swim in the infinity pool, enjoy the spa or eat at Nagambie's best restaurant.
Check Availability
If Nagambie's only boutique hotel is unavailable or out of your budget, a few other motels and holiday homes get good reviews.
But to reiterate, if you are looking for luxury or winery accommodation, stay at the highly regarded Mitchelton Hotel.
Nagambie Waterfront Motel
Nagambie Waterfront Motel
Address: 277 – 279 High Street, Nagambie, Victoria
This popular motel is located on the shores of Lake Nagambie and is the most popular motel in Nagambie.
If you're looking for cheap accommodation, this is an excellent choice. It might be basic, but it gets great reviews and is conveniently located near Lake Nagambie.
The Waterfront Motel is considerably more affordable than the Mitchelton but is excellent value for money.
Next Best
Airbnb Narambie – While there are a number of Airbnb holiday stays in Nabambie, these are generally more classic family-style homes rather than luxury accommodation or anything resembling a luxury hotel.
Nagambie Caravan Park – The caravan park has motel-style accommodation, which is basic, clean and great value for money. The central pool is one of the highlights, so this is a great option if you're on a budget and have young children who need entertainment.
Things to Do In Nagambie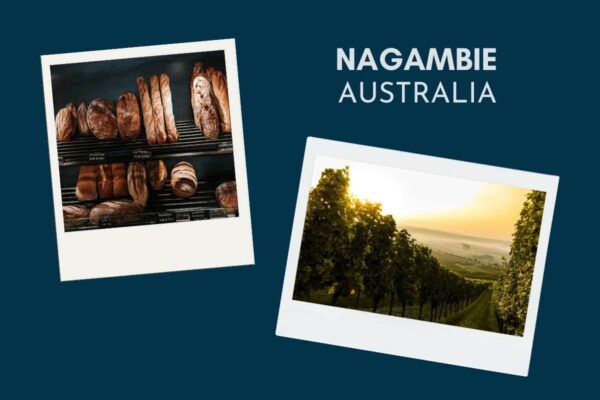 Highlights of a visit to Nagambie while on a day trip from Melbourne or for a weekend break focus on culinary attractions and outdoor activities.
Lake Nagambie – The most popular destination in Nagambie, the lake is perfect for a range of outdoor activities, including rowing, canoeing, sailing, water skiing and fishing.
Hiking and Walking Trails – There are a number of trails in the area but if you're interested in nature and wildlife, walk along the boardwalks at Tahbilk Wetlands and Wildlife Reserve.
Scenic Lookouts – If you're looking for a more intense hike, walk the 799 metres to Mt Wombat lookout. Here you'll find 360 degrees views towards Goulburn Weir and the surrounding basin.
Nagambie Bakery – a great place to pick up a morning pasty, picnic supplies or an afternoon cake. This classic bakery is the best in Nagambie.
Nagambie Main Street – A short stroll will take you by local cafes, restaurants and shops run by Nagambie locals.
Nagambie Brewery and Distillery – Located on the main street in Nagambie, the brewery and distillery is the spot to try the locally brewed Nagambie Pale Ale or Nagambie Lager. There are classic pub-style meals here too.
Wineries – Victoria's Goulburn Valley wine region has many historic and boutique wineries. Tahbilk, Mitchelton and Fowles and the most well-known, or you can visit boutique vineyards such as Maygar's Hill, Longleat and Garners.
Strathbogie City Council has further details for those looking to visit the city, as it provides of information on things to see and do, places to stay, and events happening in the area.
My guide to the best places to visit in Victoria is an excellent resource for those looking to explore the state, as it highlights some of the most beautiful and interesting destinations, from hidden gems to well-known attractions, and offers valuable insights and tips to make the most out of your trip.
Responsible Travel Tips
Many of us are increasingly concerned about climate change and sustainability. Here are a few ideas for travelling responsibly in Victoria.
Prioritise using sustainable transport options such as cycling or walking when exploring Nagambie.
Support local businesses and farmers by purchasing locally-sourced products and produce to reduce the environmental impact of food transportation and help boost the local economy.
Look for opportunities to participate in community initiatives promoting sustainable living, such as community gardens or local clean-up efforts.
Try to limit food waste by meal planning and being mindful of portion sizes.
Share your sustainability tips in the comments.
If you have questions or want to leave a hotel review, please do so in the comments.
FAQ
How far is Nagambie from Melbourne?
Nagambie is 130 km north of central Melbourne. It should take less than two hours to arrive by taking the M31, but note you might have to pay a toll if you take the CityLink on your way there.
Where is Nagambie?
Nagambie is located north of Melbourne between the towns of Seymour and Shepparton. The town centre is on Lake Nagambie, part of the Goulburn River, just south of Goulburn Weir.
Can you walk around Lake Nagambie?
No, it's not possible to walk around the entire lake. However, scenic walking trails along the lake and the Goulburn River exist.
Can you visit Nagambie on a day trip from Melbourne?
Yes, Nagambie is less than 2 hours from Melbourne, making it an easy day trip and the most popular way to visit the area.
If you have questions or want to leave a hotel review, please do so in the comments.
—
Recommendations are independently chosen based on personal travel experiences and extensive research. This post contains affiliate links to hotels in Nagambie, Victoria. This means I get a small commission from any bookings at no extra cost to you.