Recommendations are based on personal travel experiences and research. If you book through links on our site, we may earn a commission at no extra cost to you.
—
Walla Walla is known for its beautiful landscapes, delicious local cuisine, and thriving wine industry.
If you're visiting, take the opportunity to go wine tasting, try some of the delicious local food and take a bike ride through the countryside.
I recommend staying in a boutique hotel in Walla Walla. There might be limited opportunities for luxury or boutique hotels in this small city but there is one stand-out hotel.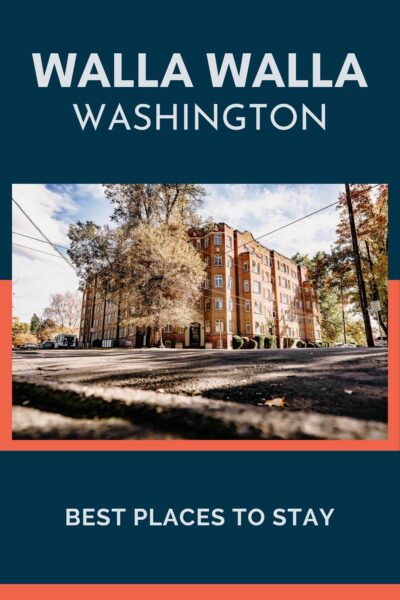 Walla Walla Boutique Hotels
Walla Walla has some cool and unique areas that are worth exploring, such as the historic downtown area, which has a variety of shops, restaurants and galleries.
You can explore the art scene, take a wine-tasting tour or visit Fort Walla Walla Museum, each of which is within walking distance if you stay downtown.
I recommend staying at The Finch, the best hotel in Walla Walla. Read my full review of The Finch Walla Walla for detailed information.
Top Pick
The Finch
Address: 325 East Main Street, Walla Walla, WA
The Finch is a stunning boutique hotel located in the heart of downtown Walla Walla. The hotel employees are locals who are passionate about the area and will be happy to share their insider knowledge and recommendations with you. The hotel's design is a blend of contemporary and vintage styles, with high ceilings, large windows, and carefully curated artwork and furnishings. The Finch offers wine tasting experiences for guests, where they can sample wines from the hotel's label and other local wineries.
Features:
Beautiful Walla Walla design and decor in the rooms and lounge.
Luxurious rooms with high-quality linens and plush bedding.
Central location in Downtown Walla Walla.
Wine tasting experiences.
Highly personalised service.
Sustainability features: energy-efficient lighting, eco-friendly toiletries and a linen reuse program.
Pros: The Finch hotel offers luxurious and stylish accommodations with personalised service and a central location in the adorable downtown Walla Walla.
Cons: As a 3-star hotel, it doesn't have all the high-end amenities like big city hotels.
Check Availability
Although The Finch is definitely the top boutique hotel in Walla Walla, other options may better suit your preferences or needs, such as a hotel with a more unique atmosphere or located in a different area.
My next best pick is another great option to consider.
Next Best
La Quinta Inn & Suites by Wyndham Walla Walla
Address: 776 Silverstone Dr, Walla Walla, Wa
La Quinta Inn is a great choice for business and leisure travellers looking for a comfortable and convenient stay in Walla Walla.
This hotel is located in the business district and is just a short drive away from popular attractions like Power House Theatre and Whitman College.
It is also close to Walla Walla University and Fort Walla Walla, making it easy to explore the area.
As this isn't a boutique hotel, it's a little difficult to compare to the Finch, but it's a solid option.
Final Option
Courtyard by Marriott Walla Walla
Address: 550 West Rose Street, Walla Walla, WA
Courtyard by Marriott Walla Walla is another excellent option.
Located just a short walk from popular attractions like Power House Theatre and Providence St. Mary Medical Center, the hotel is also nearby to downtown Farmers Market, and Art Gallery at the Marcus Whitman Hotel & Conference Center.
With this location, guests can easily explore the city and enjoy all Walla Walla offers. The rooms are pretty standard courtyard hotels so there are no surprises.
My guide to the best places to visit in Washington is an essential tool for anyone looking to make the most of their trip to the state, providing comprehensive and expertly curated recommendations for a wide range of destinations, from must-see landmarks to hidden gems.
Visit Walla Walla, Washington, for more tourist information and things to do in the area to help you make the most of your trip.
Responsible Travel Tips
Many of us are increasingly concerned about climate change and sustainability. Here are some ideas on how we can travel with a lower impact in Walla Walla.
Seek out accommodations that use renewable energy sources such as solar or wind power.
Look for restaurants and cafes that source ingredients from local farms and focus on sustainable diets, such as plant-based options.
Prioritise sustainable transportation options such as bike rentals, walking and public transit over renting a car.
Limit consumerism by visiting local farmers' markets, thrift stores and second-hand shops to support the local economy but only buy what you really need.
Try to reduce food waste by purchasing only what you need from local markets and restaurants and composting any food scraps.
Support the local community by staying in locally-owned accommodations, eating at locally-owned restaurants, and participating in community-led tours or activities. There are lots of opportunities for this in Walla Walla.
Supporting local is important in creating a sustainable economy. Here are a few ways to support local businesses:
Buy Local: Shopping at local stores and farmers' markets supports small businesses and keeps money circulating in the local economy.
Dine Local: Eating at locally-owned restaurants and bars supports the local food scene and helps sustain the community's culinary identity.
Attend Local Events: Attending local events such as festivals, concerts, and fairs helps support local organizations and businesses that organize and sponsor these events.
Volunteer: Volunteering your time and skills to local non-profits, schools, and community organizations can help make a positive impact and build a stronger community.
Donate: Donating to local non-profits and community organizations can help fund programs and services that support the community.
Support Local Farmers and Wineries: Purchasing produce and wine from local farmers and wineries supports local businesses and helps promote sustainable agriculture and preserve the region's agricultural heritage.
If you have questions or want to leave a hotel review, please do so in the comments.
—
Recommendations are independently chosen based on personal travel experiences and extensive research. This post contains affiliate links to hotels in Walla Walla, Washington. This means I get a small commission from any bookings at no extra cost to you.