Recommendations are based on personal travel experiences and research. If you book through links on our site, we may earn a commission at no extra cost to you.
—
When exploring Santa Fe, you'll discover a city with rich cultural heritage, remarkable Adobe architecture, and a vibrant art scene.
Here, you'll find a lively mix of Native American, Hispanic, and Anglo influences and a unique range of boutique hotels that add a distinctive touch to your stay.
In this guide, I'll share the best boutique hotels in Santa Fe, covering a range of architectural styles and budgets.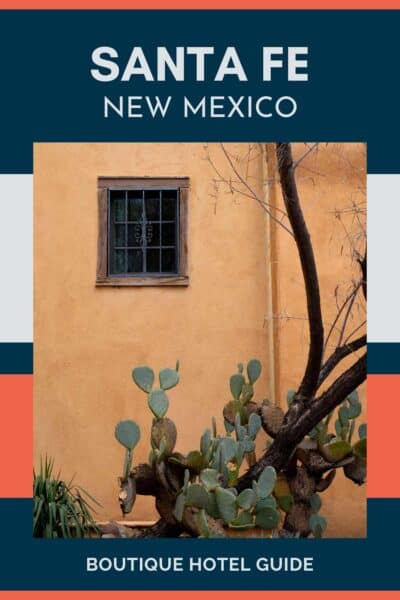 Boutique Hotels in Santa Fe
Securing the perfect hotel starts with selecting the right neighbourhood. Downtown Santa Fe is a hot spot for tourists, steeped in history and home to a plethora of cultural landmarks, including the renowned Santa Fe Plaza and the Palace of the Governors.
On the other hand, the Railyard District is known for its modern appeal, attracting visitors with its vibrant cafe culture, independent shops, art galleries, and the Rail Yard Park, giving it a distinctly contemporary edge.
While both areas have their merits, downtown Santa Fe might just top the list for first-time visitors due to its central location and rich history.
Top Pick
Rosewood Inn of the Anasazi
Address: 113 Washington Avenue, Santa Fe, New Mexico
Location: Downtown
The Rosewood Inn of the Anasazi is a top-tier hotel perfectly located in the heart of old town Santa Fe. It provides an appealing blend of comfort and style, with high-quality fixtures and fittings, original art adorning the walls, and the cosy addition of a fireplace in many rooms. The attentive staff, beautiful architecture, and thoughtful, personal touches make each stay a truly distinctive experience.
Features:
Distinctive architecture, decor and design.
Cosy rooms with large beds, ample light and a fireplace.
Modern gym for a quick workout.
Beautiful lounge areas and a library for relaxation.
Ideal central Downtown location.
Exceptional attention to detail and service.
Pros: Prime location; high-end fittings; original art; personalised room features; attentive staff; on-site bar; fitness facilities.
Cons: Limited green initiatives.
Check Availability
Though the Rosewood Inn of the Anasazi has a lot to offer, there are other boutique hotels in Santa Fe that might pique your interest.
Each has a unique style, location, or eco-friendly credentials that set them apart. We'll delve into a few of these standout alternatives next.
Next Best
El Rey Court
Address: 1862 Cerrillos Road, Santa Fe, USA
Location: Route 66
El Rey Court presents a stylish and comfortable stay with chic rooms that come with thoughtful touches, such as skylights in the showers. Its outdoor areas are clean and well-designed, with amenities such as picnic benches on grassy lawns under shaded trees. The hotel's location is commendable, being just a ten-minute drive from the most popular spots in Santa Fe, including the main plaza. Other enjoyable aspects include a food truck serving tasty meals, an on-site bar with unique cocktails, friendly staff, and appealing landscaping, adding to the overall comfortable and pleasant vibe of the property.
Cool and Unique Hotel
In your search for a unique boutique hotel, it's worth considering the elements that make such accommodations distinct.
Character and individuality are key, often reflected in unique design choices, the hotel's history, or its integration with the local culture.
Staying in these hotels can provide a one-of-a-kind experience, adding an extra layer of interest and fun to your trip.
Pueblo Bonito
Address: 138 West Manhattan Avenue, Santa Fe, NM
Location: Downtown
Pueblo Bonito's prime location is less than a ten-minute walk from the city centre, making your Santa Fe experience convenient. The hotel exudes a charm that blends modernity with traditional elements, nestled within a building reminiscent of old-town architecture. The rooms are spacious, clean, and equipped with high-quality amenities. Exceptionally comfortable beds ensure a restful night, while the availability of kitchenettes provides an added bonus for guests. The staff's friendly and helpful nature enhances your stay, while a delightful breakfast sets a positive tone for your day. Whether you plan to explore the Plaza or the Rail Yards, Pueblo Bonito's location makes it an ideal base for your adventures.
Luxury Hotel
The finer details often make all the difference in seeking a luxury boutique hotel.
Such hotels typically prioritise high-quality furnishings and superior service, creating a refined and relaxed atmosphere.
The appeal of these accommodations often lies in the seamless blend of elegance and comfort, with every element curated to enhance the guest experience.
Staying in a luxury boutique hotel can add a touch of sophistication to your trip, making your stay as enjoyable as the destination.
Four Seasons Resort Rancho Encantado
Address: 198 State Road 592, Santa Fe, NM
Location: Rio Grande River
The Four Seasons Resort makes quite the impression. On your first visit to Santa Fe, you might find it's the ideal spot that meets all your needs. The resort provides a shuttle service to the historic Santa Fe Plaza, daily guided hikes, and a variety of events for a diverse range of interests. Plus, you can indulge in the luxury of an on-site five-star spa with a high recommendation for their treatments. The resort stands out for its quiet ambience, friendly atmosphere, and well-lit rooms. The staff, particularly at the front desk, is highly accommodating, ensuring that your stay is as comfortable and convenient as possible. In terms of food and drinks, they excel in both taste and presentation. A stay here feels like your own slice of paradise, with well-timed, excellent service that caters to every request and the cherry on top: fireplaces!
Eco-Friendly Hotel
As a traveller, opting for an eco-friendly hotel is a tangible way you can lower your environmental impact.
You might look for properties that follow sustainable practices such as energy efficiency, water conservation, waste reduction, and the use of organic or locally-sourced food and materials.
Not only does staying in such a hotel contribute to preserving our environment, but it can also introduce you to new, sustainable habits that you might want to incorporate into your own lifestyle.
Eco-friendly hotels demonstrate that luxury, comfort, and responsibility to the environment can coexist in harmony.
Drury Plaza Hotel in Santa Fe
Address: 828 Paseo de Peralta, Santa Fe, New Mexico
Location: Downtown
Drury Plaza Hotel in Santa Fe is well-positioned close to downtown yet maintains a tranquil ambience. Its location off Cathedral Park makes it an ideal base for exploring the city, with all major attractions within walking distance. The rooms are highly commended for their comfort, cleanliness, and notably clean bathrooms. The rooftop pool and hot tub provide a great space for summer relaxation, complemented by the convenience of deck chairs for lounging. Another highlight is the daily KickBack event at 5:30 pm, featuring complimentary drinks and snacks. As a LEED-certified property, the hotel illustrates its commitment to eco-friendly practices, including providing a platform for local artists to display their work. The staff are consistently mentioned for their friendliness and helpfulness, and free parking makes exploring Santa Fe even more convenient for guests.
Where to Stay in Santa Fe
Downtown Santa Fe: Known as the heart of the city with a rich historical heritage, it's home to the iconic Santa Fe Plaza and numerous art galleries, including the Georgia O'Keeffe Museum. Great for easy access to dining and shopping options.
Railyard District: This area brings you closer to the bustling farmers' market, Railyard Park, and local artisan boutiques. It's ideal for local produce, art and green spaces.
Canyon Road: If art is your passion, staying here puts you in close proximity to over a hundred art galleries and studios housed in historic Adobe buildings. Great for experiencing Santa Fe's unique art scene.
South Capitol: This is a quieter residential area within walking distance of downtown. It's close to the State Capitol and known for its charming, tree-lined streets.
Museum Hill: As the name suggests, this is where to stay in Santa Fe for those looking to immerse themselves in culture and history, with four major museums and the Santa Fe Botanical Garden nearby.
East Side: With a mix of luxury residences and charming old houses, it offers a quieter stay while being near downtown. Staying here puts you close to the hiking trails of Atalaya Mountain.
Los Cerrillos: A former mining town south of Santa Fe, it's a great choice if you're interested in exploring local history and the wilder landscapes of New Mexico.
Remember, the best area to stay in Santa Fe depends on your interests and what you want to get out of your visit.
You'll find my guide to the best places to visit in New Mexico to be an invaluable resource, covering a range of destinations from iconic landmarks to hidden gems, sure to enhance your exploration of this vibrant state.
Tourism Santa Fe is handy for more in-depth information on Santa Fe, as it provides extensive details about activities, sightseeing opportunities, and local events. It's a comprehensive tool for planning your visit to this intriguing city.
Responsible Travel Tips
Here are a few ideas on how we can travel more responsibly in Santa Fe.
Renewable Energy: Santa Fe is renowned for its abundant sunlight, so you can utilise solar-powered facilities for your energy needs. When selecting accommodations, look for those that harness solar energy.
Minimising Food Waste: To reduce food waste, consider ordering smaller portions in Santa Fe's many eateries, especially if you're trying out the famous New Mexican cuisine for the first time. In case of leftovers, remember that most places will be happy to pack them for you to take away.
Sustainable Diets: Opt for plant-based meals where possible; Santa Fe is rich in fresh, locally-sourced produce, and many of its restaurants have fantastic vegetarian and vegan options.
Sustainable Transport: Make use of Santa Fe's walkable city centre and explore on foot. The Santa Fe Trails bus system is an affordable, eco-friendly option for longer distances.
Avoiding Flying: While this is more difficult for international travellers, if you're within the US, consider rail or road travel to Santa Fe instead of flying to further reduce your carbon footprint.
Supporting the Local Community: Purchasing crafts from local artisans is an excellent way to support the Santa Fe community. Remember, the city is known for its thriving arts scene, so take the opportunity to appreciate the handiwork of the local creatives.
FAQ
What should I look for in a hotel in Santa Fe?
When seeking accommodation in Santa Fe, it's crucial to consider the type of experience you want. A boutique hotel might be a good fit if you appreciate the historic charm and local culture. For a more indulgent stay, consider a luxury hotel. But, of course, you should also consider location, amenities, and reviews.
Which neighbourhoods in Santa Fe are best for tourists?
The Downtown area, specifically the Historic District, is a great choice due to its proximity to cultural landmarks, eateries, and art galleries. For a more laid-back, artistic vibe, consider the Railyard District, while Museum Hill is perfect for history and art lovers.
What activities should I not miss in Santa Fe?
Santa Fe has a vibrant arts scene, so visiting local art galleries and museums, like the Georgia O'Keeffe Museum, is a must. For outdoor activities, consider hiking in the Sangre de Cristo Mountains. And don't miss out on trying local New Mexican cuisine.
Where can I find more information about visiting Santa Fe?
Tourism Santa Fe provides comprehensive information about things to do, sightseeing, and events in the city. It's a good resource to keep handy for up-to-date advice.
Locating the perfect boutique hotel in Santa Fe hinges heavily on your preferences and what you hope to get from your visit.
Keep in mind that each hotel and neighbourhood provides a distinct experience, from the cultural richness of the Historic District to the vibrant art scene in the Railyard District.
This city's unique charm, combined with a dash of luxury or an eco-friendly approach, can make your stay in Santa Fe genuinely rewarding.
If you have questions or want to leave a hotel review, please do so in the comments.
—
Recommendations are independently chosen based on personal travel experiences and extensive research. This post contains affiliate links to hotels in Santa Fe, New Mexico. This means I get a small commission from any bookings at no extra cost to you.