Recommendations are based on personal travel experiences and research. If you book through links on our site, we may earn a commission at no extra cost to you.
—
Visiting Sun Valley is a fantastic experience that offers something for everyone interested in getting out in nature. Whether you're looking to hike, ski, bike, or just relax in a beautiful mountain setting, you'll find it all here.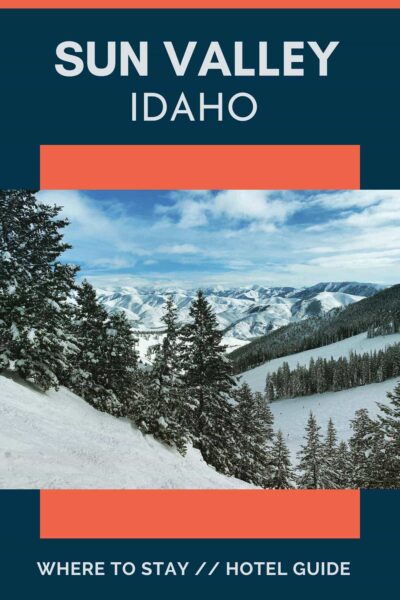 You can visit the local hot springs, as well as take a scenic drive through the valley or even go further afield in Idaho.
If you're looking for accommodation, I highly recommend staying in a boutique hotel or one of the many luxury resort lodges. These offer a more personalized and authentic experience compared to large chain hotels.
Sun Valley Boutique Hotels
Sun Valley has a number of cool and unique districts to explore, each with its own character and charm. The best area to stay in while visiting is the one that has a mix of charming boutiques, good restaurants and outdoor activities to offer.
In Sun Valley, this means staying in the central resort area of Sun Valley or in nearby Downtown Ketchum.
Top Pick
Sun Valley Resort
Address: 1 Sun Valley Road, Sun Valley, ID
Sun Valley Resort is a historic European-inspired resort in Idaho, established in 1937. The resort includes the grand Lodge and the more relaxed Inn accommodation. You'll find classic decor with modern updates in rooms, convention spaces, and restaurants. On-site dining options include the Ram restaurant serving gourmet cuisine and the Village Station offering family-style food. Amenities include a spa and wellness center, fitness center, tennis courts, an exercise room, and an outdoor pool with a cocktail lounge.
Features:
Recently renovated rooms in the Inn so everything is new and modern.
Book the main Sun Valley Lodge or the quieter and more relaxing Sun Valley Inn.
Optional king-size bed or 2 queen beds.
Apartments are available with fully equipped kitchens.
High-end resort amenities including swimming pools, gym and bars.
Easy mountain and ski pass access.
Sustainability:
Partnership with the Healthy Forests Initiative.
Solar panels provide renewable energy.
Energy-efficient lighting and windows throughout the resort.
Energy conservation and green building construction.
Green Restaurant Certified Konditorei restaurant.
Minimisation of food waste and composting of waste.
Significant improvements to employee housing.
Pros: An incredibly comfortable luxury hotel. Great location with everything you need at your door. Excellent environmental sustainability measures are in place.
Cons: There is little incentive to explore outside of the resort area.
Check Availability
My top pick is a great option if you're looking for a boutique hotel in Sun Valley, Idaho. But if the resort is not boutique enough for you, my next best pick might be a better option.
Best in Ketchum
Ketchum is located near the Sun Valley ski resort in the Wood River Valley. It is known for being a popular tourist destination, particularly for outdoor recreational activities such as skiing, snowboarding, hiking, and fishing.
The city is also home to several events and festivals throughout the year, including the Sun Valley Summer Symphony and the Wagon Days Parade. The area surrounding Ketchum is rich in natural beauty, with nearby Sawtooth National Forest offering opportunities for exploration and adventure.
Ketchum is a great place to stay if resort-style accommodation isn't for you.
Limelight Hotel Ketchum
Address: 151 South Main Street, Ketchum, Idaho
The Limelight Hotel is a boutique hotel located in the heart of Ketchum. It's known for its luxurious accommodations, top-notch amenities, and exceptional service. The hotel features a variety of room types, including standard rooms, suites, and apartments, each designed with comfort and convenience in mind.
On-site amenities include a gym, a heated outdoor pool and hot tub, a restaurant and bar, and a ski and bike rental shop. The Limelight Hotel is located near many of Ketchum's most popular attractions, including the Sun Valley Resort and the Bald Mountain ski area, making it a popular choice if you're seeking an unforgettable mountain experience.
Next Best
Best Western Plus Kentwood Lodge
Address: 180 South Main Street, Sun Valley, Idaho
The Best Western Plus Kentwood Lodge is a hotel in Kentwood, Idaho, only 5 minutes from Sun Valley. Obviously, this is a chain, but it might be ok if it suits your needs.
The hotel features spacious rooms with all the modern amenities that you'd expect in a resort town. You can start your day with a complimentary hot breakfast and take advantage of the on-site fitness centre and outdoor heated pool for relaxation and recreation.
The hotel is conveniently located near popular attractions and activities in the area, making it a great choice for a hassle-free stay in Sun Valley, Idaho.
If you are looking for an informative and comprehensive guide to the most beautiful places in Idaho, you should consider checking out my guide as it highlights the most noteworthy destinations and attractions that the state has to offer, while providing insightful and valuable tips and recommendations to help you make the most of your trip.
Visit Sun Valley is a helpful resource if you're planning your trip, as it provides a wealth of information about the many attractions and activities the area offers.
Responsible Travel Tips
Many of us are increasingly concerned about climate change and sustainability. Sun Valley is taking environmental issues seriously as it's essential to their livelihoods.
Here are a few options to consider for travelling more responsibly in Idaho and elsewhere.
Stay at an eco-friendly or certified hotel that makes use of renewable energy sources like solar power. The Sun Valley Inn is ideal if choosing a sustainable hotel is a priority for you.
Biking rather than renting a car or taxi helps reduce carbon emissions. Most hotels in Sun Valley and Ketchum offer bike hire. Ask reception about safe cycling paths.
Hiking and enjoying outdoor activities in the area to appreciate nature rather than buying unnecessary items.
Limiting the use of single-use plastics and disposable products.
Consider a guided tour of the valley's vast wilderness areas instead of a privately chartered air service.
Participate in volunteer or conservation work for the local community. You could look into volunteering on one day of your vacation.
If you want to donate to promote responsible tourism in Sun Valley, you can do so at Pledge the Wild, an organisation investing in protection, sustainability and stewardship in nature-based communities, including Sun Valley.
If you have questions or want to leave a hotel review, please do so in the comments.
—
Recommendations are independently chosen based on personal travel experiences and extensive research. This post contains affiliate links to hotels in Sun Valley, Idaho. This means I get a small commission from any bookings at no extra cost to you.