Recommendations are based on personal travel experiences and research. If you book through links on our site, we may earn a commission at no extra cost to you.
—
The San Juan Islands will always hold a special place in my heart. I spent my 21st birthday on a boat, touring the islands, taking in the breathtaking nature, eating delicious, fresh food and spending time with the wonderful people I met along the way.
I was completely enchanted by the natural beauty and laid-back atmosphere.
If you are planning a trip to the San Juan Islands, I highly recommend staying at a boutique hotel for a unique and memorable experience that enhances your connection to the natural surroundings.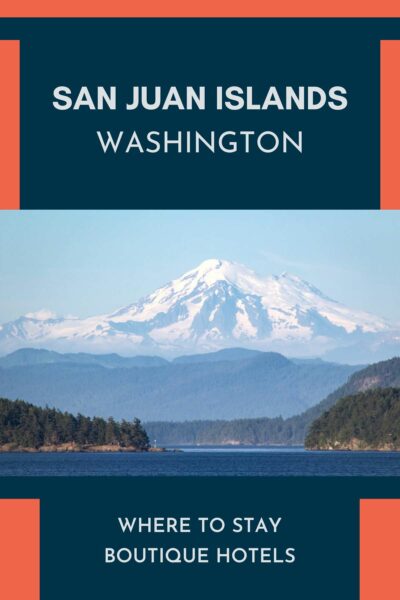 Boutique Hotels in the San Juan Islands
The San Juan Islands, a breathtaking archipelago of over 170 islands, are nestled in the Pacific Northwest and renowned for their scenic landscapes, outdoor activities, and rich history.
Among these islands, only four are inhabited: San Juan Island, Orcas Island, Lopez Island, and Shaw Island, each with its own unique character and attractions.
San Juan Island is the largest and most developed, featuring the vibrant town of Friday Harbor, which offers numerous activities to keep visitors entertained.
On the other hand, Orcas Island is celebrated for its natural beauty and outdoor pursuits, particularly in Moran State Park.
Lopez Island enchants visitors with its serene, rural ambience and plentiful farms and gardens. Meanwhile, Shaw Island is the smallest of the four, housing a tight-knit community of permanent residents.
Best San Juan Island Hotel
When planning a visit, it's advisable to stay in Friday Harbor, given its charming atmosphere and strategic location as a base for exploring the other captivating islands in the archipelago.
Top Pick
Island Inn at 123 West
Address: 123 West Street, Friday Harbor, San Juan Island, WA
Location: Friday Harbor, San Juan Island
The staff are friendly and always available via text or a quick call. The rooms are spacious, clean and calm, with comfortable beds and the option of private outdoor patios with beautiful views. The little touches, like the granola in the room with milk and orange juice, and the fresh and delicious fruit plate, make all the difference.
Features:
Comfortable rooms with large beds and tea and coffee facilities.
Refillable bathroom products by Malin and Goetz.
Great location within steps of the harbor.
Warm and welcoming service.
Sustainability:
Certified sustainable hotel with Silver LEED certification.
Food waste is minimised.
The hotel avoids single-use plastic.
Coffee at the hotel is locally roasted by San Juan Roasters at Friday Harbor.
Artists can exhibit their work in the hotel.
Hotel can arrange tours led by local guides.
Pros: The most conveniently located of San Juan Island hotels, thanks to its location in downtown Friday Harbor, opposite the ferry terminal.
Cons: Access to some rooms involves taking the stairs.
Check Availability
My top pick is a fantastic boutique hotel with exceptional service, lovely amenities and a prime location.
However, I also recommend considering a few other charming options, including one with cosy fireplaces in each room and another with a stunning rooftop bar.
Orca Island Hotel
Orcas Island is a dream destination for outdoor enthusiasts, offering a wide range of activities to suit any taste.
The island's crown jewel is undoubtedly Moran State Park, which spans over 5,200 acres and features many hiking trails that wind through old-growth forests, cascading waterfalls, and up to panoramic viewpoints.
Aside from its natural beauty, Orcas Island is also home to several charming small towns that are well worth exploring. The quaint village of Eastsound is the island's commercial hub, with a vibrant arts scene, boutique shops, and farm-to-table restaurants that showcase the best of local ingredients.
Meanwhile, the picturesque hamlet of Olga is a must-visit for history buffs, with a fascinating museum that chronicles the island's maritime heritage.
But perhaps the most enchanting aspect of Orcas Island is the stunning views that greet you at every turn. These can include the snow-capped peaks of the Olympic Mountains or gazing out at the shimmering sea from one of the island's many beaches; you're sure to be struck by the island's natural beauty and serenity.
Of course, no visit to Orcas Island would be complete without indulging in some of the local delicacies, whether it's freshly caught seafood, artisanal cheese from one of the island's many farms, or a glass of locally produced wine or cider.
The Landmark Orcas Island
Address: 67 Main Street, Eastsound, Orcas Island, WA
Location: Orcas Island
Nestled in the heart of Orcas Island, The Landmark is a true gem that offers an idyllic retreat for travellers seeking solace in the midst of nature. From the moment you step onto the property, you'll be struck by the awe-inspiring beauty that surrounds you, with waves crashing against the rocky shoreline and seabirds chirping overhead. The peaceful ambience of the area, combined with the luxurious amenities of the hotel, creates a unique and unforgettable experience that is truly unparalleled.
With only fifteen condominiums available, the hotel offers a sense of intimacy and exclusivity that is hard to find elsewhere. Each unit is thoughtfully designed and tastefully decorated, with unique features that showcase the island's natural beauty.
One of the highlights of The Landmark is undoubtedly the tree-canopied courtyard that is at the centre of the property. This tranquil oasis provides the perfect setting for a quiet retreat or a romantic getaway, with lush greenery and a serene ambience that will transport you to another world.
Lopez Island Hotel
Lopez Island is a true paradise for those seeking a slower pace of life and a chance to reconnect with nature. With its rural and laid-back atmosphere, the island is the perfect destination for a relaxing vacation away from the hustle and bustle of daily life.
You'll find opportunities for biking along the quiet country roads, hiking through the lush forests, or combing the beaches for treasures, Lopez Island offers endless potential to unwind and recharge.
One of the highlights of the island is undoubtedly its thriving farming community, with numerous small-scale farms and gardens that produce some of the freshest and most delicious produce around.
Visitors are welcome to tour the farms and learn about sustainable agriculture or simply stop by a local farm stand to sample some of the island's mouth-watering fruits, vegetables, and artisanal products.
In addition to its natural beauty and agricultural bounty, Lopez Island also has a vibrant arts community that is well worth exploring. From paintings and sculptures to textiles and ceramics, the island is home to several local galleries and studios that showcase the work of talented artists and artisans.
The Edenwild Boutique Inn
Address: 132 Lopez Road, Lopez Island, WA, USA
Location: Lopez Island
The Edenwild boutique hotel on Lopez Island has spacious rooms and water views. Each room comes with luxury amenities like soaking tubs and fireplaces. Check-in and check-out are contactless; just grab your key from the front desk. There are no TVs, so you'll have more time for nature experiences.
Breakfast can be prepared to take with you if you plan a hike or explore early in the morning. Everything you need is nearby; beaches, restaurants, cafes, art galleries, a farmers market, and a performance theatre. You can rent a bike or kayak or take a whale tour with a local tour company.
Whidbey Island Hotel
Whidbey Island, located approximately 30 miles southeast of the San Juan Islands, is a stunning and diverse destination that promises to leave you in awe. From the picturesque fir forests and serene beaches to the breathtaking scenic vistas, the island is a true natural wonder that attracts visitors worldwide.
But Whidbey Island is more than just a pretty face – it also has a rich cultural heritage and a thriving art scene that are well worth exploring.
The island has several charming small towns that are steeped in history and offer a glimpse into the island's unique culture. Visitors can stroll through the historic districts, take in the quaint architecture, and explore the local shops and eateries that showcase the best of local ingredients.
If you're a foodie, you'll be in heaven on Whidbey Island, with its plethora of local farms and artisanal food producers offering some of the freshest and most delicious produce.
Whidbey Island is also home to several state parks, including the iconic Deception Pass State Park, which is a must-visit destination for anyone seeking adventure in the great outdoors. With its rugged coastline, pristine beaches, and stunning hiking trails, the park offers endless opportunities for camping, picnicking, and exploring.
Getting to Whidbey Island is easy, too – visitors can take a scenic ferry ride from Anacortes, which is only a 1.5-hour drive from Seattle.
Captain Whidbey
Address: 2072 West Captain Whidbey Inn Road, Coupeville, WA
Location: Whidbey Island
This inn is located in the old-growth forest on the shore of Whidbey Island. It's an incredibly beautiful location and absolutely serene. Captain Whidbey has been a hub for nature connections and relaxation since 1907.
It's a gateway to the surrounding wilderness, and while the inn is located just outside of the San Juan Islands on Whidbey Island, it shares the same incredible peaceful atmosphere and natural beauty.
Alternatively, you could stay in Seattle and take a day trip to the islands. I think staying on the islands for a few days is preferable as this helps local tourism businesses and is much more enjoyable. But I understand this option isn't available for everyone.
If you are planning a trip to the Pacific Northwest, be sure to check out my guide to the best places to visit for insider tips on where to go and what to do.
The State of Washington tourist office has a helpful website for those planning a visit to the city, including the San Juan Islands. It provides information on things to do, where to stay, and how to get around, making it a valuable resource for tourists seeking to explore the beauty and charm of the islands.
Responsible Travel Tips
As we become increasingly aware of the impact of travel on our environment, it's essential that we make responsible choices to protect the nature and wilderness of the San Juan Islands.
Here are some ideas on how to travel sustainably and make a positive impact during your visit:
Opt for eco-friendly hotels that prioritise the conservation of the natural surroundings. There are many lodges and hotels in the San Juan Islands that use sustainable building materials and renewable energy.
Take part in guided nature tours or activities that prioritise conservation and preservation efforts. For example, you could join a whale-watching tour with a company like San Juan Safaris, which has a strong commitment to wildlife protection and sustainable tourism.
Support local conservation organisations or get involved in their efforts. Consider joining a beach clean-up with the San Juan County Marine Resources Committee or volunteering with the San Juan Preservation Trust to help with habitat restoration projects.
Choose sustainable transportation options, such as public transport, bikes or electric cars, to reduce air and noise pollution in and around the islands. Many businesses offer bike rentals, and the San Juan Transit system provides bus services around the islands.
Respectfully enjoy the wilderness by following Leave No Trace principles. This includes packing out all trash, staying on designated trails, and respecting wildlife. Some great trails to explore include the Lime Kiln Point State Park Trail and the Mount Constitution Trail.
Reduce water consumption by taking shorter showers and turning off the tap when not in use. This is particularly important during the dry summer months when water resources can be scarce.
Support local, sustainable agriculture and seafood practices by choosing locally grown and caught options. The San Juan Islands are home to many small-scale farms and seafood producers that prioritise sustainable practices, such as Buck Bay Shellfish Farm and Maple Rock Farm.
Minimise food waste by only ordering what you can eat or taking leftovers with you. You could also pack a picnic using locally sourced ingredients from one of the island's many farmers' markets or farm stands.
Share your sustainability tips in the comments or your experience of sustainable tourism in the San Juan Islands.
Final Thoughts
In summary, the San Juan Islands offer a wealth of unique experiences and unforgettable sights that are sure to leave you enchanted. You might be planning to explore the lush forests of Orcas Island, soaking up the rural charm of Lopez Island, or indulging in the luxurious amenities of a boutique hotel; the islands are sure to delight and inspire.
When it comes to choosing a boutique hotel, be sure to look beyond the typical chain options and seek out the hidden gems that offer a personalised and intimate experience.
For example, the Landmark on Orcas Island provides a serene and luxurious escape that is perfect for those seeking tranquillity and rejuvenation.
But above all, it's important to remember to travel responsibly and sustainably to preserve the beauty and wilderness of the islands for generations to come.
By choosing eco-friendly hotels, supporting local conservation efforts, and respecting the natural environment, you can make a positive impact and help ensure that the San Juan Islands remain a paradise for years.
If you have questions or want to leave a hotel review, please do so in the comments.
—
Recommendations are independently chosen based on personal travel experiences and extensive research. This post contains affiliate links to hotels in the San Juan Islands, Washington. This means I get a small commission from any bookings at no extra cost to you.