Recommendations are based on personal travel experiences and research. If you book through links on our site, we may earn a commission at no extra cost to you.
—
Philadelphia is known for its rich history, including Independence Hall, where the Declaration of Independence was signed, as well as its vibrant arts scene.
The city is also famous for its diverse food culture, featuring the iconic Philly cheesesteak.
In this guide, I'll share some of the best boutique hotels in Philadelphia to make your stay as impressive as the city itself.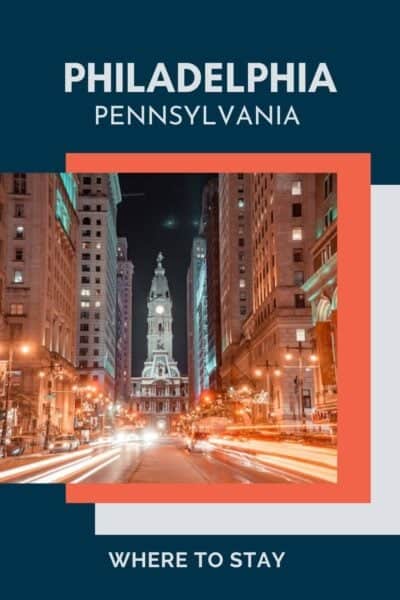 Philadelphia Boutique Hotels
When searching for a hotel, the first thing to consider is the area where you'd like to stay.
Philadelphia's Center City is the downtown district, home to key historic sites and a thriving business hub.
Northern Liberties ticks those boxes with its indie shops, galleries, and lively bars if you're keen on cafe culture and a more bohemian atmosphere.
My top hotel pick is in Olde Kensington, an up-and-coming district of Philadelphia. But if that doesn't suit you, several other options are listed below.
Top Pick
Wm. Mulherin's Sons Hotel
Address: 1355 North Front Street, Philadelphia
Location: Olde Kensington
Wm. Mulherin's Sons Hotel in Philadelphia combines industrial chic with homey comforts, featuring exposed brick walls, concrete floors, and custom-built audio consoles complete with a vinyl collection. The room is well-equipped, even sporting a laundry room within the bathroom, and the hotel's restaurant serves up unique and tasty food. Situated in a community-focused area yet still close to the city centre, the hotel provides a quiet retreat thanks to its soundproof rooms without sacrificing access to vibrant nightlife.
Features:
Distinctive hotel decor and design.
Stylish rooms with lots of natural light.
High-end amenities in the bathrooms.
Good breakfast selection.
Excellent attention to detail and service.
Pros: Industrial chic design, well-equipped rooms, unique dining, close to the city centre, soundproof accommodation.
Cons: Not in a tourist-centric area.
Check Availability
Next up, I'll be highlighting a few other boutique hotels you might find interesting for different reasons, such as location, uniqueness, or eco-friendliness.
Next Best
Kimpton Hotel Monaco Philadelphia
Address: 433 Chestnut Street, Philadelphia, PA, United States
Location: Old City
Kimpton Hotel Monaco is an artfully designed hotel located in the heart of Old City, making it an ideal base for exploring significant historical sites like the Liberty Bell and Independence Hall. It provides a comfortable and stylish stay with spacious rooms, attentive staff, and amenities such as a wine hour. Despite its convenience, which includes valet service, some may find the cost a consideration. The hotel also holds a LEED sustainability certification.
Cool and Unique Hotel
For a truly distinct experience, you might opt for a boutique hotel that showcases unique design elements and a personalized touch.
These hotels often stand out for their attention to detail, be it in the form of locally sourced art, bespoke furniture, or thematic rooms.
Lokal Hotel Fishtown
Address: 1421 N Front St, Philadelphia, PA, United States
Location: Olde Kensington
Lokal Hotel Fishtown combines comfort and design with its well-thought-out room layouts and quality furnishings. Situated in a central location, it's within walking distance of numerous attractions, including popular shows and brunch spots. The hotel provides clear directions, an easy check-in process, and various amenities, making your stay smooth from start to finish. While the outdoor lounge adds an extra layer of relaxation.
Eco-Friendly Hotel
When considering an eco-friendly hotel, pay attention to its sustainability certifications and the practices it employs to reduce environmental impact.
These could include energy-efficient operations, waste management, and the use of eco-friendly materials.
Roost East Market
Address: 1199 Ludlow St, Philadelphia, PA, United States
Location: Center City
Roost East Market Hotel aligns comfort with sustainability, using 100% renewable electricity throughout its premises. The hotel features well-equipped kitchens in its spacious and stylishly decorated apartments, providing everything required for a self-sufficient stay. Staff are welcoming and attentive, contributing to an overall pleasant experience. Located in a clean and quiet area, the hotel's facilities and fantastic location make it a prime choice for eco-conscious travellers.
Luxury Boutique Hotel
For those drawn to the finer things in life, a luxury boutique hotel combines personalised service with upscale amenities.
These hotels are well-suited for both leisure and business, ensuring a top-tier experience.
The Franklin on Rittenhouse
Address: 1715 Rittenhouse Square, Philadelphia, Pennsylvania
Location: Center City West
The Franklin on Rittenhouse stands in a prime location near Rittenhouse Square, making it easy to explore nearby dining options. The hotel prioritises guest comfort, featuring spacious rooms furnished with quality linens. For breakfast, expect a spread that includes top-shelf baked goods, smoked salmon, and fresh juices, served by attentive staff. In short, this luxury boutique hotel garners high praise for its focus on hospitality and its well-considered amenities.
Where to Stay in Philadelphia
Downtown: Known as Center City, this area is the hub of Philadelphia's business and shopping districts. You'll find historic sites like Independence Hall and the Liberty Bell here. Hotels in this area tend to be more mainstream but are conveniently located near major attractions and public transport.
Old City: The historic heart of the city is where to stay in Philadelphia if you want to be near the birthplace of American democracy. Cobblestone streets, art galleries, and museums characterise the neighbourhood. Lodging here can be a bit pricier due to the historic setting.
Olde Kensington: You'll find a good blend of modern living and historic charm in this budding area. Known for its up-and-coming arts scene and proximity to the city centre, Olde Kensington is a place where modern galleries and fresh eateries are constantly sprouting. It's an excellent place to stay in Philadelphia, especially for those interested in art and innovative cuisine.
Fishtown: Known for its young, creative vibe, Fishtown is full of independent stores, cool bars, and cafes. If you're into live music and nightlife, this is the neighbourhood for you. Several boutique hotels, like Lokal Hotel Fishtown, are also present here.
Rittenhouse Square: This area is home to some of the city's luxury boutique hotels like The Franklin. A leafy square serves as a communal gathering space and is surrounded by high-end shopping, dining, and classic Philadelphia architecture.
East Market: An upcoming district that focuses on sustainability. With locations like Roost East Market, you can find accommodation that aligns with eco-friendly values. Proximity to public transport and walkability make it a great choice.
Northern Liberties: Known for its bohemian lifestyle, this neighbourhood offers a range of casual eateries, breweries, and live music venues. It's perfect for younger travellers who want a less touristy experience.
Fairmount: Situated near the Philadelphia Museum of Art and Fairmount Park, this area is ideal if you prefer being close to green spaces. The neighbourhood also offers a more residential feel but has plenty of cafes and pubs to explore.
Manayunk: Famous for its canal and towpath, Manayunk offers a different experience with its small-town vibe. With unique boutiques and hilly terrains, it's a good fit for those looking for an outdoor urban adventure.
West Philadelphia: This district is home to the University of Pennsylvania and offers a scholarly atmosphere. Bookstores, international food, and student-friendly bars are common in this area.
Each of these neighbourhoods offers a distinct flavour of Philadelphia life, catering to different interests and budgets. Choose based on what you're looking to get out of your visit.
For a list that covers diverse interests, check out my guide to the best places to visit in Pennsylvania, where you'll find recommendations for cities, natural wonders, and cultural sites.
For those after more insights into city attractions and activities, Visit Philly is a valuable resource. You'll find practical information, especially regarding things to do, sightseeing, and upcoming events.
Responsible Travel Tips
Here are a few tips on how you can travel more responsibly in Philadelphia.
Use Renewable Energy: Opt for hotels that run on 100% renewable electricity; Philly has a growing number of these.
Minimise Food Waste: Philadelphia has a strong food scene, but it's crucial to be mindful of waste. Take smaller portions; ask for a compostable takeaway box if you can't finish.
Sustainable Diets: You'll find plenty of plant-based dining options in areas like Center City and Fishtown. Consuming fewer animal products is a win for sustainability.
Sustainable Transport: Philly is a walkable city, especially in areas like Old City and Rittenhouse Square. If you need to go further, the SEPTA public transport system is an eco-friendlier option than hiring a car.
Avoid Flying: If you're visiting nearby states, take advantage of Philadelphia's well-connected train services like Amtrak rather than opting for a short flight.
Support the Local Community: Buy from local artisans and farmers in markets such as Reading Terminal Market. This keeps money within the community and usually requires less transportation for goods.
Recycling: Philadelphia has a curbside recycling program. Make sure to separate recyclables and non-recyclables when disposing of waste.
Water Conservation: The city has historical sites related to water, like Fairmount Water Works. Use this as an educational experience to become more mindful of water usage.
FAQ
What are the best areas in Philadelphia for tourists to stay?
The most popular areas for tourists to stay in Philadelphia include Old City for its historical significance, Center City for convenience and a wide range of amenities, Fishtown for its vibrant arts scene and unique boutique hotels, and Rittenhouse Square for those looking for luxury accommodations.
How easy is it to get around in Philadelphia?
Philadelphia is considered a walkable city, especially in tourist-friendly areas like Old City and Rittenhouse Square. Public transportation options such as buses and the SEPTA subway system are also readily available for more distant destinations within the city.
What should I look for in a boutique hotel in Philadelphia?
For a boutique hotel, pay attention to the unique features that make it stand out, such as distinct design elements, personal service, and special amenities. The location should also be considered, especially if you're keen on exploring a specific neighbourhood in depth.
What are the average hotel prices in Philadelphia?
Hotel prices in Philadelphia can vary widely depending on the area and type of accommodation. Budget options can start around $100 USD per night, mid-range hotels typically fall between $150 to $250 per night, and luxury options can go well above $300 per night.
Finding the right boutique hotel in Philadelphia largely depends on what you're after- historical ambience, unique design elements, or location convenience.
Take the time to research and weigh your options, considering both amenities and the neighbourhood vibe.
In doing so, you'll enjoy your stay and enrich your overall experience of visiting Philadelphia.
If you have questions or want to leave a hotel review, please do so in the comments.
—
Recommendations are independently chosen based on personal travel experiences and extensive research. This post contains affiliate links to hotels in Philadelphia, Pennsylvania. This means I get a small commission from any bookings at no extra cost to you.