Recommendations are based on personal travel experiences and research. If you book through links on our site, we may earn a commission at no extra cost to you.
—
Joshua Tree is a unique and breathtaking natural wonder that offers visitors an unforgettable experience.
This national park in California is known for its stunning rock formations and beautiful desert landscapes, making it a popular spot for hiking and rock climbing.
However, what sets Joshua Tree apart is its otherworldly atmosphere and the surreal beauty of its sunsets and the night sky. With its rugged terrain and peaceful ambience, Joshua Tree offers a one-of-a-kind experience that you won't forget anytime soon.
To fully immerse yourself in this beautiful park, I recommend staying at one of the boutique hotels located nearby.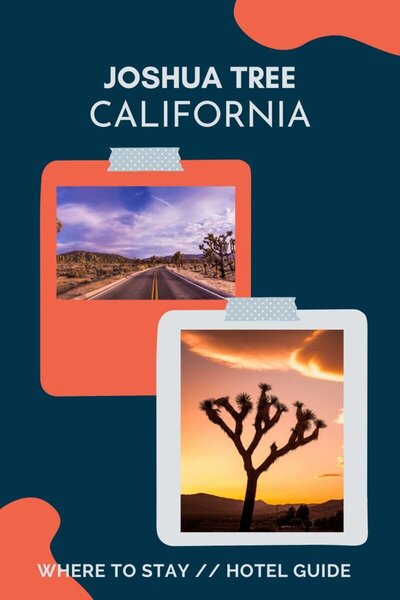 Joshua Tree Boutique Hotels
When visiting Joshua Tree, there are a few unique districts that you don't want to miss.
First on the list is Joshua Tree Village, a small and charming area home to several cool independent stores, cafes, and art galleries.
Here you can explore the local art scene, grab a bite to eat or pick up a souvenir to remember your trip.
Another area worth checking out is Yucca Valley, which has a thriving nightlife scene and a variety of bars and clubs to choose from.
If you're looking for a peaceful and relaxing stay, I recommend staying in Joshua Tree Village.
The area has a wide range of accommodation options to choose from, including hotels, bed and breakfasts, and vacation rentals, and it's a great base for exploring the park and the surrounding areas.
Top Pick
Eclectic Joshua Tree
Address: 61715 Navajo Trail, Joshua Tree, CA
The Eclectic Joshua Tree is a spacious desert oasis just minutes away from both the Joshua Tree National Park and downtown Joshua Tree. You have everything you need for a relaxing stay with stunning mountain views from the front and a private backyard with hammocks, bocce ball, and a BBQ area. This house comfortably accommodates up to six people and features an open-concept kitchen, dining and living room area perfect for entertaining. Enjoy all these eclectic home offers in front of the fireplace during winter.
Features:
Rooms with loads of natural light.
From the front of the house, you are beautiful desert Mountain Views.
The house is cool and spacious with a mid-century style.
Immaculate property.
Pros: Escape to the serene and stylish Eclectic Joshua Tree for an unforgettable desert getaway just moments from the national park and downtown Joshua Tree.
Cons: While the Eclectic Joshua Tree provides ample space and amenities for a comfortable stay, some guests may find the shower water pressure is slightly low.
Check Availability
I have also recommended a couple of other boutique hotels that may interest you, as they each offer unique experiences and amenities to enhance your trip.
Quirky and Fun
The Castle House Estate
Address: 64278 East Broadway, Joshua Tree, CA
As soon as you step into The Castle House Estate boutique hotel in Joshua Tree, you're transported to a unique and funky design world. The cool and quirky decor of the hotel is evident throughout, with unusual features and funky furnishings that make each room a work of art. The bathrooms are particularly fun, with quirky tiles and interesting fixtures that add to the overall charm of the place. The hotel also offers a range of accommodation options, including tented rooms that provide a unique glamping experience. You'll feel pampered and relaxed throughout your stay with room service and a sun terrace. The seasonal outdoor pool is the perfect place to cool off on a hot day.
Next Best
Tuscan Springs Hotel & Spa
Address: 68187 Club Circle Drive, Desert Hot Springs, CA
Tuscan Springs Hotel & Spa is a beautiful boutique hotel located in Desert Hot Springs, just a short drive from Joshua Tree. The hotel is a great choice for anyone looking for a relaxing, peaceful, serene getaway. The hotel features a stunning outdoor spa, which offers a range of treatments and massages to help you unwind and rejuvenate. The rooms are spacious and well-appointed, with comfortable beds and luxurious linens that will make you feel right at home. One of the highlights of Tuscan Springs Hotel & Spa is the beautiful courtyard, which is the perfect place to relax and soak up the sun. With a gorgeous pool and plenty of comfortable loungers, you can spend the whole day here without a care in the world.
Sacred Sands
Address: 63155 Quail Springs Road, Joshua Tree, CA
You'll be blown away by the stunning architecture and picturesque views of Sacred Sands, located just one mile from the West Entrance of Joshua Tree National Park, making it the perfect base for your desert adventures. With luxurious accommodations that feature deep soaking tubs and outdoor beds, you'll have plenty of opportunities to relax and take in the breathtaking sunset and night sky views, complete with shooting stars across the Milky Way. And for those seeking an event venue that is truly one-of-a-kind, Sacred Sands offers intimate spaces that blend seamlessly with the surrounding Mojave Desert landscape.
Cool and Unique Hotel
If you're looking for a unique and unforgettable experience, a boutique hotel might be just what you're looking for – with each one offering its distinctive charm and character, you'll be sure to find a hotel that perfectly matches your personality and preferences.
These hotels are typically smaller and offer more personalized attention while providing unique features and amenities you won't find in larger chain hotels.
Casa Luisa Joshua Tree Desert Oasis
Address: 61648 Crest Circle Drive, Joshua Tree, CA
Experience the ultimate desert getaway at Hotel Casa Luisa Joshua Tree, where you can relax in the comfort of your own private oasis and enjoy the stunning mountain views from the terrace while sipping on your morning coffee. Whether you're taking a dip in the pool, unwinding in the hot tub, or lounging in the outdoor cabana, there are plenty of ways to unwind and soak in the beauty of the desert. And with unique features like the outdoor fire pit and open-air wellness spa, you're sure to create unforgettable memories during your stay.
Eco-Friendly Hotel
If you're looking for an eco-friendly hotel that allows you to enjoy the beauty of nature without harming the environment, then this could be a perfect choice for you.
These hotels are designed to be sustainable and reduce their carbon footprint, often incorporating unique features like solar panels and water conservation systems.
And with locations that offer breathtaking mountain views and nearby hiking trails, you'll have plenty of opportunities to get up close and personal with the area's natural beauty.
Popular Homestead
Address: 62575 Barbara Lane, Joshua Tree, CA
At Popular Homestead, you can enjoy your stay knowing that you're supporting an eco-friendly hotel committed to reducing its environmental impact. The hotel features energy-efficient LED lighting throughout the property, and 100% of the electricity used is renewable, allowing you to stay in comfort while minimizing your carbon footprint.
If you're looking for an expertly curated list of the best places to visit in California, then you won't want to miss out on my guide. From the stunning beaches of San Diego to the iconic landmarks of San Francisco, my guide covers all the must-see destinations in the Golden State. With detailed descriptions and insider tips, it's the perfect resource for anyone looking to plan a memorable California adventure.
If you're planning a trip to Joshua Tree, you'll be happy to know that it has a helpful website that provides plenty of useful information to help you plan your visit, including tips on what to see and do, where to stay, and where to eat.
With its user-friendly interface and comprehensive listings, the website is a great resource for anyone looking to explore the park and the surrounding areas.
Responsible Travel Tips
Many of us are increasingly concerned about climate change and sustainability. Here are a few ideas on how we can travel more responsibly in Joshua Tree.
If you want to travel more responsibly in Joshua Tree, there are plenty of ways to do so. One idea is to support renewable energy by staying in eco-friendly hotels or vacation rentals that rely on solar power.
Another way to reduce your environmental impact is to minimize food waste by bringing reusable containers for leftovers and composting scraps. You can also choose to eat at restaurants that offer sustainable menus and source their ingredients from local farms.
When it comes to transportation, consider renting a hybrid or electric vehicle to explore the area, or choose to travel by foot or bike if possible. If you need to fly to California, consider purchasing carbon offsets to mitigate your impact.
To support the local community, shop at local stores and farmer's markets and choose to stay in locally-owned accommodation options. Additionally, consider taking part in community-led projects and volunteering opportunities to help protect and preserve the park.
Following these sustainable travel practices in Joshua Tree can help protect the environment, reduce your carbon footprint, and support the local community.
If you have questions or want to leave a hotel review, please do so in the comments.
—
Recommendations are independently chosen based on personal travel experiences and extensive research. This post contains affiliate links to hotels in Joshua Tree, California. This means I get a small commission from any bookings at no extra cost to you.