Recommendations are based on personal travel experiences and research. If you book through links on our site, we may earn a commission at no extra cost to you.
—
Olympia is a charming city with a rich history and plenty of outdoor activities to enjoy. Whether you're taking a walk through Squaxin Park, visiting the State Capitol Building, or simply enjoying the bustling downtown area, there's something for everyone in Olympia.
If you're looking for a place to stay, I highly recommend checking out one of the cool boutique hotels near Olympia or in the city centre.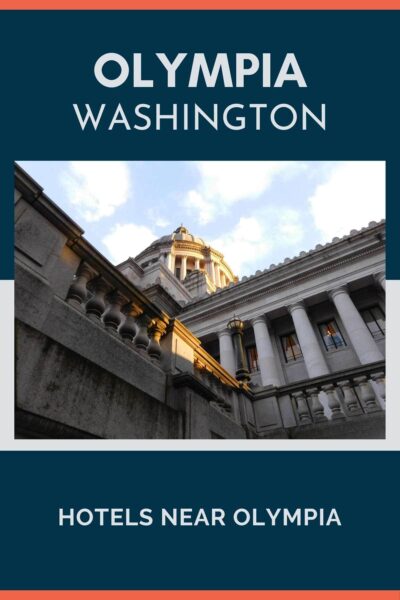 Hotels near Olympia WA
Olympia boasts several unique neighbourhoods, with the Eastside and Historic District being two of the best.
The Eastside offers a funky, eclectic atmosphere, while the Historic District has a rich history and vintage charm.
If you're visiting, I highly recommend staying in the Eastside for its trendy vibe and proximity to local hotspots or in the Historic District for a taste of the city's history and charm.
Top Pick
DoubleTree by Hilton Olympia
Address: 415 Capitol Way North, Olympia, WA
The DoubleTree by Hilton Olympia is a beautiful hotel in the heart of the Historic District and the waterfront, making it an ideal location for tourists and visitors. The hotel boasts clean and minimalist decor rooms that are comfortable and well-furnished, making it a perfect place to rest after exploring the area.
Features:
Modern, clean rooms with large beds and sitting areas.
Well-equipped gym and indoor swimming pool
Beautiful lounge area where you can sit and relax.
Great location near Olypmia's historic quarter and downtown.
Easy access to the wonderful Olympia Farmers Market.
Sustainability:
Energy-efficient lighting.
Food waste minimisation measures are in place.
Green spaces are available for guests.
Pros: This is the best hotel in Olympia due to its ideal location in the Historic District and the waterfront, well-equipped gym and indoor swimming pool, and clean and minimalist decor rooms.
Cons: The only potential negative is that this is a chain hotel.
Check Availability
If the best boutique hotel in Olympia doesn't meet your needs or you're searching for a more unique or alternative location, my second recommendation may be a better fit for you.
Next Best Near Olympia
Ramada by Wyndham Olympia
Address: 4520 Martin Way East, Olympia, WA
Stay refreshed in Washington's capital city at the Ramada Olympia, a 5-star hotel near Olympia. Conveniently located near the southern end of Puget Sound, this hotel is close to the State Capitol and popular downtown attractions without being within that area. With scenic beauty and outdoor activities nearby, the Ramada Olympia is a great choice if you're looking for a rejuvenating stay.
Courtyard by Marriott Olympia
Address: 2301 Henderson Park Lane SE, Olympia, WA
The Courtyard Hotel in Olympia is a solid choice for visitors to the Washington capital. At the centre of the hotel is The Bistro, a breakfast destination that turns into a bar and dinner spot in the evenings. The hotel is located one mile from the State Capitol and downtown Olympia and offers amenities such as a gym, outdoor terrace and media pods.
Hilton Garden Inn Olympia
Address: 2101 Henderson Park Lane SE, Olympia, WA
Located just off I-5, the hotel is only a mile away from the Washington State Capitol Building and government offices and a short distance from downtown restaurants, cafes, and nightlife. The Capital Mall is a quick three miles west. Start your day with a delicious, made-to-order breakfast or finish it with dinner at our Garden Grille & Bar. After a long day, take a dip in the heated indoor pool for a relaxing experience.
If you're looking for an informative and comprehensive guide to the top destinations in Washington, then you won't want to miss out on what my guide has to offer.
If you're planning a trip to this region, Experience Olympia is a valuable resource for you to make the most of your experience, with a wealth of helpful information and insider tips.
Responsible Travel Tips
Many of us are increasingly concerned about climate change and sustainability.
Use public transportation or bike share: Olympia has a well-developed public transportation system, including buses and bike share, reducing the need for personal vehicles and reducing carbon emissions.
Support local businesses: Choose locally-owned restaurants and shops, and opt for locally sourced food options to support the local community and reduce the carbon footprint of long-distance transportation.
Reduce food waste: Plan meals and bring leftovers from restaurants to minimize waste, and compost food scraps to reduce methane emissions.
Adopt a sustainable diet: Incorporate plant-based meals into your diet, and opt for sustainably sourced seafood to reduce the environmental impact of agriculture and fishing. There are plenty of cafes and restaurants in Olympia that support this.
Limit consumerism: Consider purchasing second-hand items, repairing items instead of buying new ones, and only buying what is necessary to reduce waste and carbon emissions from production and transportation.
Use renewable energy: Look for accommodations and transportation options powered by renewable energy, such as wind and solar power.
Avoid flying: Choose ground transportation options, such as trains or buses, for shorter trips, and consider alternative destinations for longer trips to reduce the carbon footprint of air travel.
Final Thoughts
In conclusion, Olympia offers a variety of excellent hotels to cater to different budgets and preferences. Whether you are looking for a luxurious stay or a more budget-friendly option, the hotels mentioned above offer a comfortable and enjoyable experience to complement your visit to this beautiful city.
If you have questions or want to leave a hotel review, please do so in the comments.
—
Recommendations are independently chosen based on personal travel experiences and extensive research. This post contains affiliate links to hotels near Olympia, Washington. This means I get a small commission from any bookings at no extra cost to you.