Recommendations are based on personal travel experiences and research. If you book through links on our site, we may earn a commission at no extra cost to you.
—
Visiting Crater Lake is one of the most breathtaking experiences you'll encounter in Oregon. The deep blue waters of the lake, surrounded by majestic cliffs and towering trees, will leave you in awe.
I recommend taking a boat tour to fully appreciate the lake's beauty and surroundings.
To complete the experience, this guide will help you find a hotel near Crater Lake.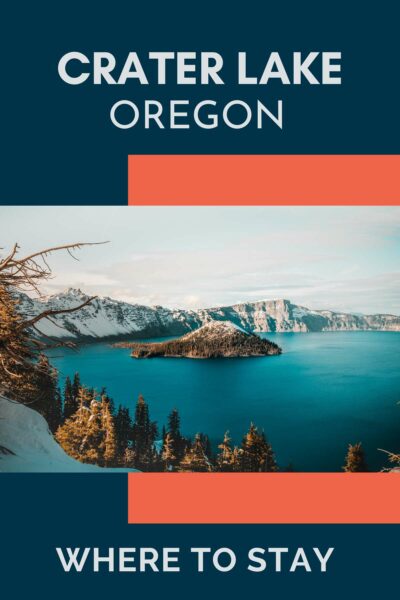 Hotels near Crater Lake Oregon
There are a few popular options for where to stay near Crater Lake. I recommend hotels in each of these areas below.
Medford: A city southeast of Crater Lake in the Rogue Valley, offering a variety of lodging options, dining, and shopping opportunities.
Ashland: Another Rogue Valley city. Ashland is known for its vibrant arts scene and the Oregon Shakespeare Festival, Ashland offers a range of lodging options, dining, and shopping opportunities.
Klamath Falls: This city is located about an hour's drive from Crater Lake and offers a wider range of lodging options, including hotels, motels, and bed and breakfast inns. It is a good choice for those who prefer to stay in a larger town with more amenities.
Grants Pass: Located in the Rogue Valley, Grants Pass is known for its mild climate, beautiful scenery, and numerous recreational opportunities, including rafting, fishing, and hiking.
Top Pick
Compass by Margaritaville Medford
Address: 2399 South Pacific Highway, Medford, OR
Compass by Margaritaville Medford is a stylish and contemporary hotel located in the heart of Medford, Oregon. The hotel offers a comfortable and relaxed atmosphere, perfect if you're looking to escape the hustle and bustle of daily life and enjoy a carefree vacation. With its prime location, you can easily explore the best of southern Oregon and the surrounding areas, including the nearby Rogue Valley and Crater Lake National Park.
Features:
Stylish and contemporary hotel in the heart of Medford.
Range of spacious and well-appointed rooms with coastal-inspired aesthetic.
On-site amenities include a good-sized gym, an outdoor pool with cabanas and a restaurant.
Wide range of activities and events, from fitness classes to outdoor activities.
Highly rated for comfort, cleanliness, and value for money.
Pros: One of the most stylish and comfortable hotel stays near Crater Lake, with a range of on-site amenities and activities.
Cons: Doesn't have strong sustainability initiatives in place.
Check Availability
If you're in the mood for something fresh and different, check out some other options, but for my money, Compass by Margaritaville Medford is the way to go. This hotel is the ultimate boutique stay in Crater Lake, Oregon.
Next Best in Medford
Hilton Garden Inn Medford
Address: 1000 Welcome Way, Medford, Oregon
The Hilton Garden Inn Medford is a great option if you're looking for a comfortable and convenient stay. The front desk staff are known to be exceptional, going above and beyond to make an enjoyable stay.
The hotel itself is very nice and clean, with a modern and comfortable feel. The rooms are spacious, with a very comfortable bed and pillows, making for a great night's sleep.
Klamath Falls
Fairfield Inn & Suites
Address: 460 Timbermill Drive, Klamath Falls, Oregon
Fairfield Inn is a great choice in Klamath Falls. The hotel offers free bikes for guests to use and a gym and indoor pool if you want to stay active. The hotel is also noted for its cleanliness, making for a comfortable and hygienic stay.
The hotel is conveniently located within walking distance of the lake, making it easy to explore the area. Plus, with Crater Lake nearby, this hotel is a great base for visiting one of Oregon's most beautiful national parks.
Ashland
Lithia Springs Resort
Address: 2165 West Jackson Road, Ashland, OR
You'll love your stay at Lithia Springs Resort in Ashland. They've got excellent sustainability measures in place so you can feel good about your impact on the environment.
You'll love wandering through the expansive gardens, which feature koi ponds, a seasonal outdoor saltwater pool, and a hot tub for ultimate relaxation. And, don't miss the afternoon tea and cookie reception – it's the perfect pick-me-up after a day of exploring.
The food here is highly rated, and they even cater to vegetarian and gluten-free requirements so that everyone can enjoy a delicious meal.
If you are planning a trip to Oregon and looking for the best places to visit, check out my guide to the prettiest places in Oregon. You'll find out which are the most beautiful places in Oregon, fun cities, cool towns and things to do.
Travel Southern Oregon is the place to go for information about visiting the southern region of Oregon, which includes Crater Lake.
They provide detailed information about Crater Lake, including attractions, activities, accommodations, and more, making it an excellent resource for visiting.
Whether you are looking for information about the park, recommendations for things to see and do, or ideas for where to stay, this is a great starting point.
Responsible Travel Tips
Many of us are increasingly concerned about climate change and sustainability. If you're looking to travel more sustainably, here are a few ideas to get you started.
Use renewable energy sources to power your trip to Crater Lake, such as electric or hybrid vehicles, or even consider taking public transportation or biking. The nearest city with a public transportation hub is Klamath Falls, which is about an hour's drive from Crater Lake. Greyhound and Amtrak offer bus and train services to Klamath Falls; from there, visitors can rent a car or arrange a tour to visit Crater Lake.
Reduce food waste by planning meals in advance and bringing reusable containers for leftovers. By planning meals in advance and packing leftovers in reusable containers, visitors can reduce their impact on the environment and help conserve resources. This not only helps to minimize waste but also saves money and ensures that food is not wasted.
Consume sustainable diets by opting for plant-based meals. By choosing plant-based meals, visitors can reduce their carbon footprint and contribute to a more sustainable future. Compared to meat-based diets, plant-based diets require less land, water, and energy to produce and are also healthier for individuals and the planet.
Support the local community by staying in locally-owned accommodations, eating at locally-owned restaurants, and participating in community-led activities or tours. Supporting the local community helps to ensure the preservation of the area's cultural heritage and promotes economic growth. Visitors can choose to stay in locally-owned accommodations, eat at locally-owned restaurants, and participate in community-led activities or tours to support the local economy and contribute to a more sustainable future.
If you have questions or want to leave a hotel review, please do so in the comments.
—
Recommendations are independently chosen based on personal travel experiences and extensive research. This post contains affiliate links to hotels in Crater Lake, Oregon. This means I get a small commission from any bookings at no extra cost to you.