Recommendations are based on personal travel experiences and research. If you book through links on our site, we may earn a commission at no extra cost to you.
—
Known for its unique charm, Brooklyn melds the excitement of New York City with a laid-back atmosphere. Navigating the vibrant streets of Brooklyn, you'll encounter an array of distinctive boutique hotels nestled amidst the city's rich cultural scene.
In this article, I'll delve into a selection of the best boutique hotels in Brooklyn to help in planning your next city escape.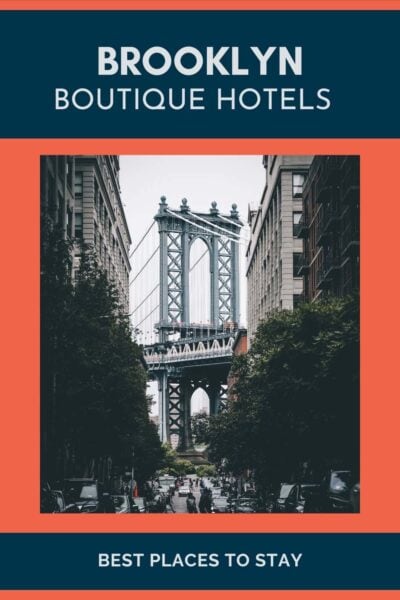 Boutique Hotels in Brooklyn
Finding the right hotel begins with determining the area in which you'd like to set your base.
Downtown Brooklyn serves as the city's vibrant commercial and business hub, teeming with skyscrapers, shopping outlets, and easy access to public transportation.
Meanwhile, Williamsburg exudes a distinct, trendy vibe, with a flourishing cafe culture, chic independent boutiques, an eclectic mix of bars and a rich art scene.
For first-time visitors keen on experiencing the city's energy coupled with uniquely local flair, Williamsburg makes an excellent choice as your home base during your stay in Brooklyn.
Top Pick
Wythe Hotel
Address: Address: 80 Wythe Avenue, Brooklyn
Location: Williamsburg
The Wythe Hotel stands out in Brooklyn due to its prime location and excellent service. It's a relatively new hotel, with a keen eye for aesthetics in the rooms, from comfortable beds to excellent showers. Notably, the hotel shows a strong commitment to sustainability, with a focus on locally sourced food, energy-efficient lighting and efforts to minimise food waste. Additionally, it resides in a lively neighbourhood filled with various eateries, bars and shops, plus it's just a subway stop away from Manhattan. It's often acclaimed as one of the best hotels in Brooklyn, surpassing others in the neighbourhood.
Features:
Cool and unique design.
Stylish rooms with ample natural light.
Award-winning restaurant, Le Crocodile.
Rooftop bar, ideal for sunset cocktails.
Great location near Bushwick Inlet Park.
Sustainability:
Energy-efficient heating and cooling system.
Measures in place for food waste reduction.
Most food is organic and locally sourced.
Vegetarian and vegan menus are available.
Promotion of local artists within the hotel.
Pros: Excellent location, superior service, eco-conscious practices, proximity to Manhattan and vibrant local scene.
Cons: Potential noise due to lively neighbourhoods and high demand may limit availability.
Check Availability
Next, I'll introduce a couple of other boutique hotels you might appreciate. Each has its distinct appeal, whether that be their location, unique style, or commitment to eco-friendliness. These options can provide different perspectives and experiences during your stay in Brooklyn.
Next Best
Penny Williamsburg
Address: 288 North 8th Street, Brooklyn, New York
Location: Williamsburg
The Penny Williamsburg Hotel shines with its carefully curated elements, such as a welcoming terrace and an interesting selection of books in the rooms. A highlight of this hotel is its staff, who are renowned for their friendly and helpful demeanour. The rooms are noted for their stunning design, comfort and cleanliness, further complemented by beautiful artwork and furnishings. Its location is an advantage, situated in close proximity to a vibrant array of bars and restaurants and easy access to the subway for Manhattan trips. The rooftop restaurant offers appetisers and cocktails, with vegetarian and vegan options.
Cool and Unique Hotel
Opting for a unique boutique hotel can add a layer of interest to your travel experience. These establishments typically marry personality with style, often featuring design elements that reflect the local culture or history.
The Box House Hotel
Address: 77 Box Street, Brooklyn, NY, United States
Location: Greenpoint
The Box House Hotel showcases a chic design that's both eclectic and inviting. Its rooms are generously sized, with some providing views of Manhattan's iconic skyline. The hotel's location next to the Piłsudski Institute adds a touch of cultural intrigue. Although on-site parking isn't available, it's sometimes possible to find street parking nearby. The hotel prides itself on its clean, well-decorated facilities, including a nicely appointed workout room. The decor throughout the hotel is tastefully done, contributing to an inviting atmosphere. Guests often report having a good night's sleep here.
Ace Hotel Brooklyn
Address: 252 Schermerhorn Street, Brooklyn, NY
Location: Boerum Hill
The Ace Hotel Brooklyn comes alive with its mid-century-inspired design throughout the establishment. Its notable features include an atrium and the convenience of an on-site bar, restaurant and bakery. The staff are known for their helpfulness and the comfortable atmosphere they foster. Location is a key advantage of this hotel, providing easy access to the subway and, thus, the wider city. Guests can enjoy city views and the stylish room design. The hotel also sports a cool bar and work area on the lower level for a mix of relaxation and productivity.
Eco-Friendly Hotel
For the environmentally conscious traveller, choosing an eco-friendly hotel in Brooklyn can contribute to sustainable tourism. These hotels typically adopt measures such as waste reduction, energy efficiency and the use of locally sourced or organic products.
Pod Brooklyn
Address: 247 Metropolitan Avenue, Brooklyn, NY, United States
Location: Williamsburg
Pod Brooklyn stands as a budget boutique hotel with a strong commitment to eco-friendliness. They source most of their food locally, contributing to both the local economy and a reduced carbon footprint. Energy-efficient lighting is prevalent throughout the property, conserving electricity. Their power comes entirely from renewable sources, further cementing their dedication to sustainability. Measures are also in place to minimise food wastage. In addition, the hotel provides an electric car charging station, making it a convenient choice for those with electric vehicles.
Luxury Boutique Hotel
A luxury boutique hotel can provide a tailored, high-quality experience for travellers seeking more than just a place to sleep. These hotels often distinguish themselves with personalised service, unique design elements, and high-end amenities.
1 Hotel Brooklyn Bridge
Address: 60 Furman Street, Brooklyn, NY
Location: Fulton Ferry District
For those looking for top-tier luxury, the 1 Hotel provides an ideal balance of aesthetics, functionality and high-standard service. The rooms at this hotel are not just spacious by New York standards but also well-organised, making them as functional as they are comfortable. Added to this, the hotel's rooftop bar provides stunning views of the city. The stylishly decorated lobby is equipped with cosy couches and charging areas, creating a relaxed environment to unwind. The staff here excel in their commitment to guest satisfaction, consistently demonstrating their readiness to go beyond expectations. Cleanliness is paramount, and the hotel ensures every room is kept immaculate. The overall vibe of this place is laid back and inviting, contributing to a stay that's as relaxing as it is indulgent.
The William Vale
Address: 111 North 12th Street, Brooklyn, NY, United States
Location: Greenpoint
The William Vale is a superb luxury boutique hotel in Brooklyn known for its warm and welcoming staff. A quiet atmosphere is maintained throughout, enhancing the overall guest experience. One of the key highlights is the terrace view, which is sure to impress anyone with its expansive vista. Comfort isn't compromised either; the beds ensure a restful night's sleep. Plus, the hotel's laundry service is top-notch, adding to the convenience.
Where to Stay in Brooklyn
Downtown Brooklyn: This buzzing area is a top pick when you're deciding where to stay in Brooklyn. It's a business district that doubles as a cultural hub, with many iconic Brooklyn attractions, shopping centres and an eclectic mix of dining options. The access to multiple subway lines makes it a handy base for exploring the rest of the city.
Williamsburg: Known for its vibrant artistic community, Williamsburg is full of independent stores and galleries that embody Brooklyn's creative spirit. The neighbourhood's bar scene is buzzing, featuring a mix of trendy craft beer pubs and traditional watering holes. The local dining scene is diverse, from street food to fine dining establishments.
DUMBO (Down Under the Manhattan Bridge Overpass): This trendy neighbourhood offers stunning views of Manhattan and the Brooklyn Bridge. It's known for its tech startups, unique shops and high-end boutiques. Don't miss the chance to explore the repurposed industrial buildings, now hosting a range of art galleries and creative enterprises.
Greenpoint: This historically Polish neighbourhood is now an area of cultural fusion, featuring a unique mix of traditional Polish bakeries and modern vegan eateries. It's also a perfect spot for park lovers, being close to the sprawling McCarren Park.
Brooklyn Heights: As one of the borough's most affluent areas, Brooklyn Heights is known for its picturesque tree-lined streets, historic brownstones, and the stunning Brooklyn Heights Promenade that offers iconic views of Manhattan.
Park Slope: Known for its family-friendly environment and leafy streets, Park Slope is great for those seeking green spaces. Proximity to Prospect Park, the Brooklyn Botanic Garden and a multitude of unique eateries add to the area's charm.
Bushwick: This area is the heart of Brooklyn's alternative scene, known for its vivid street art, edgy music venues, and warehouse parties. Bushwick's burgeoning cafe culture and vintage shopping scene make it a hipster haven.
Bedford-Stuyvesant (Bed-Stuy): Home to beautiful Victorian architecture, Bed-Stuy is a neighbourhood steeped in history. Here, you can enjoy local food markets, vintage clothing shops, and an evolving café scene.
Coney Island: Perfect for beach lovers, Coney Island provides an amusement park, sandy shores, and the city's aquarium. It's an excellent spot for those wanting to balance city exploration with seaside relaxation.
Explore the vibrant city that never sleeps with my comprehensive guide, detailing the best places to visit in New York, making your visit streamlined and filled with highlights.
For additional details about sightseeing, events, and other city activities, I'd suggest turning to New York Tourism. They hold an impressive resource of information that could truly enrich your visit.
Responsible Travel Tips
Here are a few ideas on how we can travel more responsibly in Brooklyn.
Renewable Energy: Support boutique hotels in Brooklyn that use renewable energy. Look for hotels or rental properties powered by solar or wind energy.
Minimising Food Waste: When dining out, consider taking leftovers home to reduce food waste, as it's common in Brooklyn and other parts of New York City.
Sustainable Diets: Brooklyn is home to an array of farmer's markets, such as those in Grand Army Plaza and McCarren Park, where you can buy locally grown, organic produce.
Sustainable Transport: Make use of Brooklyn's extensive public transportation system, including buses, subways and bike-sharing programs, to lower your carbon footprint.
Avoid Flying: If possible, avoid air travel to Brooklyn. Instead, consider taking a train or bus from nearby cities.
Supporting the Local Community: Explore local Brooklyn businesses such as independent stores, cafes and artisans. Shopping locally supports the economy and reduces the carbon footprint associated with shipping goods.
FAQ
What are some popular neighbourhoods to stay in Brooklyn?
Williamsburg, DUMBO and Park Slope are among the top picks in Brooklyn due to their rich culture, great food scene and easy access to attractions.
What makes a boutique hotel in Brooklyn unique?
A boutique hotel in Brooklyn typically reflects the neighbourhood's vibe with local art, personalised service and a distinct character that separates it from larger chain hotels.
What are the key features of a luxury boutique hotel?
Luxury boutique hotels often provide high-end amenities, personal service, excellent locations and well-designed interiors. They also ensure guest comfort with features such as spacious rooms, comfortable beds, and stunning views.
Is Brooklyn a good base for exploring New York City?
Absolutely, Brooklyn provides easy access to Manhattan and other boroughs via public transport, and it also has its own unique attractions, eateries, and shops to explore.
With its vibrant neighbourhoods and eclectic offerings, Brooklyn is a fantastic destination for your travels. Be it a boutique hotel for its unique charm, a luxury hotel for a bit of pampering, or an eco-friendly place that aligns with your values, there's a spot for you.
Always remember to do your research, understand the area, and make a choice that best fits your needs and desires. Happy travels!
If you have questions or want to leave a hotel review, please do so in the comments.
—
Recommendations are independently chosen based on personal travel experiences and extensive research. This post contains affiliate links to hotels in Brooklyn, United States. This means I get a small commission from any bookings at no extra cost to you.