Recommendations are based on personal travel experiences and research. If you book through links on our site, we may earn a commission at no extra cost to you.
—
Discover the relaxing charm of Yakima, a destination renowned for its warm and welcoming ambience and breathtaking landscapes.
It's an ideal location where you can yourself in nature with a leisurely walk through the local parks or indulge in the exquisite local produce by touring the vineyards and sampling the region's culinary delights.
In this guide, I recommend a couple of boutique hotels in Yakima, WA, where you can stay in comfortable rooms that mix local character with modern amenities.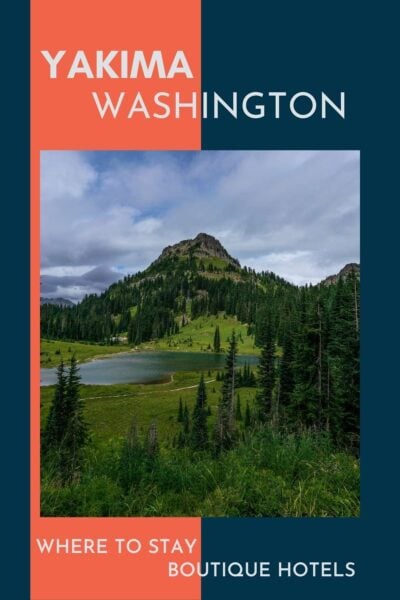 Boutique Hotels in Yakima WA
Yakima is particularly renowned for its wine industry, with over 120 wineries located in the area, making it one of the top wine-producing regions in the state.
Staying in Downtown Yakima is a great base for exploring the wineries, or you can stay in the area to enjoy the mix of historic buildings, trendy shops, and cultural events you'll find there.
Top Pick
Hotel Maison Yakima
Address: 321 East Yakima Avenue, Yakima, WA
Hotel Maison is Yakima's best boutique hotel. The historic building dates from 1911 when it was a Masonic Lodge and it's centrally located in Downtown Yakima. With a variety of dining and entertainment options just steps away, including the Capitol Theatre, Seasons Performance Hall, wine-tasting rooms, and more, you'll be in the heart of all the action.
Features:
Comfortable rooms with large beds and tea and coffee facilities.
Beautifully renovated building in the downtown area.
Generous breakfast with lots of variety.
Interesting artwork depicting historic Yakima.
Convenient access to Yakima Valley's hop farms and vineyards.
Pros: The hotel offers a unique blend of history and modern comfort in Yakima's most convenient location.
Cons: There may be limited parking options during convention periods.
Check Availability
If you're searching for something a bit different in Yakima, I've provided a few alternative recommendations below that may better suit your specific needs.
Next Best
Hilton Garden Inn Yakima Downtown
Address: 401 East Yakima Avenue, Yakima, WA
Another excellent place to stay in Yakima is the Hilton Garden Inn. Here you can immerse yourself in comfort with the hotel's spacious and stylish rooms, complete with modern amenities and top-notch service from the friendly staff. Conveniently situated in a prime location, the hotel offers easy access to Yakima's bustling downtown scene and a host of nearby attractions. While it may not be a boutique hotel, the Hilton Garden Inn more than makes up for it with its exceptional attention to detail and focus on guest satisfaction, making for a truly memorable experience.
Hotel Maison Yakima
Address: 321 East Yakima Avenue, Yakima, WA, USA
Hotel Maison Yakima is an excellent choice when you're looking for a comfortable and convenient stay in Yakima. This 3-star property has a great location in the heart of downtown Yakima, with easy access to local attractions and dining options. The hotel's tastefully decorated rooms feature modern amenities like flat-screen TVs and high-speed internet access, ensuring a comfortable and enjoyable stay.
Ledgestone Hotel
Address: 107 North Fair Avenue, Yakima, Washington
Ledgestone Hotel in Yakima is a top-rated hotel that offers a comfortable and luxurious stay in the heart of Yakima Valley. One of the standout features of this hotel is its location – it's within walking distance of many restaurants and shops and is just a short drive from Yakima airport and downtown Yakima. Another highlight of Ledgestone Hotel is the complimentary breakfast, which guests have described as delicious and satisfying. The hotel also offers other amenities, such as an indoor pool, fitness centre, and business centre, making it a great choice for both leisure and business travellers.
Budget Boutique Hotel
The Hotel Y
Address: 1700 North 1st Street, Yakima, WA
The Hotel Y is a great option for budget-conscious travellers looking for a comfortable and convenient stay in Yakima. The hotel features barbecue facilities and a sun terrace, and guests can enjoy a seasonal outdoor pool. The continental breakfast is described as impressive, and the staff are efficient, friendly, and welcoming, going out of their way to be accommodating. Overall, guests have been impressed with The Hotel Y's great value and exceeded expectations, with comfortable rooms and friendly staff. It's a solid choice for travellers looking for a budget boutique hotel in Yakima.
Final Option
As there aren't many boutique hotels in Yakima or the region, I've only listed the three that I think are worth staying at.
This final hotel is highly rated, clean and comfortable, so it's worth considering if my previous two recommendations are fully booked.
Oxford Suites Yakima
Address: 1701 East Yakima Avenue, Yakima, WA
Experience a truly relaxing stay at the Oxford Suites Yakima. With its generously proportioned rooms and first-rate facilities, you're guaranteed a relaxing and enjoyable experience. Start your day with a complimentary breakfast, dip in the indoor pool, unwind in the hot tub, or keep fit in the modern fitness centre. Located near Yakima's premier attractions, including the Yakima Convention & Event Center and Capitol Theatre, the Oxford Suites provides the ideal base for your adventures.
Yakima Airport Hotel
There are various reasons why people may choose to stay in a hotel near Yakima airport in Washington.
The airport's location in the heart of the Yakima Valley, known for its wineries, fruit orchards, and outdoor recreation, can make it a convenient base for travellers exploring the area.
People travelling for business may prefer to stay near the airport to be close to their meetings or conferences.
Additionally, Yakima hosts various events throughout the year, such as the Central Washington State Fair, Yakima Valley SunDome events, and the Yakima Valley Sportsman Show, and staying in a hotel near the airport can be a convenient option for attendees.
For travellers with layovers in Yakima, a hotel near the airport can provide a comfortable and convenient option to rest before their next flight.
Finally, hotels near the airport may offer more affordable rates compared to those in downtown Yakima or other tourist areas, making it an attractive option for budget-conscious travellers.
The following is the best airport hotel in Yakima.
Home2 Suites Yakima Airport
Address: 2420 West Nob Hill Blvd, Yakima, WA, United States
Home2 Suites is an excellent hotel option for anyone seeking a comfortable stay near Yakima airport. The hotel's location is very convenient for travellers with early morning flights or layovers. One standout feature of this hotel is its commitment to reducing food wastage and offsetting a portion of its carbon footprint, which is commendable.
Guests have given the hotel great reviews for its comfortable rooms and amenities. The beds are particularly comfortable, and the rooms were described as clean and quiet. The front desk and room staff were friendly and accommodating, making for a pleasant stay. Another highlight of this hotel is the breakfast, which guests have praised as great. The hotel is in a great area with multiple dining options nearby, which is a plus for those exploring the local cuisine.
Hotels in Yakima
Yakima is a charming city in central Washington known for its agricultural industry and outdoor recreational activities.
Despite its many attractions, there aren't many boutique or luxury hotels in the area. This is unfortunate, as such hotels could enhance the city's overall appeal to travellers seeking a more upscale and personalized experience.
Boutique and luxury hotels offer guests a unique and exclusive experience that cannot be replicated in chain hotels.
These hotels typically have fewer rooms, allowing them to provide more personalized services and amenities. They also tend to have distinctive decor and design, which can create a memorable experience for guests.
A boutique or luxury hotel in Yakima would particularly appeal to travellers looking for a more refined and intimate setting.
Also, boutique and luxury hotels are often independently owned, which may mean they can generate more revenue for the local economy.
They can also help to create jobs and stimulate economic growth in the area. By attracting more high-end travellers to the city, a luxury hotel could contribute to the overall development and promotion of Yakima as a desirable destination for tourism.
In conclusion, the lack of boutique or luxury hotels in Yakima is a missed opportunity for the city.
A well-designed and well-run boutique hotel would not only provide an enhanced travel experience for visitors but would also help to stimulate the local economy and increase the city's overall appeal as a travel destination.
Where to Stay in Yakima
When considering where to stay in Yakima, there are a few neighbourhoods that are worth exploring:
Downtown Yakima: This is the heart of the city and where you will find a variety of shops, restaurants, and entertainment options. Staying in this area makes you close to attractions such as the Yakima Valley Museum, Capitol Theatre, and the Yakima Farmers Market.
West Valley is a more residential area located west of downtown Yakima. It's a quieter neighbourhood and offers a more relaxed atmosphere. You will also find attractions such as the Cowiche Canyon Trail and the Yakima Area Arboretum.
Terrace Heights: Located east of downtown Yakima, Terrace Heights is a suburban area that offers a mix of residential neighbourhoods and commercial developments. It's a great place to stay if you're looking for easy access to outdoor activities like hiking and biking and attractions like the Yakima River.
Ultimately, where you stay in Yakima will depend on your preferences and travel plans.
If you're interested in exploring the city's nightlife and entertainment scene, downtown Yakima may be the best option.
West Valley or Terrace Heights may be more suitable if you prefer a quieter and more relaxed setting.
You'll discover the best of Washington with my comprehensive guide to the top places to visit, including must-see attractions, hidden gems, and off-the-beaten-path destinations that are sure to leave a lasting impression on your travels.
Things to do in Yakima
There are plenty of fun and interesting things to do in Yakima. Here are a few top picks:
Wine tasting: Yakima is famous for its wine industry, so a visit to one of the area's many wineries is a must for any wine enthusiast.
Visit the Yakima Valley Museum: Learn about the history and culture of Yakima and the surrounding area at this fascinating museum.
Hiking and outdoor activities: With its stunning natural beauty, Yakima is a great place to get outside and explore. There are many hiking trails, parks, and lakes to discover.
Catch a show at the Capitol Theatre: This beautiful historic theatre hosts a wide range of performances, from concerts to plays and dance shows.
Visit the Yakima Area Arboretum: This beautiful garden features a variety of plants, flowers, and trees, as well as walking trails and educational exhibits.
Enjoy the local food scene: Yakima is home to a diverse range of restaurants and cafes, offering everything from classic American cuisine to international fare.
The city's official website is helpful for more information on things to do in Yakima. It offers a wealth of information on local attractions, events, and activities to help you plan you're itinerary and make the most of your time in the area.
Independent and Boutique Stores
There are several independent and boutique stores in Yakima. Here are a few to check out:
Inklings Bookshop: This cozy independent bookstore has a great selection of books, as well as gifts, cards, and other items.
Gilbert Cellars: This family-owned winery has a tasting room and a gift shop featuring locally-made products.
Carousel French Country Shoppe: This charming boutique offers a variety of home decor and gift items with a focus on French-inspired design.
Vintage Me: This boutique specialises in vintage and repurposed clothing, unique accessories, and gifts.
Yakima Maker Space: This community workshop offers classes and workshops on a variety of topics, as well as a gift shop featuring handmade items from local artists and makers.
Responsible Travel Tips
Many of us are increasingly concerned about climate change and sustainability. Here are a few ideas on how we can travel more responsibly in Yakima.
Supporting local businesses and community initiatives, such as farmers' markets and local shops, to reduce the carbon footprint of transporting goods and support the local economy.
Minimising food waste by choosing restaurants and cafes that use sustainable ingredients and compost their waste.
Opt for sustainable transportation options, like biking or public transportation, to reduce your carbon footprint.
Making conscious dietary choices, such as eating locally-sourced and plant-based food, to reduce the environmental impact of food production and transportation.
Seeking out accommodations powered by renewable energy sources, such as solar or wind power, to reduce your carbon footprint. There aren't any eco-friendly hotels in Yakima, but hopefully, this will change soon.
By taking these steps, you can support Yakima's sustainable development and contribute to a more responsible and sustainable form of travel.
If you have questions or want to leave a hotel review, please do so in the comments.
—
Recommendations are independently chosen based on personal travel experiences and extensive research. This post contains affiliate links to hotels in Yakima, WA. This means I get a small commission from any bookings at no extra cost to you.