Recommendations are based on personal travel experiences and research. If you book through links on our site, we may earn a commission at no extra cost to you.
—
Salem is a charming city in Oregon where you can build a great itinerary by choosing from diverse experiences. From exploring the historic downtown area to visiting the state capitol, there is something for everyone to enjoy.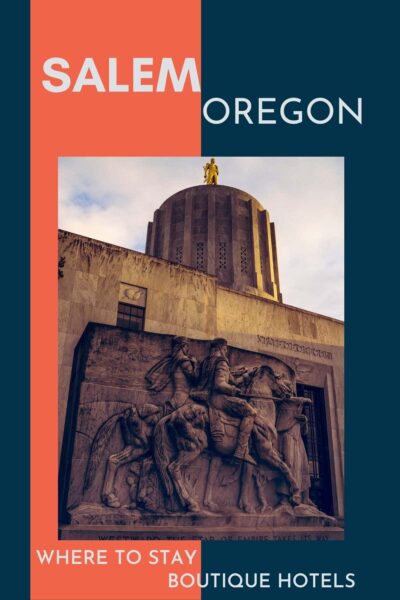 I recommend staying at one of the cool boutique hotels in Salem city centre, as they are an easy way to immerse yourself in the local culture and atmosphere, through great food, local artwork and friendly service.
Boutique Hotels in Salem Oregon
Salem has several cool and unique neighbourhoods, such as historic West Salem which has a rich cultural heritage and vintage architecture.
West Salem has a number of well-preserved Victorian homes and other historic buildings, and the neighborhood has made a concerted effort to maintain its historic character.
Another area worth visiting is the trendy and hip Downtown Salem area, particularly around Liberty Street and High Street. This area has a lively arts and food scene.
Many visitors spend time at the Riverfront Park and enjoy activities along the Willamette River.
If you're visiting Salem on a short break, I recommend staying in the southern section of Downtown Salem, as it's a great base to explore the city while being close to the riverfront area.
Top Pick
Holman Riverfront Park Hotel
Address: 195 Commercial Street SE, Salem, Oregon
The Holman Riverfront Park Hotel Salem is a modern and attractive hotel situated near both the riverfront and the trendy downtown area. With rooms featuring large windows, hardwood floors, and some with kitchenettes or wet bars, this hotel has everything you need for a comfortable stay.
Features:
Bright and modern rooms with the option of a king bed.
A brand new gym, ideal for maintaining your workout routine.
Two dining options on-site offering American cuisine.
Prime location that is close to the picturesque riverfront and the hip and happening downtown area of Salem.
A welcoming open-plan lobby area perfect for unwinding, socializing or simply lounging around.
Sustainability:
Reduces food waste through conscious efforts.
Does not use single-use plastic.
Energy-efficient LED lighting used throughout the property.
Electric car charging station available.
Supports local businesses and guides through tours and activities.
Platform provided for local artists to showcase their talents.
Pros: Brand new hotel (opened December 2022) with modern and stylish rooms and common areas and located in a prime location near the riverfront and trendy downtown area.
Cons: The hotel does not use renewable energy sources, which is disappointing for a newly built hotel.
Check Availability
The Holman Riverfront is the closest you'll come to a boutique hotel in Salem. Almost every hotel in the city is part of a chain, so it's difficult to find something more unique or independently owned.
If you don't mind accommodation, my next pick is a great, modern loft in Northeast Salem.
Renovated Loft Apartment
Modern Upstairs Loft
Address: 1145 E Street Northeast, Salem, Oregon
This loft apartment is well-designed, with open-plan living, hardwood floors and tons of natural light. The furniture is new, everything is spotlessly clean, and the decor is modern and stylish.
It's nice having the extra space compared to a hotel room, and the fully equipped kitchen allows you to cook your own meals if you want to.
The location is great, with easy access to shopping and dining options in Northeast Salem, an area characterized by its tree-lined streets and charming homes, many of which were built in the mid-20th century.
I would definitely recommend this apartment to anyone looking for a unique and comfortable alternative to a traditional hotel stay.
Cheap Accommodation
Given that boutique accommodation is limited, you might have to drop your standard and stay away from central Salem in an Inn.
My pick for cheap accommodation is a highly-rated Hilton located outside the downtown area.
Home2 Suites
Address: 390 Hawthorne Avenue SE, Salem, OR
Home2 Suites is currently the highest-rated hotel in Salem, so even though this is part of the Hilton group, it's a great choice for cheap accommodation in Salem.
It's located just 12 km from the Enchanted Forest Theme Park and offers easy access to local attractions. The hotel is designed for both business and vacation travellers, offering comfortable and affordable accommodations.
Note that this hotel is near the highway, so it's only suitable for a short stay.
If you're looking for an expertly curated guide to some of the prettiest places to visit in Oregon, I highly recommend checking out my guide, which features a comprehensive selection of must-see destinations and hidden gems, meticulously researched and organized for your convenience.
Travel Salem is a comprehensive local tourism site that provides readers with all the information needed to plan a trip to Salem, Oregon.
You'll find detailed information on local attractions, events, and activities, as well as information on restaurants, hotels, and shopping.
There are also detailed maps, itineraries, and suggestions for making the most of your time in Salem.
Responsible Travel Tips
Many of us are increasingly concerned about climate change and sustainability. These tips give ways to travel more sustainably in Salem and elsewhere.
Use sustainable transportation options such as biking or walking instead of driving. Salem has a bike-sharing program called Salem Biketown and a bus system for public transit.
Stay in environmentally-friendly accommodations, such as hotels or B&Bs that have implemented renewable energy sources and energy-efficient practices. Unfortunately, this is quite limited in Salem.
Support local businesses, restaurants and farm-to-table options. Salem has a thriving local food scene and farmers' markets, by choosing local options, you are supporting the community and reducing the environmental impact of transportation.
Adopting a sustainable diet is more effective in reducing emissions than buying local produce. Keep this in mind when ordering.
Reduce food waste by being mindful of portion sizes, planning meals in advance, and composting food scraps whenever possible.
If you have questions or want to leave a hotel review, please do so in the comments.
—
Recommendations are independently chosen based on personal travel experiences and extensive research. This post contains affiliate links to hotels in Salem, Oregon. This means I get a small commission from any bookings at no extra cost to you.