Recommendations are based on personal travel experiences and research. If you book through links on our site, we may earn a commission at no extra cost to you.
—
You will love visiting Monterey; the stunning coastline and rich history make this place a popular destination. One of the highlights of your trip will likely be a visit to the famous Monterey Bay Aquarium, where you can see a variety of marine life up close.
Consider booking a room in a cool and unique boutique hotel to make your stay even more memorable. These hotels' charming and personal atmosphere will add an extra touch of luxury to your vacation.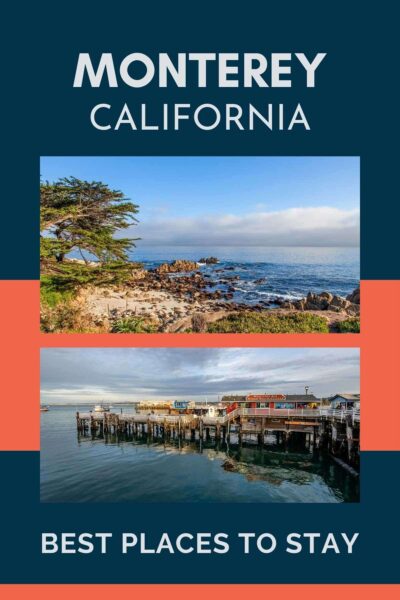 Boutique Hotels in Monterey California
Monterey has several cool and unique areas to explore during your visit. Cannery Row is a popular destination with its historic buildings and stunning ocean views.
But if you're looking for a fun and vibrant area to stay in, the Pacific Grove district is known for its charming Victorian homes and serene atmosphere. This is the perfect place to immerse yourself in the local culture and make the most of your trip to Monterey.
Top Pick
Seven Gables Inn on Monterey Bay
Address: 555 Ocean View Boulevard, Pacific Grove, CA
If you're searching for a stunning boutique hotel on the Monterey coast, consider staying at the Seven Gables Inn. You'll find beautiful ocean views and a convenient location just a 10-minute walk from Pacific Grove city centre and a 25-minute stroll from Point Pinos Lighthouse. This is the most highly-rated hotel in Monterey.
Features:
Classic design that is typical of the region.
Comfortable beds with lots of pillows.
Ocean views from some rooms.
Great location near Lovers Point Park.
Sustainability:
Recycling bins are available to guests, and waste is recycled.
Most lighting throughout the property uses energy-efficient LED bulbs.
Single-use plastic is limited.
Pros: This boutique hotel has a blend of convenience, charm, and breathtaking ocean views.
Cons: One aspect to consider is that the hotel is that you'll probably need a car to get around.
Check Availability
While I believe the Seven Gables Inn is the best choice in Monterey Bay.
I understand that you may have different preferences. In that case, I have provided alternative options below that offer unique features, distinct locations, or a variety of other amenities to suit your individual needs.
Next Best
Monterey Plaza Hotel & Spa
Address: 400 Cannery Row, Monterey, CA
Consider the Monterey Plaza Hotel & Spa for a luxurious and memorable experience in Monterey, CA. The hotel offers elegant guest rooms, warm hospitality, and stunning ocean views. Enjoy the chef-driven restaurant, award-winning rooftop spa, and convenient location near Cannery Row. Whether you seek relaxation or adventure, this hotel promises an unforgettable coastal experience.
Cool and Unique Hotel
If you're seeking a more unique and eclectic experience during your stay in Monterey, you may prefer staying in a hotel that has a more off-beat, hip, and alternative vibe.
A hotel with a cool and unique atmosphere can offer you a memorable and authentic experience that you won't find in a more conventional hotel chain.
Monterey Marriott
Address: 350 Calle Principal, Monterey, CA
Not a boutique hotel, but if you're looking for a hotel that offers a perfect combination of location, comfort, and services, you should consider staying at the Monterey Marriott. This hotel overlooks the stunning Monterey Bay and provides you with breathtaking views from its peaceful rooms with floor-to-ceiling windows. Enjoy fresh, locally-sourced cuisine at the restaurant, and relax by the outdoor pool. The expert team will ensure your stay's details are exactly as you envisioned. With celebrated attractions such as the Monterey Aquarium, Cannery Row, Carmel-by-the-Sea, and Big Sur nearby, you'll have plenty to explore during your stay in downtown Monterey.
Eco-Friendly Hotel
If you're passionate about environmental conservation and sustainability, you may prefer staying in an eco-friendly or sustainable hotel.
Such hotels prioritize reducing their carbon footprint, using renewable energy sources, and promoting sustainable practices in all aspects of their operations.
This can give you the peace of mind of knowing that your stay is not only comfortable and convenient but also contributes to the preservation of the environment for future generations.
Portola Hotel & Spa
Address: Two Portola Plaza, Monterey, CA
At the Portola Hotel, you'll be surrounded by all the sights, sounds, and attractions that make this destination such a beloved destination. Whether you're looking for a family vacation, a romantic getaway, or a weekend escape, our waterfront hotel offers the perfect blend of comfort, convenience, and luxury. You will surely have an unforgettable trip with easy access to the best events on the Monterey Peninsula and top attractions like Old Fisherman's Wharf and the Monterey Bay Aquarium just minutes away.
Where to Stay in Monterey Bay
When it comes to finding the best areas to stay in Monterey Bay, there are several options to choose from that cater to different interests and preferences. Here are some top districts you might want to consider when deciding where to stay in Monterey:
Cannery Row: This waterfront district is known for its lively atmosphere and abundance of shops, restaurants, and bars. You can explore the Monterey Bay Aquarium, take a stroll along the coastline, or go whale watching. Cannery Row is a great option if you want to be close to the action.
Pacific Grove: This charming neighbourhood boasts beautiful Victorian architecture, quaint cafes, and galleries. You can take a leisurely walk through the Asilomar State Beach or visit the Point Pinos Lighthouse. Pacific Grove is a great option if you're looking for a quieter, more relaxed atmosphere.
Monterey's Historic Downtown: This area has a lively and bustling atmosphere, with many restaurants, cafes, and boutique shops. You can explore historic buildings, visit the Colton Hall Museum, or take a leisurely walk through the beautiful gardens of the Monterey State Historic Park. Monterey's Historic Downtown is a great option if you want to be in the heart of the action.
Carmel-by-the-Sea: This upscale town boasts beautiful beaches, art galleries, and boutique shops. You can explore the Carmel Mission or take a stroll through the scenic Carmel River State Beach. Carmel-by-the-Sea is a great option if you're looking for a luxurious and peaceful atmosphere.
Seaside: This area is a great option if you're looking for affordable accommodations close to Monterey. Seaside has a variety of restaurants and shops, and you can explore the beautiful Fort Ord Dunes State Park.
If you're looking for an insightful guide to the best places to visit in California, then you may be interested in checking out my guide, which is packed with insider tips and recommendations to help you make the most of your trip to this beautiful state.
If you're planning a trip to Monterey, the tourist office is a valuable resource for you, as it provides helpful information to make your visit more enjoyable and memorable.
Responsible Travel Tips
Many of us are increasingly concerned about climate change and sustainability. Here are a few ideas on how we can travel more responsibly in Monterey.
Here are some ways you can travel more responsibly in Monterey:
Use renewable energy: Stay in eco-friendly accommodations that use solar or wind energy whenever possible. You can also choose to rent electric cars or bikes to reduce your carbon footprint during your travels.
Minimize food waste: Monterey is known for its delicious seafood, but it's important to remember that overfishing is a big problem in the area. Consider ordering smaller portions or sharing dishes to reduce waste and help protect local species.
Sustainable diets: Try to incorporate locally-sourced and seasonal produce into your meals. This will support the local agriculture industry and reduce the carbon footprint associated with transporting food from far away.
Sustainable transport: Monterey is a compact city, and getting around on foot or by bike is easy. Consider leaving your car behind and exploring the city on two wheels instead. You can also opt for public transportation, such as the Monterey-Salinas Transit (MST) bus system, which is a convenient and eco-friendly option.
Avoid flying: If you can, consider taking the train or a bus to Monterey instead of flying. The city is well connected to major cities in California, and travelling by ground is a more sustainable option.
Support the local community: Finally, make sure to support local businesses and communities during your travels. Shop at local markets, eat at family-owned restaurants and visit local attractions. This will help you have a more authentic travel experience and boost the local economy.
Final Thoughts
This coastal destination offers stunning scenery, a rich history, and plenty of opportunities for exploration and relaxation.
Choosing a boutique hotel by the sea can enhance your experience, allowing you to enjoy breathtaking views and a personalized level of service.
When selecting a boutique hotel, consider what amenities are important to you, such as an on-site restaurant or spa. You might also want to research the hotel's location and proximity to the attractions and activities that interest you.
Whether you're interested in exploring the Monterey Bay Aquarium, hiking through the Point Lobos State Natural Reserve, or simply soaking up the sun on the beach, there's something for everyone in Monterey Bay. Choosing the right area to stay in and the best boutique hotel can create a memorable and enjoyable experience for your vacation.
If you have questions or want to leave a hotel review, please do so in the comments.
—
Recommendations are independently chosen based on personal travel experiences and extensive research. This post contains affiliate links to hotels in Monterey, California. This means I get a small commission from any bookings at no extra cost to you.