Recommendations are based on personal travel experiences and research. If you book through links on our site, we may earn a commission at no extra cost to you.
—
Washington, DC is not just the political hub of the United States; it's also rich in culture and history.
Visitors often find themselves intrigued by its world-class museums, significant monuments and vibrant neighbourhoods.
In this guide, we'll explore the best boutique hotels in Washington DC, that offer a unique stay amidst the city's most iconic landmarks.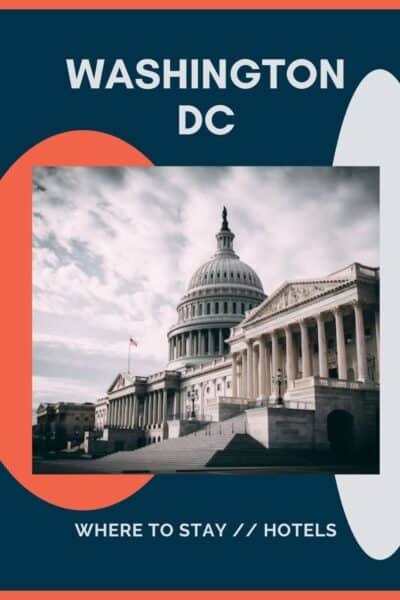 Boutique Hotels in Washington DC
The first step when looking for a hotel is to consider the area you'd like to stay in.
Downtown Washington DC puts you in close proximity to major landmarks like the White House and the National Mall.
On the other hand, the Dupont Circle area is celebrated for its vibrant cafe culture, art galleries and green spaces.
My top hotel recommendation is in Penn Quarter, a lively entertainment district, but other suggestions are below.
Top Pick
Riggs Washington DC
Address: 900 F Street Northwest, Washington DC
Location: Penn Quarter
Riggs Washington DC is a well-restored property originally functioning as a bank. The rooms are unique and stylish, with large comfortable beds. The hotel stands out for its excellent location, quality customer service and well-appointed rooms. Food and drinks meet high standards, making it a strong choice for travellers prioritising location and quality service.
Features:
Cool and unique hotel.
Stylish rooms with lots of natural light.
High-end amenities in the luxurious bathrooms.
Huge breakfast selection.
Great location near the Smithsonian American Art Museum.
Exceptional attention to detail and service.
Sustainability:
The hotel uses 100% renewable electricity.
Most food is locally sourced.
Vegetarian and vegan menus are available.
It avoids using single-use plastics.
Electric vehicle charging station.
Support is given to local community organisations.
Pros: Vibrant location; top-tier customer service; sustainability measures; quirky design features.
Cons: Limited early check-in availability.
Check Availability
Next up, I'll introduce you to a few other boutique hotels you might find appealing.
These selections have unique features that set them apart, whether it's their location, architectural style, or commitment to sustainability.
Next Best
Hotel Madera
Address: 1310 New Hampshire Avenue NW, Washington, DC
Location: Downtown
Hotel Madera is highly regarded for its strategic location in the heart of DC. The hotel provides a pleasant experience with features like spacious rooms and the added bonus of complimentary room upgrades. With friendly staff, a connected restaurant of good quality, and the offering of a generous glass of complimentary wine in the early evening, it stands as a strong choice for travellers looking for comfort and convenience.
Cool and Unique Hotel
Consider opting for a cool and quirky boutique hotel for a distinctive stay, which often stands out for its unique design and personalised service.
Hotel Zena
Address: 1155 14th Street Northwest, Washington, DC
Location: Downtown
Hotel Zena provides a unique stay experience in a prime location, within walking distance of notable restaurants and DC attractions. One of its standout features is the ingeniously laid-out rooms, equipped with showers that maintain both excellent water pressure and a dry bathroom floor. The hotel also excels in customer service; staff across all departments are both professional and warm. Additional amenities like an outdoor rooftop pool, large bar and dining areas, and complimentary loaner bikes make it an attractive choice for both short and extended stays.
Hotel Washington
Address: 515 15th Street NW, Washington, DC, United States
Location: Penn Quarter
Hotel Washington stands out for its unparalleled location, practically a stone's throw from the White House. This proximity is convenient and provides spectacular views from the hotel's rooftop restaurant and bar, covering major DC landmarks. The facilities, rooms, and dining options maintain high standards of cleanliness and comfort, offering great value for money. Coupled with friendly and helpful staff, the hotel serves as a comfortable and safe base for exploring the heart of the US capital.
Thompson Washington DC
Address: 221 Tingey Street SE, Southeast, Washington, DC, USA
Location: Navy Yard
Hotel Thompson Washington DC sits in a prime location, allowing easy access to the metro, ballpark, and local attractions. While the breakfast might be considered average, the hotel makes up for it with excellent rooms and competent staff. The rooftop bar provides a nice spot for a drink, although the vibe might skew a bit younger. This hotel suits those who prefer walking, as many significant destinations, including the Library of Congress, are comfortably within walking distance.
Eco-Friendly Hotel
When you're keen on reducing your environmental footprint, opt for a hotel that's certified for its sustainable practices.
Look for places that have energy-efficient systems, waste minimisation strategies, and strong community engagement.
Vignette Collection
Address: 1143 New Hampshire Avenue NW, Washington, US
Location: Downtown
The Vignette Collection Hotel situates you right in the heart of the DC metro area, making it an ideal base for exploring historical sites, all within a 10-minute radius. The hotel operates on 100% renewable electricity and is making great progress towards sustainability. The stay becomes convenient and responsible with well-maintained facilities like a restaurant, cafe, lounge, and gym. Modern, clean, and eco-friendly, this hotel proves you don't have to compromise on comfort to make a positive environmental choice.
Viceroy Washington DC
Address: 1430 Rhode Island Avenue North West, Washington, DC
Location: Downtown
The Viceroy Washington DC Hotel provides a sustainable yet plush experience in the heart of Washington. Known for its eco-conscious operations, including 100% renewable electricity, the hotel demonstrates a commitment to environmental responsibility. Guests have praised the friendly staff and comfortable amenities like a rooftop pool and high-quality coffee. While enjoying the cozy rooms and delicious meals, you're also making an eco-friendly choice.
Luxury Boutique Hotel
Luxury boutique hotels often provide a unique blend of style and sophistication, setting them apart from larger chains.
Opting for a luxury boutique experience can make your trip feel more exclusive yet intimate, enriching your travel in a distinct way.
Pendry Washington DC
Address: 655 Water Street Southwest, Washington, DC
Location: Southwest Waterfront
The Pendry Washington DC is well-situated, making exploring restaurants, bars, and national monuments easy. The hotel prioritises service, evident from their friendly and attentive staff. Amenities like a well-appointed spa and room service add to the comfort of your stay. While the hotel is smaller in size, it doesn't skimp on luxury, featuring rooms with deluxe views and a rooftop area that provides impressive vistas. Some might feel the rooftop doesn't fully meet luxury brand expectations, but overall, the hotel maintains a high standard of quality.
Where to Stay in Washington DC
Downtown: The downtown area is often the first port of call when considering where to stay in Washington, DC. You'll find a wide range of accommodation options here, from luxury hotels to cool boutique stays. Being at the heart of the city, you have easy access to major attractions and numerous dining and shopping options.
Dupont Circle: Known for its vibrant arts scene and historic architecture, Dupont Circle offers a good mix of cafe culture and independent stores. It's a popular area for those interested in galleries and museums, including the Phillips Collection.
Georgetown: This historic neighbourhood offers cobblestone streets, high-end shopping, and a waterfront that presents dining with a view. Green spaces like Georgetown Waterfront Park provide a nice break from the city buzz.
Foggy Bottom: Close to George Washington University, this area is teeming with youthful energy. You'll find a range of cool bars and eateries catering to a younger crowd, and it's also home to the Kennedy Center for the Performing Arts.
Capitol Hill: As the legislative hub of the city, Capitol Hill is where the US Capitol Building and other governmental structures are located. But it's not all politics; the area has a charming residential section with classic row houses, plus the expansive Capitol Hill Park for those seeking some nature.
Penn Quarter/Chinatown: Known for its entertainment options, this area is perfect for those looking for active nightlife. The Capital One Arena is a focal point, hosting various sports events and concerts. You'll also find the National Portrait Gallery here, a must-visit for art enthusiasts.
Adams Morgan: If you're keen on a bohemian vibe, Adams Morgan is your go-to. The area is known for its diverse culinary scene and energetic nightlife, featuring numerous bars and live music venues.
Navy Yard: For sports fans, the Navy Yard area offers something special with the Nationals Park. Alongside this, you'll find an expanding waterfront area with new restaurants and spaces where you can relax by the Anacostia River.
Each neighbourhood brings its own flavour and attractions, making Washington, DC, a versatile destination for any visitor.
For a reliable rundown of the top attractions, check out my guide to the best places to visit in DC, where you'll find a curated list of must-see landmarks, museums, and neighbourhoods, all based on factual information to help you make the most of your time in the city.
Washington Tourism serves as a solid resource for those keen on a deeper dive into what the city has to offer.
The site provides factual details on a range of activities, from things to do and sightseeing options to upcoming events, helping you plan a well-rounded visit.
Responsible Travel Tips
Here are a few tips on how you can travel more responsibly in Washington, DC.
Renewable Energy: Opt for hotels and accommodations that utilise renewable energy sources. Many places in DC are now shifting towards 100% renewable electricity.
Minimising Food Waste: Consider ordering half-portions or sharing dishes to avoid unnecessary waste when dining out.
Sustainable Diets: Choose plant-based or locally sourced options for your meals. Farmers markets like the one at Dupont Circle often provide locally sourced produce.
Sustainable Transport: Use public transportation like the Metro, or walk where possible, as DC is quite a pedestrian-friendly city. Biking is also popular, especially along the many trails, like the Rock Creek Park Trail.
Avoiding Flying: If you're coming from nearby states, consider taking the train to Union Station instead of flying to minimise your carbon footprint.
Supporting the Local Community: Shop at local stores and markets to support small businesses. The Eastern Market, for instance, is a great place to buy local crafts and produce.
Following these tips contributes to a more sustainable and responsible way of experiencing the city.
FAQ
What factors should I consider when choosing a hotel in Washington, DC?
Location is key; staying near the area you plan to explore most will save you time and travel expenses. Consider your budget, proximity to attractions or your business venue, and the amenities offered by the hotel.
Is it necessary to stay close to the Downtown or CBD area?
While Downtown Washington DC is convenient for business travellers and first-time visitors, other neighbourhoods like Dupont Circle and Georgetown also offer unique experiences, including a rich café culture, independent stores, and vibrant nightlife.
How reliable is public transport for getting around Washington DC?
Public transport, particularly the Metro, is generally efficient and extends across key areas, making it easier to explore the city without the need to stay in the downtown area.
What are the busiest and least busy times to visit Washington, DC?
Spring and autumn are the most popular seasons to visit due to pleasant weather and multiple events. Summer can be hot and humid, while winter is less crowded; you'll have to contend with cold temperatures.

Selecting the right boutique hotel in Washington, DC, largely comes down to your specific needs, such as proximity to attractions or business venues and the amenities that are important to you.
Doing your homework on what each area has to offer can significantly enhance your stay, allowing you to better navigate the city's rich cultural, political, and social landscape.
The city has something for everyone, so matching your preferences with the hotel's features can make all the difference.
If you have questions or want to leave a hotel review, please do so in the comments.
—
Recommendations are independently chosen based on personal travel experiences and extensive research. This post contains affiliate links to hotels in Washington, DC, United States. This means I get a small commission from any bookings at no extra cost to you.