Recommendations are based on personal travel experiences and research. If you book through links on our site, we may earn a commission at no extra cost to you.
—
Spokane, Washington is the place to stay if you want to rub elbows with nature, have a professional spa experience and still be close to big-city attractions. Sparsely populated and surrounded by vast forests, Spokane is a gem in the Pacific Northwest. It's an affordable, eco-friendly and fun destination. From boutique hotels to unique experiences, Spokane has a little bit of something for everyone.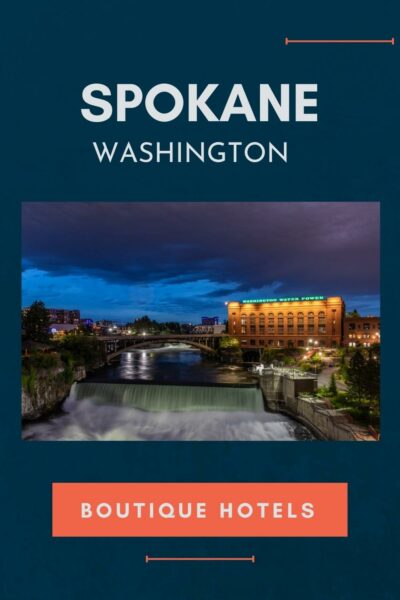 Boutique Hotels in Spokane
Spokane is a fun, funky and vibrant city with a lot of cool places to stay. It's one of the best places in the US to experience a small-town vibe with big-city amenities. This city has so much to offer, from great food and drink to historic hot spots, cool cultural experiences, and incredible outdoor activities.
Whether you're visiting Spokane for business or as part of a family vacation, there are unique boutique hotels in every neighbourhood that make your stay memorable. Stay near downtown Spokane or one of the many neighbourhoods surrounding it. Each neighbourhood has its own feel and character.
Rather than share a list of hotels, we've picked out what we believe to be the best in Spokane, so you do no need to look further.
Top Pick
Hotel Indigo Spokane Downtown
Address: 110 South Madison Street, Spokane, WA, United States
As the best hotel in Spokane, Hotel Indigo is located in the heart of downtown and features an eclectic blend of modern amenities. When you arrive at the hotel you'll notice how beautifully they have restored the historic building. The location makes it easy to explore the main sights of Spokane, with great dining and nightlife just outside your door, including a restaurant in the hotel.
Pros: The entire building has been sympathetically restored and the room stylishly renovated and decorated. The hotel gets top ratings for cleanliness, comfort and staff friendliness. The rooms are large and comfortable.
Cons: A lack of staff can lead to delays at times. This is not an independent hotel but part of a larger group.
Check Availability
Why is this the best hotel in Spokane?
We used these criteria to make this recommendation:
Best location – Hotel Indigo is close to downtown and all that Spokane has to offer, including the Barrister Winery and the Knitting Factory. A bit further is the stunning, green Riverfront Park and the Comedy Club. The hotel is a 2-minute drive to the famous Spokane Falls. It's an easy drive from Seattle or Portland, although it's quite a way; you could also take the train.
Best amenities – The hotel has a fitness centre and an on-site restaurant called Magnolia Brasserie. There's a tea/coffee maker in the room and a vending machine near reception.
Friendliest staff – Read the reviews to see how visitors feel welcome when staying at this hotel. The staff goes out of their way to make sure everything is available for a comfortable stay.
Sustainability – The Indigo could do more regarding sustainability, but they do source most of the food served in the hotel locally and they don't use those wasteful miniature shampoo bottles. It would be best to switch to using renewable energy for electricity and implement energy conservation measures.
Are there better hotels available?
Surprisingly, there are very few highly-rated hotels in Spokane. It feels like there's a bit of a gap in the market and room for a truly stylish and unique hotel to cater to design-savvy visitors.
One alternative to the Indigo is the Davenport Grand. This hotel is in a great location very close to Riverfront Park and the Falls, but the style is a bit dated when compared to the Indigo.
This hotel guide is part of our series on places to stay in the Pacific Northwest.
If you have questions or want to leave a hotel review, please do so in the comments.
For detailed information on things to do in Spokane, the local tourism site is a great resource.
—
Recommendations are independently chosen by our travel editors. This post contains affiliate links to hotels in Spokane, Washington. This means we get a small commission from any bookings at no extra cost to you.