Recommendations are based on personal travel experiences and research. If you book through links on our site, we may earn a commission at no extra cost to you.
—
Sedona is a city famed for its red sandstone formations and vibrant arts scene. It's a hub for those in search of natural beauty and culture without the overwhelming bustle of a major city.
In this guide, you'll find information about the top boutique hotels in Sedona that perfectly complement this remarkable destination.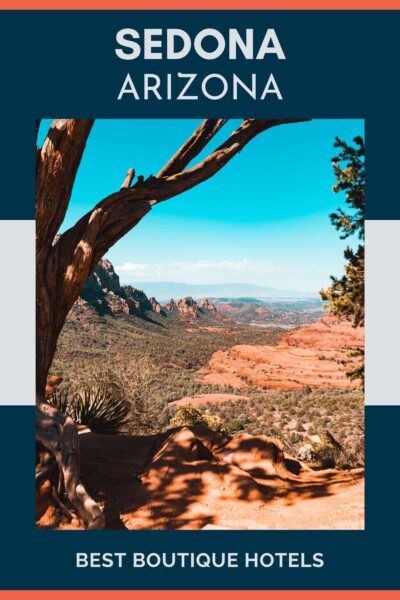 Boutique Hotels in Sedona
Choosing a hotel also means deciding on the neighbourhood you'd like to make your base.
Uptown Sedona, the heart of the city, houses a variety of shops, galleries and eateries that provide an authentic Sedona experience.
On the other hand, West Sedona, with its lively cafe scene and access to outdoor activities, presents a balance of urban charm and natural allure.
Top Pick
Amara Resort & Spa
Address: 100 Amara Lane, Uptown, Sedona, AZ
Location: Uptown – Oak Creek
Amara Resort & Spa is situated in a prime location for sightseeing, flanked by the awe-inspiring views that Sedona is renowned for. The resort features an excellent restaurant, an inviting pool and a luxurious spa, enhancing your stay with a mix of comfort and indulgence. Notably, the staff at the Amara earn high praise for their helpfulness and the facility's cleanliness and comfort round off a solid choice for accommodation in Sedona.
Features:
Classic resort design.
Large, modern rooms and bathrooms fitted with walk-in showers.
Pool and spa area.
Highly-rated restaurant and bar.
Pet-friendly.
Great location to use as a base for sightseeing.
Pros: Prime sightseeing location. Impressive views. Quality restaurant and pool. Luxurious spa. Helpful, commendable staff. Comfortable and clean.
Cons: Limited sustainability measures. Potential for peak-season crowds.
Check Availability
For variety, I'll introduce a few other boutique hotels with distinct qualities, such as location advantages, architectural uniqueness or an eco-friendly ethos.
Each presents a different lens to view and enjoy Sedona, allowing you to choose based on your personal preferences.
Luxury Boutique Hotel
Luxury boutique hotels provide an exceptional stay experience, harmonising comfort with personalised service.
They cater to travellers who appreciate the attention to detail, unique interior design, and an atmosphere that extends beyond the commonplace.
This type of accommodation often stands out for its intimate setting and the sense of exclusivity it imparts, making your trip to Sedona even more special.
L'Auberge De Sedona
Address: 301 L'Auberge Lane, Sedona, AZ
Location: Uptown – Oak Creek
L'Auberge De Sedona presents a top-tier stay experience with its superbly appointed rooms, outstanding setting on Oak Creek, and tranquil environment. The food is of excellent quality, matching the high standards of the overall accommodation. The hotel's creekside cottages provide a unique and appealing feature, offering guests a serene and comfortable space. Remarkably, the front desk and valet staff stand out for their helpfulness and readiness to provide services like transportation and handling of luggage. The on-site spa, complemented by the helpful staff, adds to the overall quality of the experience. This luxury boutique hotel is well-located in the heart of Sedona, ensuring convenience, comfort, and quality service.
Next Best
The Wilde Resort and Spa
Address: 2250 West Highway 89A, Sedona, AZ
Location: West Sedona
The Wilde Resort receives consistent praise for its beautifully maintained grounds, warm and efficient staff, and the quality of the overall stay experience. Its on-site restaurant delivers delicious cuisine without overstepping on price, adding to the pleasant surprises of this delightful resort. Guest rooms at The Wilde are spacious, clean, and complemented by large bathrooms, making for a comfortable and relaxing stay. The resort's range of amenities, including a pool, spa, labyrinth and various seating areas throughout the property, enhance its appeal. In addition, it benefits from a convenient location, with nearby walking trails and a selection of restaurants. The Wilde Resort and Spa represents good value for money, offering a comprehensive array of facilities and activities.
Cool and Unique Hotel
Unique boutique hotels often showcase a distinct character, which can add a fun and unexpected dimension to your travel experience.
They deviate from the conventional and may express local culture, history or a unique design theme, providing an immersive stay.
El Portal
Address: 95 Portal Lane, Sedona, AZ
Location: Tlaquepaque
El Portal stands as a unique hotel option in Sedona, displaying remarkable architecture and providing a fabulous ambience. The staff are noted for their attentiveness and readiness to assist, enhancing the overall service quality. The hotel features a lush courtyard and top-notch accommodations that contribute to a comfortable and relaxing stay. The hospitality here is a standout feature, with the owner being particularly gracious. The hotel's location in Tlaquepaque ensures easy access to shopping, dining, and major attractions. In addition, the hotel is well-suited for hiking enthusiasts and those looking for a charming escape. Its proximity to the Tlaquepaque market further adds to its appeal.
Eco-Friendly Hotel
When considering eco-friendly hotels, you'd typically focus on those that demonstrate a robust commitment to sustainability.
These establishments might embrace renewable energy sources, use locally-sourced and organic produce, and engage in robust waste management and water-saving measures.
By choosing to stay in a sustainable hotel, you're actively contributing to reducing your travel carbon footprint.
It's a practical and effective way to travel consciously, ensuring your holiday experience doesn't come at the expense of our planet's health.
Sky Ranch Lodge
Address: 1105 Airport Road, Sedona, AZ
Location: Sedona Airport
Sky Ranch Lodge gives you a remarkable blend of sustainability and comfort. Located strategically, it provides spacious, clean rooms and an amazing view right from your terrace. The tranquil setting stands out, offering you a peaceful environment with beautifully landscaped grounds, even with its close proximity to the airport. As an eco-conscious traveller, you'll appreciate the lodge's dedication to green initiatives, including the use of 100% renewable electricity throughout the property. Along with its sustainable ethos, the lodge also emphasises education by providing guests with information about local ecosystems, heritage, and culture. A notable bonus is its close vicinity to the well-regarded Mesa Grill. Sky Ranch Lodge delivers a fulfilling and eco-friendly stay for all its guests, including families and couples.
Where to Stay in Sedona
Uptown Sedona: This is the bustling heart of Sedona, where you'll find a wide array of restaurants, galleries, and shops. Ideal for visitors who love to stay close to the action.
Sedona CBD: Known as the historical city centre, it's the hub of business activities with a rich cultural heritage. Green spaces meet urban convenience here, which is great for folks seeking a balanced city experience.
Oak Creek: This area is renowned for its lush vegetation and tranquil atmosphere. It's an excellent choice for nature lovers, with Oak Creek running right through it.
West Sedona: This neighbourhood has a quiet, residential feel. You'll find a mix of local businesses, cafes and close access to numerous hiking trails, making it a great base for active travellers.
Sedona Airport Area: Despite being next to the airport, this area is peaceful and offers stunning panoramic views of Sedona. The nearby Sky Ranch Lodge is noted for its eco-conscious practices.
Tlaquepaque: Famous for its arts and crafts village, this area embodies a unique blend of creative spirit and shopping opportunities. You'll find a variety of galleries and boutiques to explore.
When deciding where to stay in Sedona, take into account your travel preferences and what each neighbourhood provides.
Each area offers its own unique blend of Sedona's natural beauty, culture, and hospitality.
For a comprehensive insight into the state's most fascinating locations, my guide provides a detailed rundown of the best places to visit in Arizona.
For more detailed information on exploring the city, Visit Sedona is a reliable resource with extensive content on activities, sightseeing opportunities, and upcoming events. This site can really help to round out your itinerary with its rich insights.
Responsible Travel Tips
Here are a few ideas on how we can travel more responsibly in Sedona.
Renewable Energy: Many accommodations in Sedona are progressively adopting renewable energy solutions. When booking, check their environmental initiatives and consider places that utilise solar energy or other sustainable resources.
Minimising Food Waste: When dining in Sedona, try ordering only what you can eat to minimise waste. Several restaurants also participate in composting initiatives to further reduce waste.
Sustainable Diets: Opt for locally sourced food when possible. Sedona's fertile landscape and climate offer abundant locally-grown produce, reducing the carbon footprint associated with long-distance food transportation.
Sustainable Transport: Use the available bike rentals to explore Sedona's scenic routes or make use of the public transport system. Hiking is also an ideal way to discover the area's natural beauty while reducing carbon emissions.
Avoiding Flying: If you can, travel to Sedona by road or rail, which are more environmentally friendly than air travel.
Supporting Local Community: Invest in the local economy by shopping at locally-owned businesses. Also, consider participating in local events and festivals, which often support community initiatives.
FAQ
What factors should I consider when choosing a hotel in Sedona?
When selecting a hotel in Sedona, consider its location in relation to the attractions you want to visit, the amenities offered, and the type of hotel that suits your preferences, be it a luxury boutique hotel, a unique boutique hotel, or an eco-friendly hotel.
What are some of the best areas to stay in Sedona?
Some of the top areas to stay in Sedona include Uptown Sedona for its shopping and dining, Oak Creek for its natural beauty and outdoor activities, West Sedona for its residential feel and access to local amenities, and the Sedona Airport area for its spectacular views.
What can I expect from the local culture in Sedona?
Sedona is known for its vibrant arts scene, with many galleries and studios to explore. A strong sense of community and many locally owned businesses contribute to the city's unique character. The city is also known for its outdoor activities, including hiking, biking, and exploring the stunning red rock formations.
How can I get more information about visiting Sedona?
The Visit Sedona website is a great resource for planning your trip. It provides information about things to do, sightseeing opportunities, and events happening in the city.

When you're mapping out your visit to Sedona, picking the right hotel is a key part of the process. Be it a luxury boutique hotel, a unique boutique place or an eco-friendly lodge, Sedona has an array of options to cater to your taste.
You'll find the perfect spot in Sedona by focusing on your preferences, whether proximity to attractions, the need for specific amenities, or a desire to stay somewhere with a unique charm.
Above all, remember to respect the local community and environment, making the most of what Sedona has to offer without leaving a negative impact. Safe travels!
If you have questions or want to leave a hotel review, please do so in the comments.
—
Recommendations are independently chosen based on personal travel experiences and extensive research. This post contains affiliate links to hotels in Sedona, Arizona. This means I get a small commission from any bookings at no extra cost to you.